Lemon Ripple Cheesecake Bars Recipe
I love these. You can remix them a thousand different ways with various flavors of preserves.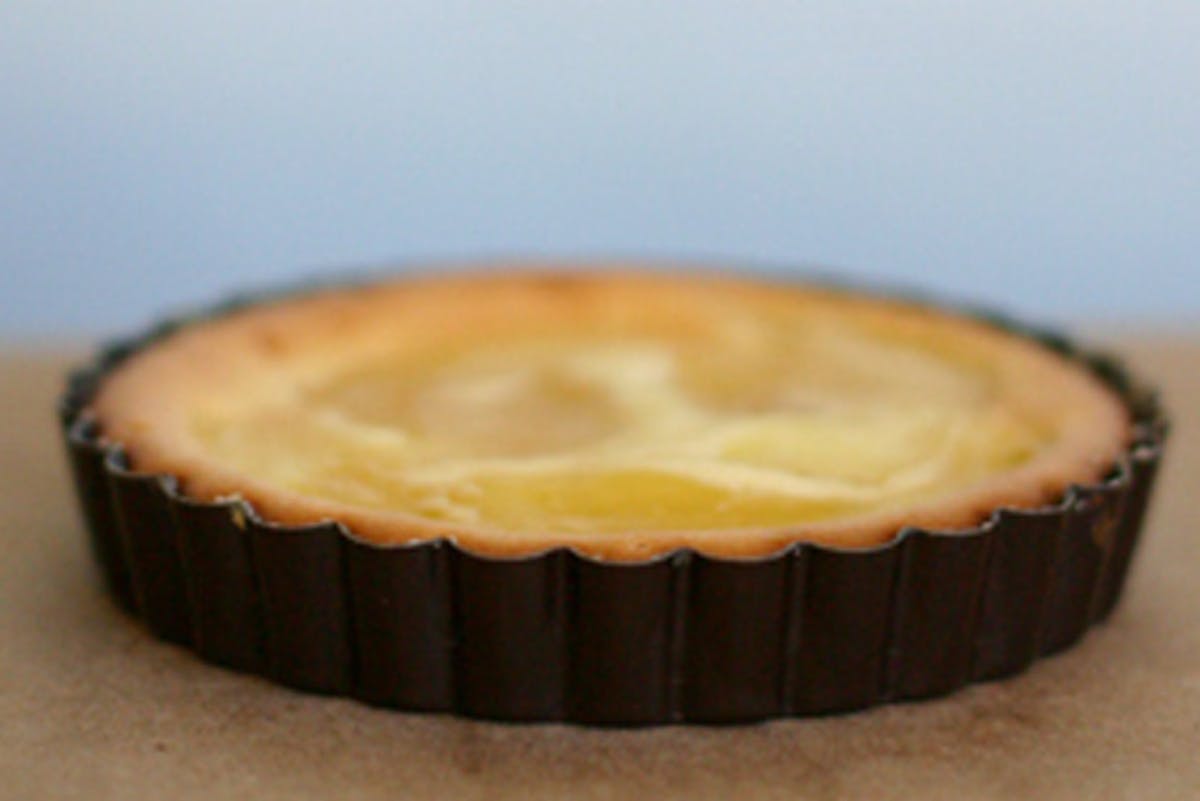 Sunday morning I went on my annual pilgrimage to the Fancy Food Show at the Moscone Center in San Francisco. My dad has been taking my sister and I to these types of gourmet food shows since I was a teenager, but the Winter Fancy Food show stands alone, and is the one I look forward to all year. For you techies, it is the E3, CES, or Mac World expo of gourmet foods. I think there may be one bigger in NYC, but I've never been to that one.
Imagine aisle upon aisle of cheeses, chocolates, salsas, jams, teas, waters, candies, cakes, pies, horsdouvres, honeys, chutneys, and wines. There are close to a thousand exhibitors, and over 25,000 people attend the 3-day exposition.
There was quite a bit more excitement than usual on Sunday. I was walking up one of the aisles in the middle of the south hall when a propane cooking stove detonated about four booths ahead of me. The explosion sent a giant fireball high into the rafters, and propelled the stove out into the crowd. We thought everyone was ok -- the chef looked very rattled, but apparently 3 people were sent to the hospital with varying degrees of burns. We thought it was a bit funny that the explosion happened right across from the Harry Potter Jelly Belly booth. We thought for a second it might have been one of their spells gone wrong. As the article mentions, the food show continued.
A few highlights. I got to chat a bit with John Scharffenberger and he gave me a sample of their new milk chocolate, as well as their new 82% extra dark. Both delicious -- bonus points for him being really nice. Stonewall Kitchens were showing off their baking kits that come in really cute collectable tins, I looked like they had some new ones. I was happy to see the Savannah Bee Company booth growing. Ted Dennard and his bees produce gourmet raw honey and raw honey products. He had a display of stunning, tall, sleek bottles of Tupelo honey that everyone was ooo-ing and aaah-ing over -- unfortunately for me it looks like they may be sold out on their site.
In terms of trends...As you can imagine low-carb products were well represented as were kid-targeted cooking mixes and gadgets. You could make a moon out of all cheese samples. I actually had an amazing cheese at one of the Italian distributer booths. I can't remember the Italian name for it, but it translated to "breeze of summer" in English. It was produced an hour outside of Venice towards the Dolomites, was made in barrels, and was covered in a grassy hay. I think it was a mix of cow milk and something else. Best cheese I've had this year. Other trends; still alot of hot sauces, lots of tea drinks, lots of vitamin drinks, lots of gourmet and organic chocolate brands, lots of cute girlie bakery up-and-comers with nice packaging (lots of nicely designed packaging in general at the show). And we saw quite a bit of lemon curd, tasty!
The abundance of lemon curd reminded me of a couple recipes I clipped over the past year. I clipped this Food + Wine recipe last year and have been meaning to try the lemon cheesecake bars -- I think the swirls look beautiful. I also have the Spring 04 issue of Donna Hay magazine, and they have a lemon swirl cheesecake bar recipe, the picture looks just as tasty as the one in Food + Wine. I considered it a sign, went to the store, and loaded up on cream cheese.
I'll just get this out in the open....these little cheesecakes are absolutely delicious and decadent. Impressive to look at as well! The pools of citrus blend into the cheesecake filling beautifully and each bite is an explosion of lemon. You might notice my picture looks more like a tart than a bar. That's because I don't have a 9-inch square non-stick baking dish. I do have lots of little non-stick tart pans though. I'm going to a friends for dinner, and thought the individual tarts looked a little fancier and I saved myself $8 and some shelf space. I'll do bar shapes for the next picnic I go on.
The recipe is easy to follow, and I had all of the ingredients right in my refrigerator (with the exception of the cream cheese). I made the simple crust, made the lemon curd, and then made the cream cheese filling. Assembled it all, baked for 40 minutes and let it cool. Then of course I took a taste. Light but rich, sweet but tangy - very tasty. Great recipe.
In some of the early entries on this site I didn't request permission to run the recipe I was writing about from the publisher so it won't appear here. The majority of entries on 101 Cookbooks will have the recipes attached, this just happens to be one of the ones that doesn't.
From: Food & Wine (May 2003) Page: 207