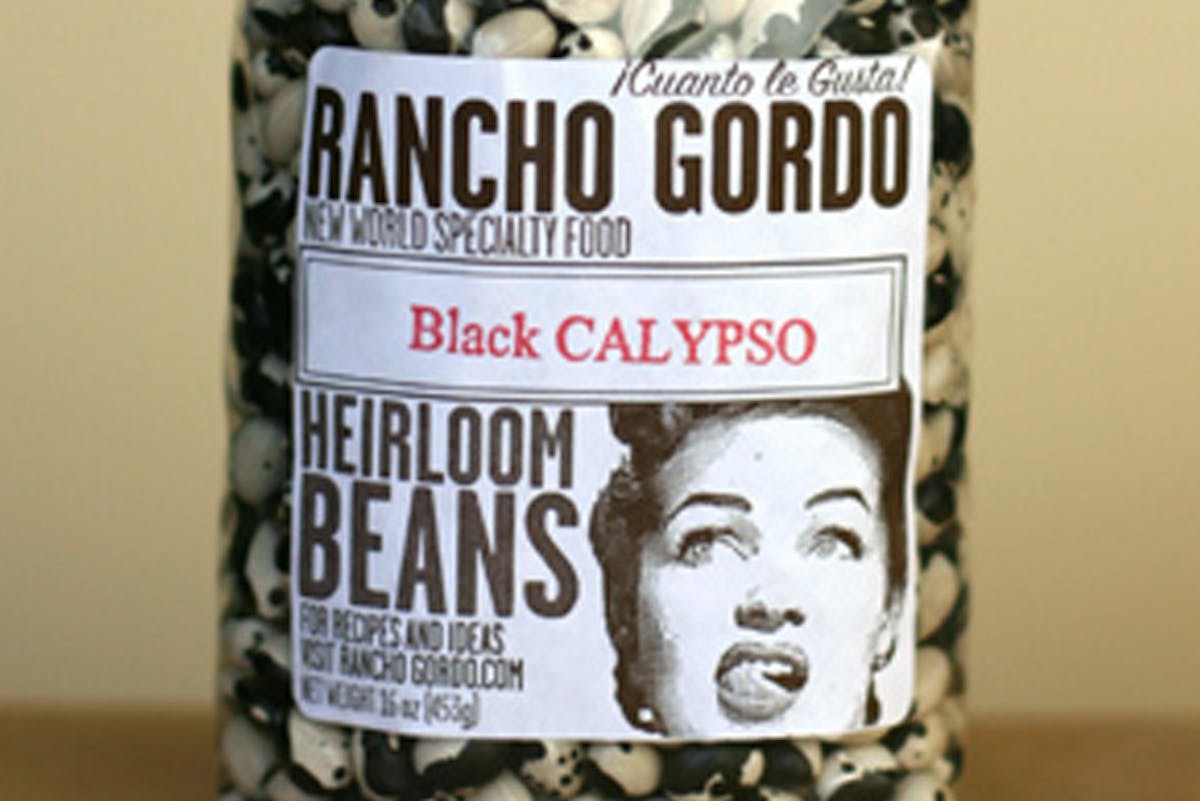 Chocolate Calypso Beans Recipe
There are very few things that make me stop dead in my tracks, but at the San Francisco Farmer's Market last weekend this is exactly what happened. I caught the Rancho Gordo stall out of the corner of my eye and proceeded to be reeled in hook, line and sinker by the spectrum of new world heirloom beans on display in snappy packaging. Beans with captivating names like, Eye of the Tiger, Black Valentine, Jacob's Cattle, Butterscotch Calypso, and Yellow Indian Woman brimmed from baskets. Distinctive marks and sizes ranging from tiny to plump helped distinguish one type from the next.
My big crush was on the Black Calypso with its black and white markings. Some say this bean has marks like an orca, others refer to it as a yin-yang bean. They are absolutely beautiful, and they keep a hint of their distinctive markings through the cooking process (not the case for many beans). See above picture.
The Rancho Gordo booth is new - I think this Saturday was Steve Sando's second week at the San Francisco Ferry Building. In addition to his fancy beans he also carries a spicy torch for other indigenous foods from the Americas and I can't wait for him to educate me in the ways of cobanero, negro de valle, amaranth, epazote, culantro, quelite and all the other corn, chile peppers, and herbs he brings down to us from Napa.
I bought:
2 bags Black Calypso Heirloom Beans
1 bag Black Valentine Heirloom Beans
1 bag White Tepary Heirloom Beans
1 Bag Jacob's Cattle Heirloom Beans
1 Bag White Corn Pozole
Click Here to see pictures of the beans on the Rancho Gordo Website.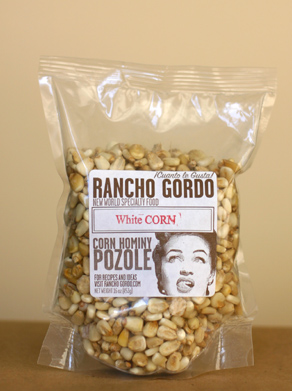 I dug up this recipe for Chocolate Calypso Beans when I got home after doing a search for Black Calypsos on Google. I'm not sure how authentic it is, probably not at all....but it was tough for me to pass up a bean recipe calling for Ibarra Mexican chocolate and a bottle of Negro Modelo. The original recipe that I worked from was pretty good, but I made extensive notes as I was cooking and am rewriting the recipe here for me to use for future reference (if you try it and have any feedback, let me know). The flavors in the sauce for these beans were very nice, but not quite punchy enough for me, so next time -- more spices. The consistency of the liquid/sauce around the beans was a bit off as well -- too much liquid to bean and a bit on the thin side. The new version will also be chicken stock free and I will try the Jacob's Cattle beans which apparently have a creamier texture than the more starchy Black Calypsos (think new potatoes vs. russet).
Chocolate Calypso Beans (remix)
1 lb. Jacob's Cattle beans
2 T. olive oil
1 large onion, chopped
1 red bell pepper, chopped
5 cloves garlic, minced
2T. ground, dried red chilies (I used med-hot Chimayo)
1 1/2 T ground cumin
2+ t. ground cinnamon
1 t. ground allspice
4 1/2 cups water or vegetable stock
1 12 oz. bottle Negro Modelo Mexican beer
1 1/2 discs Ibarra Mexican chocolate
Rinse the beans, pick out any pebbles or dirt. Rehydrate beans by soaking overnight, or start soaking them in the morning if you are cooking later in the evening. Drain and rinse. In a large stock pot saute the onion, red pepper, and garlic in olive oil for 5 minutes. Add the spices and saute for another minute or so. To the sauteed ingredients/spices add drained beans, water or stock, and beer. Bring to a boil. Reduce heat and simmer until beans are tender, roughly two hours, stirring gently every 15 minutes or so. When beans are done stir in the chocolate and generously add salt to taste.
We used these tasty beans on fajitas (with fake grilled chicken strips), salsa, queso fresco cheese, avocado, etc....delicious. The beans are even better then next day and we had plenty leftovers.
Lucky for all you people outside the San Francisco Bay Area, it looks like you will be able to order Rancho Gordo beans via the web sometime in the next month or two.