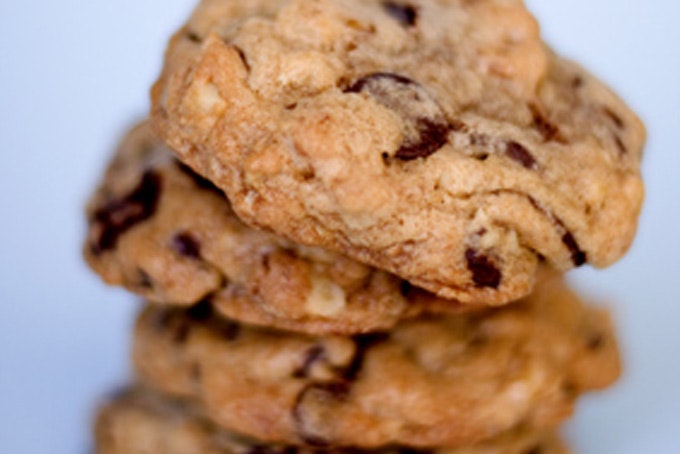 Great Chocolate Chip Cookies from David Lebovitz's Great Book of Chocolate Recipe
To close out the chocolate streak I've been on over the last couple of weeks I decided to end on a perfect note by making the Chocolate Chip Cookie recipe from David Lebovitz's Great Book of Chocolate. Chocolate chip cookies travel well, and if you end up sitting next to me on the plane ride to Dallas, I promise to share.
I always pack a bag lunch on flights and deliberate carefully about what to bring to snack on, knowing that I will thank myself later. I don't like to eat anything that smells too strong when I'm flying (red peppers, saffron, etc) because it makes me queasy. This flight is relatively short and mid-morning so I'm thinking about making: a toasted PB+J with delicious forest berry jam I picked up last week and chunky, organic peanut butter from Sunridge Farms with a large frosty sparkling seltzer water to keep me lively and hydrated, and a chocolate chip cookie (one for me, and a few to share). An alternative idea would be to whip up savory waffle sandwich with some sort of tasty filling (by making waffles and then using them in place of bread in my panini maker), but not sure if I will have time.
Back to The Cookies. Just look at them. They are that good. If you like a serious chocolate chip cookie, this is the recipe. A high chip to dough ratio guarantees lots of chocolate in every bite, and the walnuts add crunch, density, and a delicious flavor to the overall mix. If you like a thin and crispy chocolate chip cookie, pass on this one. If you like them substantial, big, rich, chunky, gooey, and decadent.......this recipe is all yours.
The other recipe I can't wait to try from David's book is his Tupelo Honey Chocolate Sauce with Brandy (page 133). I got a giant, fancy-pants electric crepe maker from Wayne for my birthday last week, and I have a feeling this sauce is going to make an appearance on some homemade crepes as soon as I get home.
Thanks for the great recipe and a super book David :)
Great Chocolate Chip Cookie Recipe
1/2 cup (100 grams) granulated sugar
1/2 cup (120 grams) firmly packed light brown sugar
8 tablespoons (1 stick) (115 grams) unsalted butter, cold, cut into 1/2-inch (1cm) pieces
1 large egg
1 teaspoon vanilla extract
1/2 teaspoon baking soda
1 1/4 cups (175 grams) all-purpose flour
1/4 teaspoon salt
1 1/2 cups (200 grams) semisweet chocolate chips
1 cup(130 grams) walnuts or pecans, toasted and chopped
Adjust the oven rack to the top 1/3 of the oven and preheat to 300F (150C). Line three baking sheets with parchment paper.
Beat the sugars and butters together until smooth. Mix in the egg, vanilla, and baking soda. Stir together the flour and salt, then mix them into the batter. Mix in the chocolate chips and nuts.
Scoop the cookie dough into 2-tablespoon (5cm) balls and place 8 balls, spaced 4 inches (10cm) apart, on each of the baking sheets.
Bake for 18 minutes, or until pale golden brown. Remove from the oven and cool on a wire rack.
Store at room temperature in an airtight container for up to 3 days.
Make about 20 cookies.
From The Great Book of Chocolate by David Lebovitz (Ten Speed Press, 2004) - reprinted with permission.