Triple Chocolate Espresso Bean Cookies Recipe
Dark chocolate cookie recipe, each cookie pumped full of lots of freshly ground espresso powder.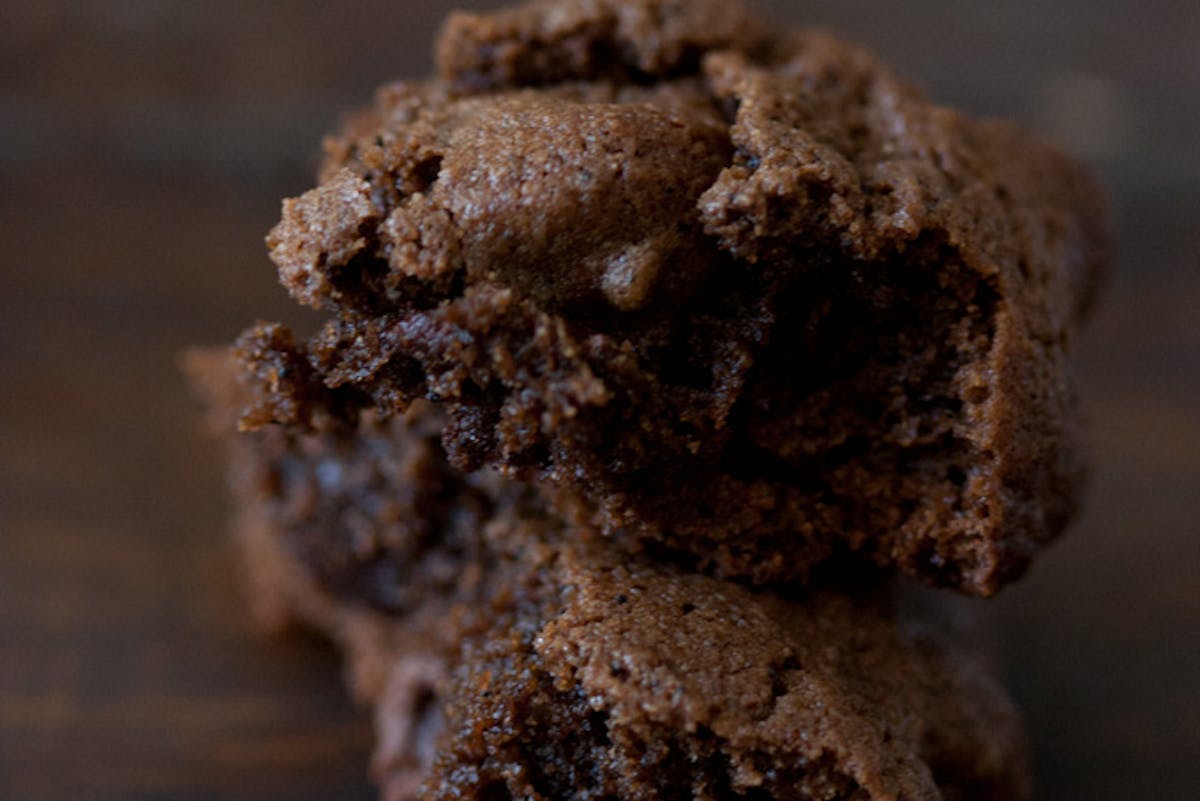 Today's recipe is for you coffee lovers. I had a bag of chocolate covered espresso beans on hand and thought it might be interesting to bake them into a cookie. A dark chocolate cookie. A dark chocolate cookie pumped full of lots of freshly ground espresso powder...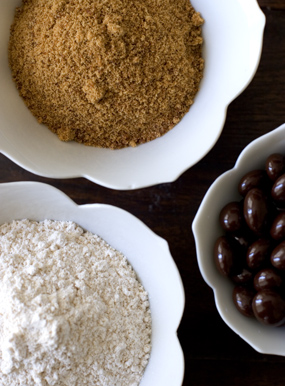 Whole wheat pastry flour, Alter-eco all-natural, unrefined sugar, chocolate coated espresso beans
I used a whole wheat pastry flour instead of all-purpose flour. The more I use this flour for quick breads, cookies, and muffins, the more I love it. People think whole wheat and they think heavy - not so with whole wheat pastry flour. It is ground from a softer, starchier wheat berry which turns out a talcum soft, fine, off-white flour. It has less gluten than flour ground from hard wheat berries and is good for recipes where you want a tender crumb. Because it is a whole wheat flour it all of the wheat berry is used - the germ, the bran, and the endosperm. It is a whole food and all the good, nutritious parts are part of the final flour.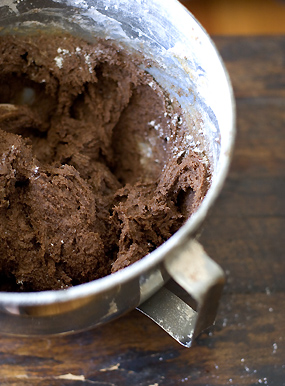 Cookie batter just before stirring in the espresso beans
Take a look here, the final dough is a thick and rich, creamy brown in color tinted by the cacao powder. It gives of a aura of dark chocolate spiked with the smell of the inside of a bag espresso beans. Every time I make cookies I have the same exact conversation with myself, right after I mix in the dry ingredients I say to myself, "I probably shouldn't sample the dough, it has raw eggs in it." And then I proceed to eat some regardless.
So, consider yourself warned - this is a cookie dough you can't resist sampling, raw egg roulette is in your future if you make a batch. Hopefully you have more willpower than I do and at the very least buy good, fresh, organic, free range eggs.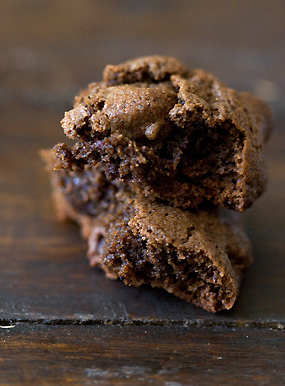 Fresh from the oven
Here's what the insides of the final cookies looked like. They were deliciously sophisticated in flavor with the crunch from the espresso beans playing off the dense cakey-ness of the cookie. Next time around I want a touch more ooey-gooey factor, so I'll stir in 3/4 of a cup of semi-sweet chips. I'll factor that into the recipe below.
Triple Chocolate Espresso Bean Cookie Recipe
2 1/2 cups whole-wheat pastry flour
2 tablespoons freshly ground espresso powder
3/4 teaspoon aluminum-free baking soda
3/4 teaspoon aluminum-free baking powder
3/4 teaspoon finely ground sea salt
1/2 cup natural cocoa or cacao powder (Scharffen Berger or Dagoba), not dutched

1 cup unsalted butter, room temperature (soft to the touch)
2 cups fine-grain natural granulated sugar (evaporated cane sugar) - for example, I love Alter-eco brand, OR do 1 1/2 cups sugar + 1/2 cup dark brown sugar

2 large eggs
3 teaspoons vanilla extract
3/4 cup semi-sweet chocolate chips
8 ounces chocolate covered espresso beans
Preheat your oven to 375 degrees.
Assemble dry ingredients: In a medium bowl whisk together the whole wheat pastry flour, baking soda, baking powder, salt, and cacao powder. Set aside.
Assemble the wet ingredients: In a big bowl or with an electric mixer beat the butter until it is fluffy and lightens a bit in color. Now beat in the sugar - it should have a thick frosting-like consistency. Mix in the eggs one at a time, making sure the first egg gets incorporated before adding the next. You will need to scrape down the sides of the bowl once or twice as well. Add the vanilla and mix until it is incorporated.
Add the flour mixture to the wet ingredients: Add the dry ingredients to the wet mix in about four waves. Stir a bit between each addition until the flour is just incorporated. You could add all the flour at once, but it tends to explode up and out of the mixing bowl and all over me every time I do that. At this point you should have a moist, brown dough that is uniform in color. Stir in the espresso beans and chocolate chips by hand and mix only until they are evenly distributed throughout the dough.
Drop the cookies onto baking sheets: I like to make these cookies medium in size (they are rich!) - and use roughly one heaping tablespoons of dough for each one. I leave the dough balls rough and raggy looking - I never roll them into perfect balls or anything like that - this way each cookie will have a bit of unique personality.
Place the cookies in the oven: Bake at 375 degrees for about 10 minutes on the middle rack. You don't want to over bake these cookies at all or they will really dry out. If anything, under bake them just a bit. When they are done, pull them out to cool.
Tip: If you don't want to bake all the cookies at one once you can freeze some of the dough for quick cookies later. Instead of placing the cookies in the oven put the cookie dough balls into a freezer-quality plastic bag and toss them in the freezer. You can bake straight from the freezer at a later date, up the baking time by a couple minutes to compensate for the frozen dough.
Big Batch: 2-3 dozen chunky, medium cookies.