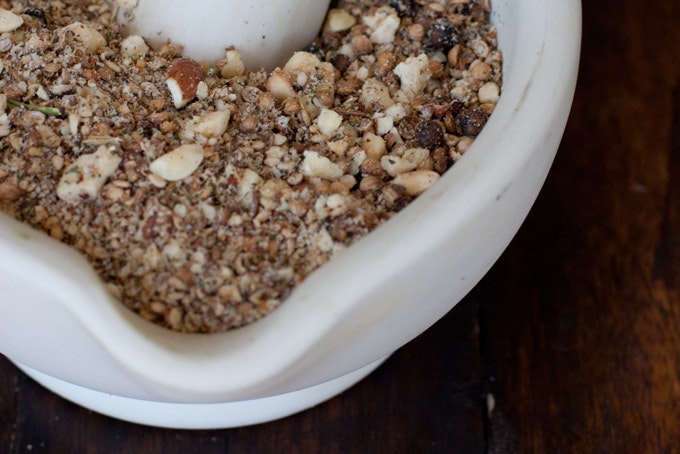 A fantastic dukkah recipe with a bit of a backstory. Nearly five years ago my good friends Hadley and Philip bravely packed the contents of their Emeryville loft into a New Zealand-bound cargo container. They then hopped a one-way flight to the land of the hobbit, with baby Emory in tow.
Hadley finally returned to California soil this week for a whirlwind visit. We attempted to pack as much eating, shopping, and exploring as humanly possible into a three day period. She brought lots of New Zealand magazines to share, and we in-turn provided her an Aero-bed, and a hundred channels of around-the-clock American television.
Hadley and me in back of the Ferry Building
Some highlights from her all-too-short visit:

- Drinks and BBQing with all the cool kids from her old hood. The Alameda Flea Market. Delfina Pizzaria, Burritos in the Mission, Tamales (me) and Fish Tacos (Hadley) at Primavera, Blue Bottle Coffee, etc. Some things old, some things new. The Ferry Building Farmers' Market wasn't open when she left, we were all still doing laps in the parking lot down the road.
As we were talking about what we would make for our little BBQ night, she was saying to me that a spice blend called dukkah was all the rage in New Zealand. She also told me about a passionfruit sandwich cookie with a funny name I can't recall at the moment Lowlo's? Yoyos? Expect those to be featured here at some point in the future. We got side-tracked (that's what happens when you start drinking prosecco at 5 in the afternoon) and never got around to collecting the spices needed for the dukkah recipe.
Dukkah next to a nutty bread, ready for dipping
But I still wanted to make it. Even better, I would learn it only takes 10 minutes. So if you are looking for a quick-yet-fresh approach to the bread/olive oil standard - this is it. Dukkah is a crumbly nut and spice blend typically associated with Egypt. I used the version of dukkah included in Dave DeWitt and Nancy Gerlach's Spicy Food Lover's Bible - 424 pages packed with a world of peppers, pimientos, powders, and spicy pastes. I've been wanting to make something from this cookbook for quite some time now, it brims with a world of spice blends, curries, flavor-rich rubs, sambals and spice-centric entrees. Other recipes to try: Ginger Beer, Wasabi Potato Pancakes, Green Chile Pinon Ice Cream, and Lemon Tabouleh with Baharat Seasoning. There's also a chapter on cooling counterparts to balance out the heat.
Their version is fragrant, earthy, and beautiful and lacks heat because it lacks any chiles - peppercorns provide a different kind of liveliness on the palette. I suspect there as many ways to make it as there are people who make it with different spice to nut ratios depending on the cook or chef, this version is a good place to start. It was a nice balance and the spices didn't overpower the nut, bread, or oil components. The dried mint adds a refreshingly cool whisper that plays off the warming, toasted spices.
This is a spice blend that I suspect would be wonderful on this soup, as a pre-grill rub for just about anything you might put on the BBQ, and as a sprinkling for roasted potatoes. Try it, this recipe make a large enough batch that you will be able to play around and experiment with it for a week (or two!)
Dukkah Recipe
Selected headnotes: Egyptian street vendors sell small paper cones with the unique dukkah blend, along with strips of pita bread. Customers then dip the bread into the vendor's bowl of olive oil and then their dukkah.
1/2 cup hazelnuts
1/4 cup coriander seeds
3 tablespoons sesame seeds
2 tablespoons cumin seeds
1 tablespoon black peppercorns
1 teaspoon fennel seeds
1 teaspoon dried mint leaves
1 teaspoon salt
Heat a heavy skillet over high heat, add the hazelnuts, and dry-toast until slightly browned and fragrant, being careful that they don't burn. Remove from the heat and cool completely. Repeat the procedure with each of the seeds and the peppercorns. Allow each of them to cool completely.
Place the nuts and seeds, along with the mint and salt, into a mortar and pound until the mixture is crushed. Or pulse in a food processor to a coarse consistency; do not allow the mixture to become a paste.
Store in an airtight container in a cool place for up to 1 month.
Yield: 1 cup.
from the Spicy Food Lover's Bible by Dave DeWitt & Nancy Gerlach (Harry N. Abrams, 2005) - reprinted with permission