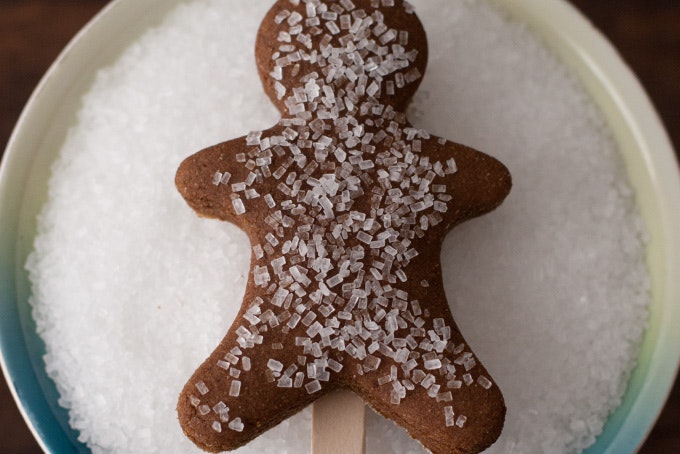 Gingerbread Man Cookies (on sticks!) Recipe
Along with millions of other holidays bakers this time of year, I inevitably end up cranking out a few dozen gingerbread cookies. They bake alongside a handful of tiny gingerbread stars and gingerbread candy canes made from the dough scraps. I have strong opinions when it comes to gingerbread men, and up until this point I haven't messed with my approach or recipe much. It worked just fine every year and the cookies were tasty, classic, spice-flecked and a rich shade of brown - exactly what they were supposed to be.
I decided to shake things up this time around by overhauling my recipe from the ground up to include white whole wheat flour, more assertive spices, and less refined sweeteners.
As I've said before this is not the time for ooey-gooey or flaky cookies. Gingerbread men need to stand crisp and tall. Being sturdy is important too, particularly if you are a tall gingerbread man. If you are too chewy your posture becomes compromised, particularly if you are standing on the lawn of a gingerbread garden.
Gingerbread cookies should have a nice spicy kick to them. As they are baking people should flock to the oven from the far recesses of a house to have a peek at the source of those wonderful smells. You can't be shy with the spices.
I like to decorate my gingerbread men simply. Nothing over the top. I did some of these with a sheen of big sugar, others I do with a dot or two of royal icing for buttons (I'll add some notes on how to make royal icing without raw eggs below). I also put a bunch of them on sticks. This way if you take them to a party you can fill a small flower pot (or container) with sugar and arrange them in a bouquet of sorts. So they are standing upright. Gingerbread men don't show very well stacked up, flat on their backs on platters.
Happy holidays, I hope you enjoy!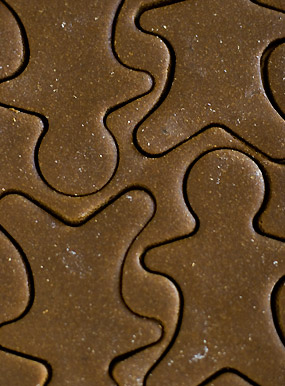 Gingerbread Cookies Recipe
HS notes: Whatever you do, don't over bake these guys - they will dry right out. If anything under bake them just a shade (they will continue to bake for another couple of minutes once you pull them from the oven). Big cookies take longer to cook than tiny ones, keep that in mind as well.
People often like to use bright white royal icing to decorate gingerbread cookies. It doesn't smear once it sets, and it can bind the seams of a gingerbread house like concrete. Many recipes for royal icing call for raw egg whites - this make a lot of people including myself nervous and unfortunately pasteurized egg whites don't whip up the way pasteurized egg whites do. Another option is to use meringue powder, a powdery blend made of dried egg whites and other ingredients (gums?)...here's a brief on royal icing in case you are interested, there is also an evolving discussion here on eGullet. I'll also add, don't bother using organic powdered sugar in your royal icing, it tends to mix up a very unappetizing shade of light gray.
4 cups white whole wheat flour
3/4 teaspoon baking soda
1 teaspoon salt
4 teaspoons ground ginger
1 teaspoon ground cloves
1 tablespoon ground cinnamon
1/2 teaspoon finely ground black pepper

11 tablespoons unsalted butter, room temperature
2/3 cup dark natural cane sugar (i.e. muscavado), or alternately use a dark brown sugar, packed

3 large eggs
2/3 cup organic unsulfured molasses (blackstrap)
large grain sugar (turbinado) for decoration

popsicle sticks (optional)
In a medium bowl, sift together flour, baking soda, salt and spices. Set aside.

In a large bowl by hand (or with an electric mixer) cream the butter until it is light and fluffy. Add the sugar and mix again until light and creamy. Blend in the eggs one at a time and then the molasses. Add the flour mixture in two additions either by hand or on low speed. Divide the dough into two pieces, wrap each in plastic and chill for an hour or so.

Heat oven to 350 degrees, racks in the middle, and line a couple baking sheets with parchment paper or Silpats. Set aside.
Roll the dough out onto a lightly floured countertop roughly 1/8-inch thick and cut into gingerbread men (or other desired shapes). Transfer to baking sheets and arrange a popsicle stick underneath each (if desired), no need to press the stick aggressively into the dough, gently is fine - the cookies will bake right onto the sticks. Sprinkle with sugar (optional) and bake for 7 -10 minutes (for 3 - 4-inch cookies), less for smaller cookies, more for larger.
Makes about 3 dozen four-inch gingerbread men.