Delicious Big Bowl – Quinoa Recipe
This quinoa recipe shows you how I might clean out my fridge - white quinoa, potatoes, onions, toasted nuts, and asparagus.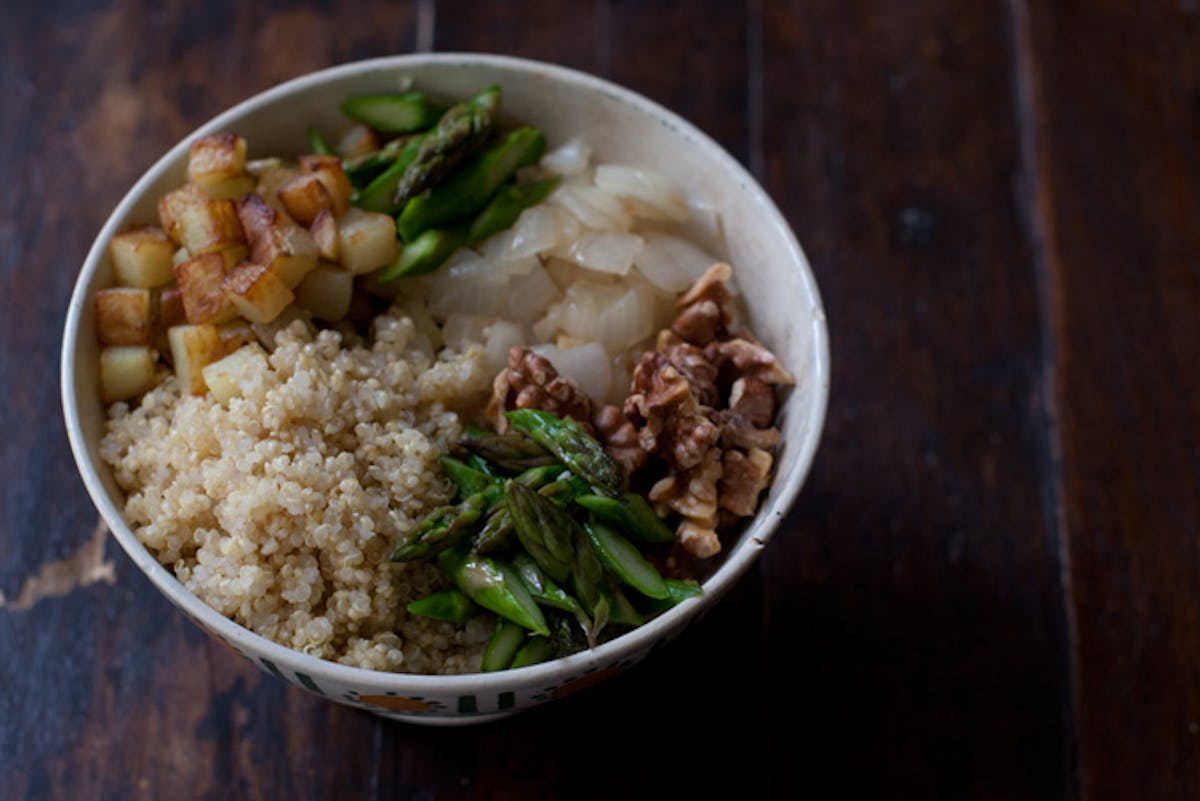 I was on a quinoa recipe bender yesterday and here's why. There aren't many things more disturbing to me than a glance at myself bathed in the florescent vanity lighting of an airplane bathroom five hours into a flight - particularly a bumpy flight. I touched down at SFO Saturday night looking a grey-ish shade of green. While I'm usually a good sport about the bad air, cramped conditions, and packets of overly-seasoned cocktail nuts, anything beyond an hour of turbulence can put me over the edge. Saturday night we bounced our way across the Midwest like we were part of God's personal game of kick-the-can. The kind of turbulence where the pilot keeps interrupting the in-flight 'entertainment' with his best you're-not-going-to-die voice to tell the flight crew to strap in.
It's on these types of flights that I crave good food the most, usually just after they try to serve me a steamed stuffed red pepper of some sort. I start imagining what I will cook for myself if I make it back to terra firma. This flight I decided on a big, hearty, healthy bowl of quinoa as my first meal back in my own kitchen.
It was raining Sunday morning and I didn't want to go out to the store, so I started scavenging around the kitchen for things to go with the quinoa. Creamy-fleshed potatoes from the market last week, leftover asparagus spears (cooked by Wayne in a foil oven packet?), a huge yellow onion and walnuts. Plenty to work with. Quinoa only takes about 20 minutes to cook (give or take), so this came together quickly and I ended up with colorful, protein-packed, belly-filling bowl of deliciousness. I'd be happy to eat variations on this particular quinoa recipe everyday for lunch.
For those of you who are gluten-free, quinoa is a fantastic grain to explore. Also, for anyone looking for vegan recipes - this recipe will work for you as well!
Delicious Big Bowl - Quinoa Recipe
2 cups white quinoa, rinsed well
4 scant cups water
1 teaspoon salt
a few splashes of extra virgin olive oil
3 - 4 medium/large potatoes, cut into 1/2-inch dice
1 large yellow onions, chopped
1 clove garlic, chopped
1 cup toasted nuts (walnuts, pine nuts, etc)
1-2 cups lightly cooked asparagus, cut into 1/2-inch segments

another splash or two of good olive oil or citrus dressing
Bring the quinoa, water and salt to a boil in a large thick-bottomed pot. Reduce heat and simmer for about 20 minutes or until the quinoa opens up revealing a little spiral and is soft and pleasant to chew. If there is any remaining liquid at this point, drain it off and set the quinoa aside.
In the meantime, warm a splash of olive oil in a skillet over medium-high heat, then add the potatoes and a couple pinches of salt. Toss to coat the potatoes and cover for a few minutes to allow the insides of the potatoes to sweat and cook. Uncover, toss again, then cook a few minutes longer (uncovered) until the potatoes start to get some color. Continue tossing every few minutes to get more color and crispness. When they are cooked through and pleasantly crunchy, season to taste with salt and scoop out onto a plate. Set aside.
In the same skillet (no need to clean) warm another splash of oil. Add the onions and garlic and cook for 4-5 minutes or until they soften up a bit.
Toss the quinoa with a splash of olive oil, and serve each bowl of quinoa topped with potatoes, onions, nuts and asparagus. Alternately, you can toss everything together in one big bowl and serve it up family-style.
Serves 4 - 6.

Prep time: 5 minutes - Cook time: 20 minutes