A Nice Berry Pie Recipe
My go-to berry pie recipe - a rye flour crust and mixed berry filling seasoned with fresh thyme leaves. It's the pie I bake most often.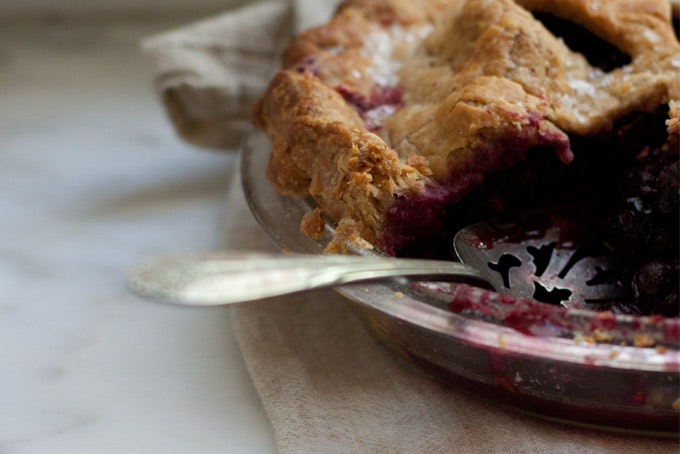 I'm sitting here in my neighborhood coffee shop attempting to write about pie. To be more specific, berry pie. I'm easily distracted and a bit of a daydreamer, so we'll see how this goes. I suspect it could be one of those scenarios where it takes me the better part of an hour to craft a sentiment that basically communicates the following. This is the pie I bake most often. It's made with the crust I love most. And it's a stand-up way to use good berries as well as berries that aren't quite perfect. It's made with a rye flour crust that I pair with a simple mixed berry filling seasoned with a sprinkle of fresh thyme leaves.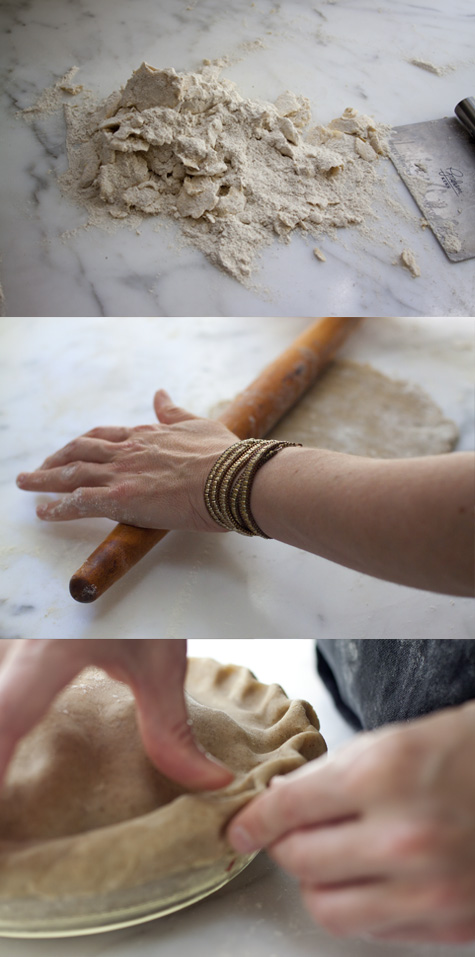 But lets circle back a bit. How about I tell you what I like in a berry pie? I suspect not all of you will agree with me, but let me put it out there. I like a flaky-yet-substantial all-butter crust. I like that crust baked just this side of too dark. But not so dark that it gets overly dry. I also appreciate a slice of pie that (generally speaking) maintains its wedge shape. I like a filling that tastes like fruit, not sugar. And I'm sure there are a number of other things - if they come to mind later, I'll tack them on to the end of this list.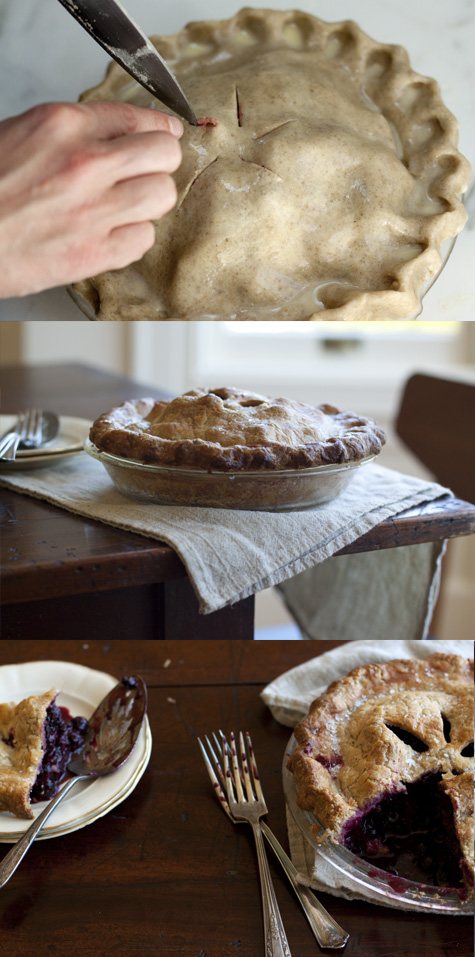 As far as pulling this pie together is concerned, the filling is straight forward. It's the homemade crust that sends everyone into a tailspin. I try to link out to some good instructional sites within the recipe (below) for those of you who are nervous about technique, or aren't quite sure how to approach pie crusts. Lots of pictures, and a video. I might use different ratios/ingredients, but the techniques are the same. And just know, a bit of practice will have you cranking out pies in no time. This rye pie crust in particular is super adaptable - sometimes I sweetened it with a bit of sugar, or sprinkle sugar on top prior to baking. Herbs are welcome, as is citrus zest. I use it for savory pies, and for tarts too.
A Nice Berry Pie
Berries. I tend to use whatever berries I have on hand. My very, very favorite is a version made entirely with wild huckleberries. This pie was a blend of blueberries, huckleberries, and blackberries (8oz. blackberries, 8 oz huckleberries, 1 pound blueberries) - also great. Play around! As far as the crust goes, I'll include my very favorite below, the one I use most often - it makes enough for one 9 or 10-inch double-crust pie.
Flaky Rye Pie Crust

75 g / v. scant 2/3 cup rye flour
175g / 1 1/2 cups unbleached all-purpose flour
1/4 teaspoon fine grain sea salt
8 oz / 1 cup salted butter
1/3 cup / 80 ml cold water or beer
You can make the crust using the quick and popular food processor technique. BUT I always make it by hand, using the above ingredients, and this technique. If you like a super-puffy crust, do the folding in Pim's instructions 4x. I usually like mine less so, and fold & roll just 2 or 3 times, depending on how the dough is feeling. The pie in the photo was 3x.
Berry Pie Filling

2/3 cup / 3.5 oz / 100g natural cane or brown sugar
1/3 cup / 1.5 oz / 45 g flour (apf or wwp)
1/4 teaspoon fine grain sea salt
1/2 teaspoon cinnamon
2 sprigs thyme (prefer. lemon thyme) ~ 1/2 t.
2 pounds of berries, (see head notes)
2 tablespoons lemon juice
2 tablespoons butter

1 egg plus 1 tablespoon water, whisked

Large grain sugar, for sprinkling
Preheat your oven to 425F / 220C, with a rack in the bottom third. Roll out your pie crust - top and bottom - on a flour dusted counter. I tend to work the edges a bit first (particularly if I'm getting cracks) - roll and turn, roll and turn, dusting with flour when necessary. Flip once or twice. Work quickly and keep the dough moving. Place between unbleached parchment paper or Silpats, and refrigerate while you make the filling. If you're nervous about rolling out the crust, have a look at the second part of Melissa Clark's video. See how she's not super fussy? Channel some of that. If you need an extra confidence booster, read this. It's o.k. if your dough doesn't roll out into a perfect circle - you can patch and pinch later if needed. Just shoot for 11 or 12-inch inch rounds.
Make the filling by combining the sugar, flour, salt, cinnamon, and thyme in large mixing bowl. Add the berries, and toss gently until well combined. Set aside.
Line a 9 or 10-inch pie plate with the bottom piece of pie dough. Guide it into place without stretching. You want about an inch of dough extending past the rim of the pie plate, trim a bit with scissors or a sharp knife if needed.
Fill the crust with the berries, drizzle with lemon juice, and dot with the butter. Brush the rim of the bottom crust with a bit of egg wash, then top with the other piece of pie crust. Trim the top crust a bit if needed, then press the top and bottom crusts together at the edges. Working around the rim, tuck the overhanging dough under itself, and crimp with a fork or flute using your fingers (see picture up above). Brush the crust with more of the egg wash, cut a few slits into the top, and place in the oven for about 45 minutes - until the crust is deeply golden. Check your pie regularly after 25 minutes. If you need to foil the edges of the pie - pull it out and do so - this way the edges wont get too dark and dry. I don't have to foil in my oven for this pie, even at this temp, but your oven might be a bit different. I also sprinkle with large-grain sugar about 25 minutes in - for a little extra crunch and sweetness. Let cool a bit, slice and serve.
Serves 8.
Prep time: 90 minutes - Cook time: 45 minutes