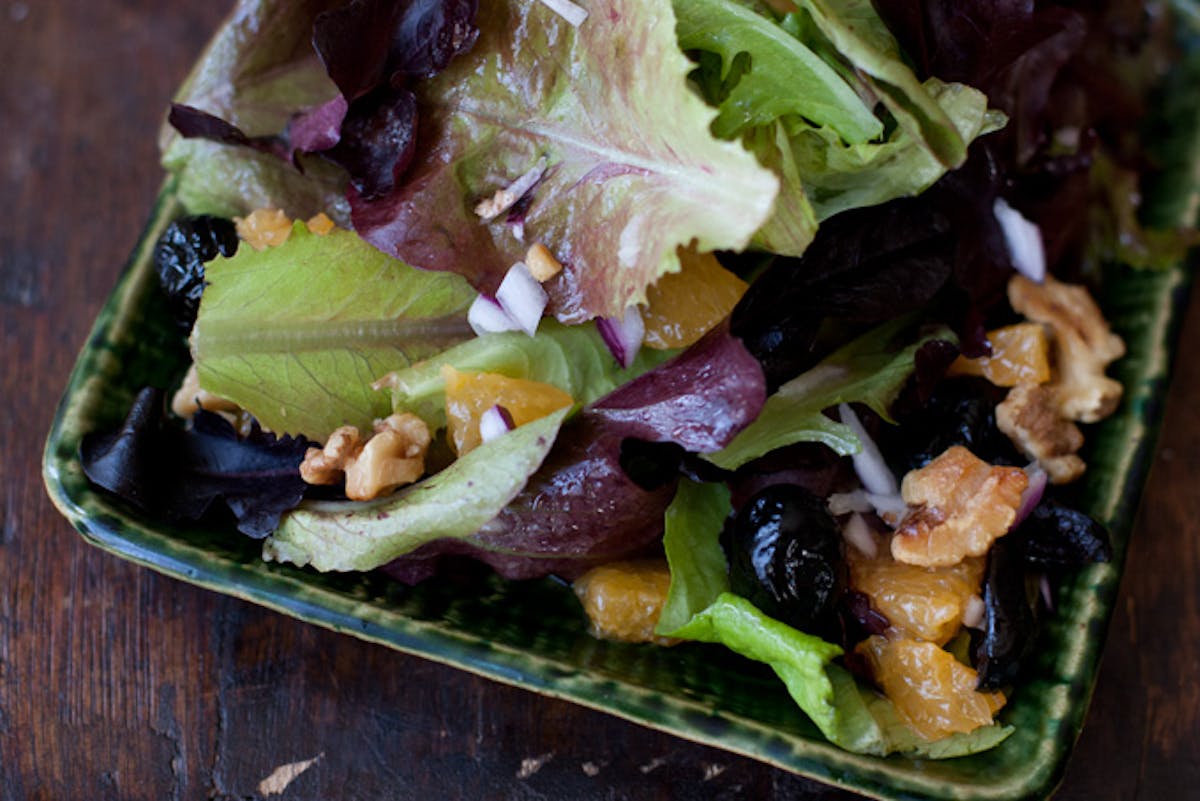 A Simple Spring Salad Recipe
Perfect lettuce glows. I don't know a better way of describing it. Unfortunately, the glow doesn't last long. From the minute lettuce is picked, you're in a race against time and the elements. Tick, it is getting smashed by your other groceries. Tock, it's starting to wilt. Great lettuce emanates a color and vibrancy that makes you believe it is still alive. Chances are, by the time you encounter lettuce in your local grocery store the glow has long since faded. I hate to be too snobby, but you really have to go to the farmers' market to seek it out.
Once you get in the habit of enjoying salads made from just-picked baby lettuce, it becomes increasingly difficult (if not impossible) to reach for those bags of pre-washed lettuce or spinach. While not much of a recipe, I thought I'd share a simple spring salad I threw together for lunch the other day - peppered with black olives, oranges, and walnuts. My hope is that it might encourage you to seek out (or grow your own) perfect lettuce this year. I just planted a bunch of lettuce on my back patio, but I'll save that story for a separate post.
A few tips:
- Good shopping is the key to making a memorable salad. Buy the freshest lettuce you can find and completely baby it. Bruised lettuce is bad lettuce.
- Wash and dry your lettuce as soon as you get it home, this way you'll have it at the ready for days to come. I use a salad spinner to wash AND dry my lettuce. Place the lettuce in the basket of a salad spinner. Place the basket of lettuce in the bigger outer bowl and fill the entire thing with cold water. Gently swish the leaves around to loosen up any dirt or grit. Drain off the water by lifting the basket out and dumping out the dirty water. Repeat once or twice more. Now spin the lettuce dry. Place (along with a paper towel or two) in a bag in your refrigerator until ready to use.
- Don't cram your lettuce into the bag. Let it have some space. Think of your bags of lettuce as pillows - you don't want all the lettuce smashed together. Instead, aim to have it fluffed and even throughout its storage bag.
- Resist the urge to drown your salad, and keep in mind that you can always add, but never take away dressing. And I know you've heard it before, but it's important enough that I'll say it again - dress your salad just before you are going to serve it. Right that moment. Not five or ten or (god-forbid) twenty minutes ahead of time.
Simple Spring Salad Recipe
1 and 1/2 orange, juice only
1/2 lemon, juice only
1/2 small red onion, chopped
1/4 cup extra virgin olive oil
1/8 teaspoon fine grain salt

4 big handfuls of salad greens, washed and dried
1/2 cup walnut halves, toasted
1/3 cup black olives, (the wrinkly, oily ones), pitted
In a medium bowl whisk together the juice of 1/2 orange, lemon juice, most of the red onion, olive oil, and salt. Whisk together until emulsified, taste and adjust with more salt or lemon juice if needed.
Peel the remaining orange and cut into segments, removing any seeds you might encounter. Set aside.
When you're ready to serve, place the salad greens in a large bowl. Toss very gently with a generous splash of the dressing. Add the orange segments and walnuts. Give another toss. Taste and decide if you need to add more dressing, if needed, add a bit more at a time, giving a good toss between additions. Make sure the nuts and citrus haven't all gone to the bottom, help them back up to the top if needed. Serve salad topped with the remaining red onion and olives.
Serves 4.