A Twist on Guacamole Recipe
A favorite guacamole recipe. Served with toasted naan bread (or chips!), I've added a couple pinches of cumin and curry powder for to incorporate a slightly unexpected flavor profile.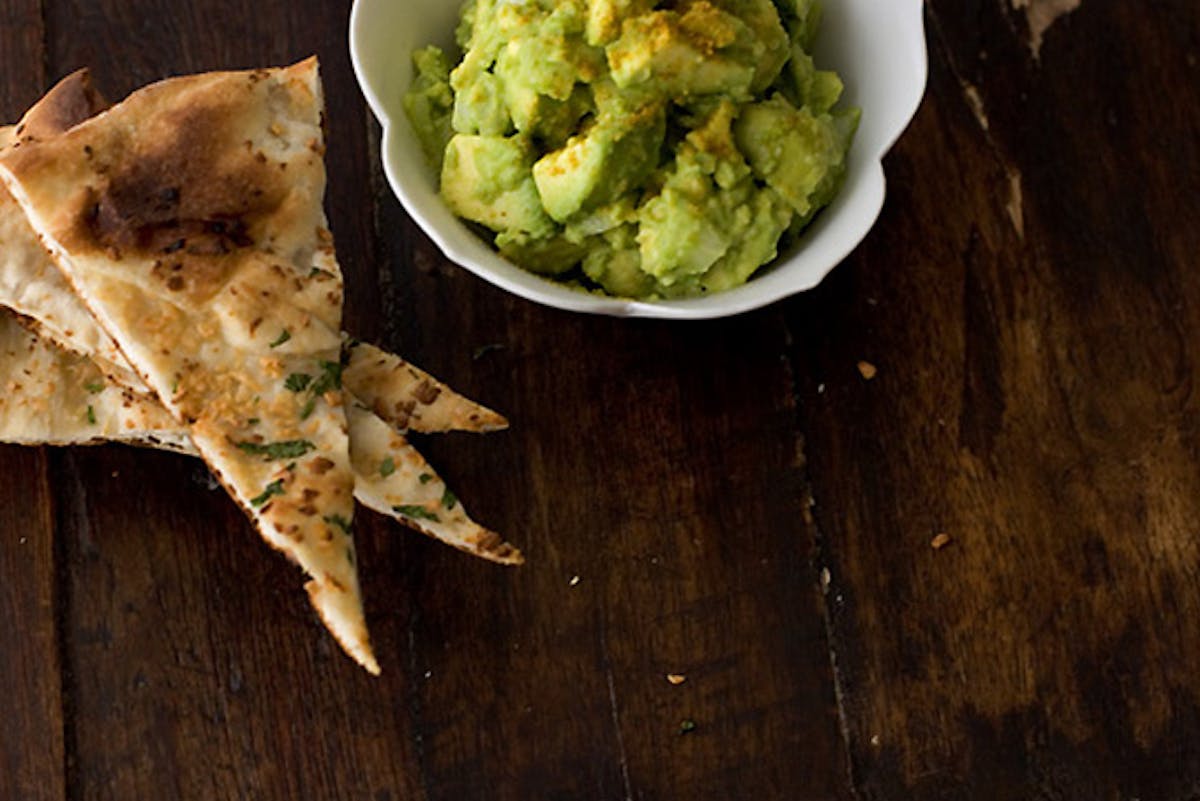 I'm particular about how I like my guacamole. Restaurants are typically too cheap to do it right - adding all sorts of ingredients to stretch the green gold. Pre-made guacamole products? Well, they run the spectrum from not-very-good to outright inedible. I hate to say it, but it's a rare thing to come across the perfect guacamole specimen - or guacamole recipe for that matter.
Great guacamole starts with perfectly ripe avocados (I always have to remind myself to plan ahead a day or two) - you'll know they are ready by cradling each candidate in your palm and pressing confidently against the the pebbled skin with the pads of your fingertips. If the flesh feels as if you might leave a faint mark, you likely have a good one. If the flesh feels as if it might collapse beneath your grip, move to the next - over ripe. Some people prefer the button test - you'll know an avocado is under ripe if you attempt to jostle the little stem button around a bit and it won't budge. Falls right out? It might be too ripe.
Other things to consider:
Resist the urge to over mix guacamole, it should have lots of big chunks - unruly texture bound together loosely with vibrant green avocado flesh. It is not a puree.
Tomatoes or no tomatoes? For the record, I'm against them. But more people than not use chopped tomatoes in their guacamole. They might actually work nicely in this variation I'm exploring today, but when I'm playing it straight - it's simply avocado, onions, garlic, lime and salt.
White onions, not yellow. White onions deliver a clean, sharp onion flavor that is less sweet and soft than your standard yellow onion. White onions cut through the richness of the avocado nicely.
I've been thinking about a way to put a twist on traditional guacamole, without it ending up gimmicky. I was after something familiar, yet different - a version of the chips/salsa/guac thing that happens at various social gatherings but with a fresh interpretation. It also occurred to me that if I was going to experiment, this might be the week to do it - with many of you heading to Superbowl parties and that sort of thing. So, here's what I came up with - an Indian-inspired variation of my favorite guacamole recipe. Instead of chips, I cut wedges of naan bread and baked them off in the oven for a bit until they crisped up. I subtly spiced the avocado with cumin and curry powder.
A Twist on Guacamole Recipe
Feel free to add a chopped tomato if you like, a bit of cilantro might be tasty as well. Many stores now sell reheatable naan bread - Whole Foods, etc. Totally fine for this recipe. Or, even better, stop into your favorite local Indian restaurant and pick up a stack to use for dipping.
1 small white onion
1 clove garlic, minced
4 avocados
1/2 lime
1/2 teaspoon salt, or to taste
a few big pinches of cumin powder
a few big pinches of Indian curry powder

Garlic or plain naan bread, cut into wedges (not gluten free)
Heat oven to 350 and bake the naan wedges for 10 minutes or so - just enough for them to crisp up a bit.
In a small bowl combine the onion, garlic, and avocado flesh. Take the lime and give a generous squeeze or two. Add the salt, cumin and curry powder. Give everything a good stir, but don't overdo it. Taste. Now start adjusting. Do you need a bit more lime? A bit more salt? Want a stronger curry flavor? Go for it.
Serve in a bowl with a big pile of the naan wedges on the side and a sprinkling of curry powder on top (a bit of chopped cilantro would look nice as well).
Makes one party platter.