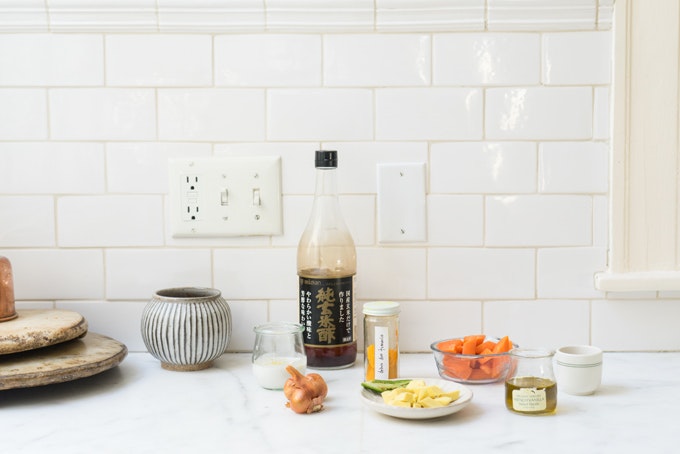 An Exceptional Ginger Carrot Dressing Recipe
Blender dressings are great, in part, because they're fast. Everything into one container, puree, and you're set. This is a dressing I tend to make quite a lot in the fall, and then I just keep on going all the way through winter. It's an incredibly versatile blend of favorite ingredients like carrots, turmeric, coconut milk, ginger, and sesame. Also, lots of shallots. Which, as we know from last week, I rarely skimp on. I use this dressing on green salads, grain salads, and as an A+ finishing touch over sautéed, steamed, or simmered vegetables. This is all to say, it's great on many things. I'll list of some specific ways I've used it recently below :) xo -h
Shredded Winter Salad: Add some winter citrus segments, to a bowl of shredded baby romaine, endives and radicchio, and toss with the ginger carrot dressing and lots of toasted sesame seeds.
Noodle salad: Toss soba noodles with it and then go from there, adding other favorite seasonal ingredients - roasted vegetables, toasted seaweed, tofu or whatever protein you like, etc.
Brussels Sprouts: Pan-fry some brussels sprouts along these lines, transfer to a serving bowl, and toss with a bit of the dressing.
Farro Salad: I did this as a side for Thanksgiving - combine farro, lots of toasted seeds, and plenty or arugula in a large bowl and toss with a generous amount of the ginger carrot dressing.
Summer / Early Autumn: tossed with green beans and topped with deeply roasted cherry tomatoes +toasted almonds
A number of you we curious about a winter miso chowder I posted a photo of to my instagram feed recently. I'm going to write it up next. Making it again tonight, and fine-tuning the ingredient amounts. It's definitely a hearty, winter warmer.
An Exceptional Ginger Carrot Dressing
Sometimes I use 1/4 teaspoon ground cayenne in place of the Serrano. Also, you can freeze any dressing you don't use in a few days.
1/3 cup full-fat coconut milk
1/4 teaspoon ground turmeric, or more to taste
5 tablespoons peeled ginger, chopped to measure
3 medium farmers' market carrots, scrubbed
1/2 of a serrano pepper, stemmed, or to taste
1/3 cup extra virgin olive oil
1/2 teaspoon fine grain sea salt
2 tablespoons toasted sesame oil
1 tablespoon miso (optional)
1 tablespoon maple syrup
1/4 cup / 60 ml brown rice vinegar
4 medium shallots, peeled (or less if your shallots are strong)
Puree the coconut milk, turmeric, ginger, carrots, pepper, olive oil, salt, toasted sesame oil, miso, maple syrup, brown rice vinegar, and shallots in a blender until very smooth. Taste, and adjust, if needed, with more salt or vinegar, or any other ingredient you think might need a little boost.
Makes about 2 cups.