Apple and Carrot Shortbread Recipe
An apple and carrot-flecked shortbread recipe inspired by a recipe I came across in Good Tempered Food by Tamasin Day-Lewis.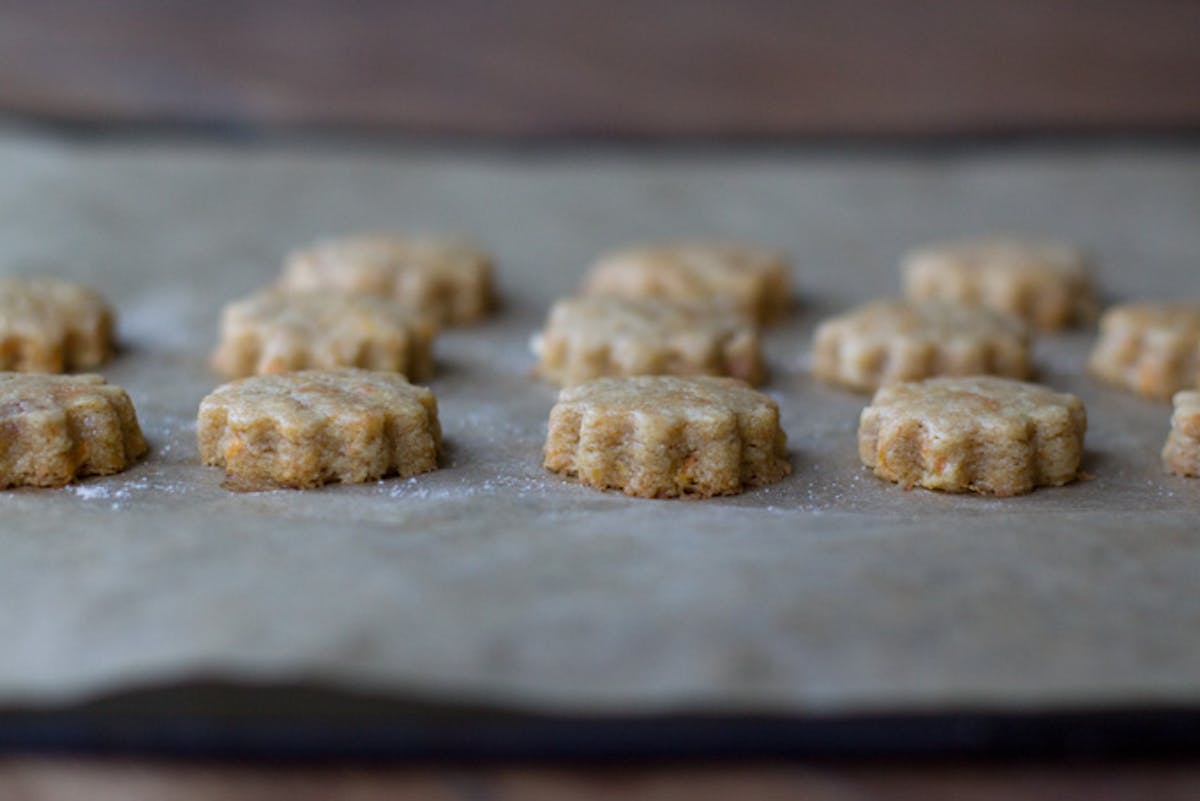 I discovered a small pile of cookbooks the other night as I was cleaning out a bedside cabinet. I must have pushed the books behind closed doors, (and conveniently) out of sight, while tidying up the house at some point. There they've been, undisturbed, for many, many months. When they re-emerged, I felt as if I'd come across a brand new pile of books - a little dusty, but aside from that there they were ready to provide me a few hours of reading on a particularly stormy afternoon. I tagged a few things to try, but one recipe in particular jumped out at me, the Apple and Carrot Shortbread from Good Tempered Food by Tamasin Day-Lewis.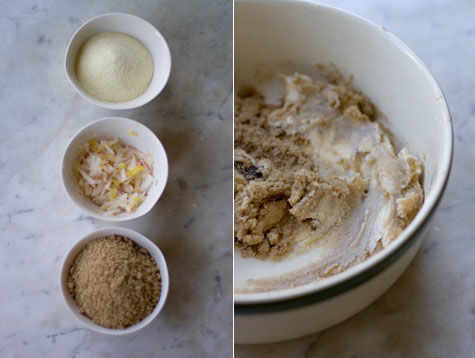 It's not as if we need another shortbread recipe highlighted on this site - there's already this one and that one. But this promised to be a shortbread of a different breed - this one was buttery, sweet, and flecked with shredded apples and carrots. Even better - I had nearly everything on hand to make them.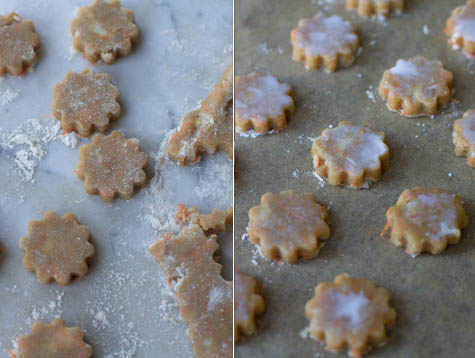 I switched things up a bit from the original recipe, opting for a slightly more rustic version. For the sweetener, I thought a light Muscavado brown sugar would be nice alongside the apples - in place of white sugar. And I used a powdery-soft whole wheat pastry flour in place of unbleached all-purpose. And because I couldn't help myself, I tossed in some lemon zest for a bit of brightness.
For those of you who are more particular about your shortbread, I should mention, these cookies don't have quite as much snap as a shortbread made without moist, shredded apples and carrots in the dough, but they are charming (and delicious) all the same. I had a couple alongside a cup of one of my favorite white teas - and I have to say, it was not a bad way to spend a few moments looking out our big windows at the trees whipping around in the wind outside.
Apple and Carrot Shortbread Recipe
You're going to want to use metal (or sharp-edged) cookie cutters here, it will help cut through the shreds of apple/carrot more easily. If you can't track down whole wheat pastry flour, substitute unbleached all-purpose flour, or I suspect white whole wheat flour work just fine as well.
1/4 cup / 2 ounces / 50g semolina flour
1 1/2 cups / 6 ounces whole wheat pastry flour
1/4 teaspoon baking powder
1/4 teaspoon fine grain sea salt
5 ounces (150g) unsalted butter, room temperature
2/3 cup / 3 1/2 ounces (100g) light Muscovado sugar (or brown sugar)
2 ounces (50g) carrot, grated (about 1/4 cup)
1 ounce (25g) apple, grated (about 1/6 of a med. apple)
zest of one lemon
milk
Preheat your oven to 350F degrees, or 180C. Sift the semolina, flour, baking powder and salt into a medium bowl, and set aside.
In a large mixing bowl, cream the butter and sugar together until light and fluffy. Stir the carrot, apple, and lemon zest into the flour mixture, and mix until well coated and evenly dispersed. Stir the flour mixture into the butter mixture until a dough forms, then knead a couple times to bring everything together. Split the dough in two, flatten each piece into an inch-thick patty, wrap in plastic, and refrigerate for at least thirty minutes.
When you're ready to bake the shortbread, roll the dough out onto a lightly floured surface 1/2-inch thick/1cm. Use a metal cutters to stamp out cookies, then place them on a parchment-lined baking sheet. Brush lightly with a bit of milk and bake for about 10 minutes, or until the edges of the cookies start to brown just a bit.
Makes about 3 dozen cookies.
This recipe was adapted from Good Tempered Food: by Tamasin Day-Lewis. Published by Miramax (October 2004).

Prep time: 10 minutes - Cook time: 60 minutes