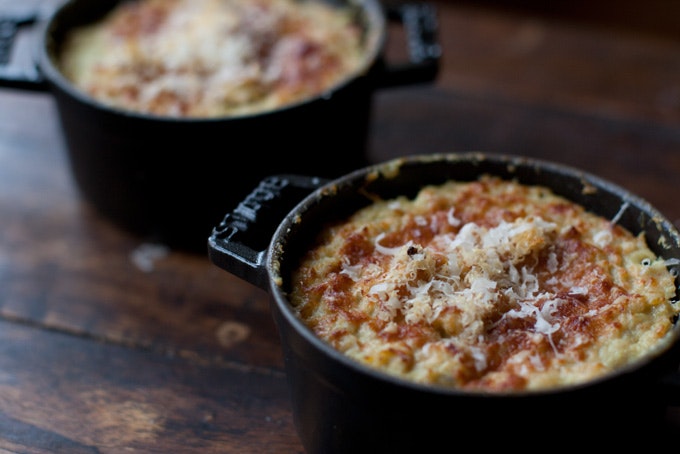 Baked Artichoke Dip Recipe
Wayne bought me two tiny, Staub cocottes for Christmas this year. They are hefty little pots - petite yet sturdy, made of matted black enameled cast iron. I suspect you'll find me using them well into my old age. From the minute I was greeted by their proud brass-capped tops my head was dancing with ideas of how to put them to use. I decided to do an updated version of my favorite artichoke dip recipe. This particular recipe is delicious, but in need of an overhaul. Up until now it was a bit of a mayo and cheese bomb. The golden-crusted artichoke dip you see in the photo is just as good, but uses a bit of silken tofu and yogurt to achieve its creamy texture - and I exercised a sliver of restraint on the cheese front.
A great do-ahead recipe - and you can bake it off in any sized dish you like. I should also note, the smell of the baking artichokes and toasting Parmesan provides a deliciously fragrant backdrop to any get together. I pop the artichoke dip into the oven roughly half an hour before we have friends over, just in time for its olfactory crescendo.
Baked Artichoke Dip Recipe
Sometimes silken tofu can be hard to find. No worries, I've had success using medium firm regular tofu as well - just stay clear of the firm and extra-firm varieties. For some added nutritional punch and color quickly saute a couple handfuls of spinach in a bit of olive oil - toss it in the food processor with the artichokes, tofu, and garlic.
2 (14-ounce) cans water-packed artichokes, well drained
4 ounces organic silken tofu
3 large cloves garlic
1/3 cup Parmesan cheese, freshly grated
2/3 cup plain (or Greek) yogurt
1/4 teaspoon fine grain sea salt, or more to taste
pinch of cayenne pepper

more Parmesan to sprinkle on top
Preheat oven to 350F degrees. In a blender or food processor puree the artichokes, tofu, and garlic. In a separate medium bowl whisk together the parmesan cheese, yogurt, salt, and cayenne. Stir in the artichoke puree and pour mixture into a medium-sized baking dish (or multiple smaller dishes). Sprinkle the top with more Parmesan. Bake uncovered until heated through and the cheese on the top starts to brown, about 45 minutes.
Makes 2-3 cups of artichoke dip.