Baked Pasta Casserole Recipe
This baked pasta recipe features vibrant flecks of chopped spinach and lemon zest, toasted almond slices and oozy, bubbly cheese all enveloping sturdy little pasta shells.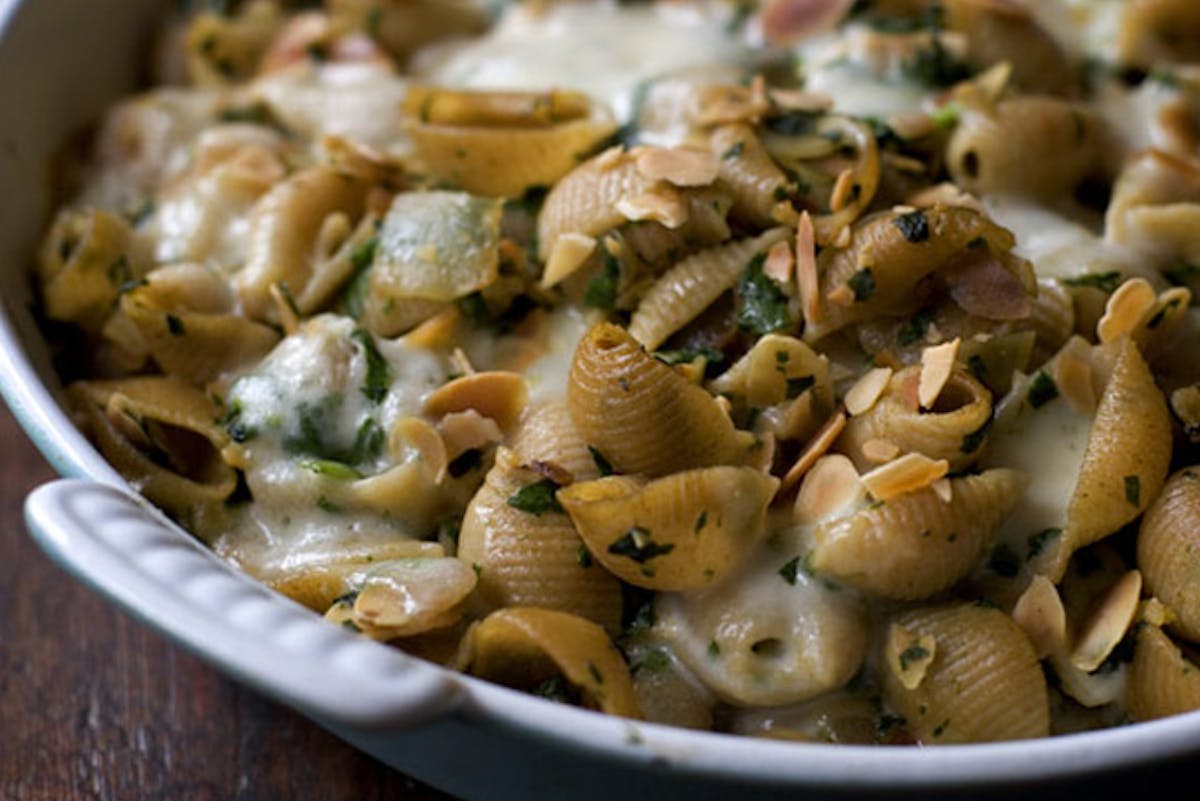 Vibrant flecks of chopped spinach and lemon zest, toasted almond slices and oozy, bubbly cheese all enveloping sturdy little pasta shells. Spurred on by many days of dark skies and puh-lenty of rain this winter, I spent an unnatural amount of time mulling over ideas for a baked pasta casserole. I wanted to do something a little different than the standard tomato sauce pasta pan. I also wanted to keep things a bit lighter than some of the cream and/or egg-based classics. I finally got around to giving this a shot the other day, and it was good! It's actually hard to come up with a relatively healthy pasta casserole (well, it had me stumped for a while) - like the pasta salads we've talked about before - everything just has a tendency to get so uber-starchy, drowning in too much sauce or cheese, and out of balance. Anyways, on the casserole front, this is my attempt to rein it in a bit, and still have it taste delicious.
A slice served with a citrus-dressed side salad is a nice lunch. Nibbles from the pan first thing in the morning are also hard to resist. Hint: go for the crusty, golden corner pieces where the sides of the pan meet the bottom.
Baked Pasta Casserole Recipe
I use whole wheat shells here, but feel free to experiment with other short pasta. If you are in a pinch for time forget the baking all together and just toss the cooked pasta with the spinach skillet, and sprinkle with the mozzarella before serving.
extra-virgin olive oil
3/4 pound whole wheat pasta shells
sea salt
1 large yellow onion, chopped
2 cloves garlic, chopped
4 cups well-chopped fresh spinach
1 1/2 cups sliced almonds, lightly toasted
zest of 2 lemons
8 ounces mozzerella, shredded or torn into small pieces
Preheat the oven to 375 degrees. Butter/oil a large casserole dish or baking pan - something roughly equivalent to 13x9-inch pan.
Boil the pasta in salted water per package instructions. Drain pasta, toss with a glug of olive oil. Set aside.
In the meantime, heat a bit of olive oil in a skillet over medium-high. Saute the onions with a couple pinches of salt for a few minutes (or if you want a bit more depth of flavor until caramelized). Stir in garlic. Stir in spinach. Cook for just about 20 seconds, until the spinach collapses a bit. Remove from heat and stir in 1 cup of the almonds and 1/2 of the zest. Add to pasta and stir and stir - mixing extremely well, a minute or so.
Now sprinkle the bottom of baking dish with the rest of the zest. Add a layer of the pasta to the bottom of the baking pan, now sprinkle with some of the cheese, add more pasta, then more cheese. Finish with a layer of cheese. Cover with foil and bake for 30 minutes or until cheese on top is bubbly and melty. Serve sprinkled with the remaining almonds.
Serves 8.