Braised Broccoli with Orange and Parmesan Recipe
A simple one-pan broccoli recipe I've made no less than three times in the past ten days - Parmesan cheese, tomatoes, orange juice, and oregano.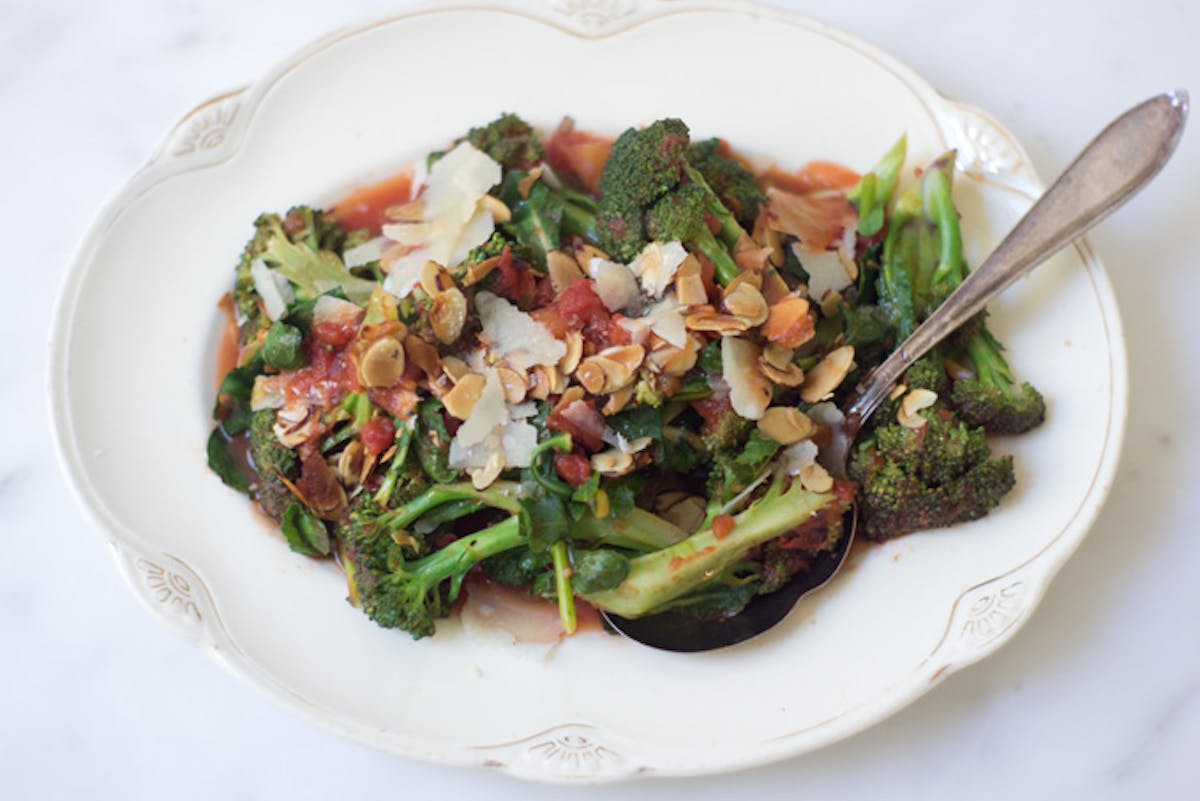 I saw Lucy Attwater when she came through San Francisco last Fall. She was the stylist on the feature I did with Whole Living Magazine, and we've kept in touch. That night we were chatting over drinks at Fat Angel and she was telling me about a fantastic shoot she'd just come from related to True Food Kitchen. Ditte Isager was the photographer and the cookbook was related to Dr. Weil's restaurants. It sounded great, I made a mental note to keep an eye out for the book - but as many of you know, these things can take time.
A year and some passes, and I'm emailing from Delhi with Sebastian Beckwith (my friend who runs In Pursuit of Tea), who mentions having dinner at Ganso, a new Ramen / Japanese Comfort Food restaurant opened by a mutual friend. He went with Dr. Weil, who btw, has a fantastic new book out - True Food.
I was clearly meant to track down a copy and spend some time this book. So I did, and it has been out on my counter for a few weeks now, full of inspired, clean-eating recipes, beautiful photography & design, printed on uncoated paper. It's nicely done on many fronts. I think it will resonate with many of you as well so I thought I'd share a sampling of spreads down below, as well as the recipe for Braised Broccoli with Orange and Parmesan - the breakaway recipe I've cooked three times in the past ten days.
This broccoli is the sort of thing you can throw together on a weeknight, in a single pan, with next to no fuss or time commitment. It incorporates a blast of orange and a bit of fresh oregano into a tomato base, and is finished with a sprinkling of cheese. I added some crunchy almonds because I couldn't help myself, and served it as a side to stuffed shells, over a family-style frittata for lunch, and as a topping on an open-faced avocado tartine.
Braised Broccoli with Orange and Parmesan
HS: I've been using fire-roasted tomatoes here, and they're extra delicious. I also can't help but at a few almonds for a bit of crunch.
1/4 cup / 60 ml freshly squeezed orange juice
1 14-ounce can crushed tomatoes

1 head of broccoli, florets and stalks trimmed and cut into bite-sized pieces

1/4 teaspoon chopped fresh oregano
1/4 teaspoon red pepper flakes
1/4 teaspoon fine grain sea salt
1/8 teaspoon freshly ground black pepper
1 tablespoon extra virgin olive oil
1/4 cup Parmesan cheese shavings
2 tablespoons toasted sliced almonds
In a medium saucepan over medium-high heat combine the orange juice and tomatoes. Bring to a boil and stir in the broccoli. Stir in the oregano and red pepper flakes, then cook until the broccoli it just tender,and bright green - a couple minutes. Do your best to avoid overcooking the broccoli. Season with salt and pepper, and transfer to a serving dish. Drizzle with the olive oil, and sprinkle with the cheese and almonds before serving.
Serves 4-6 as a side.
Adapted from True Food: True Food: Seasonal, Sustainable, Simple, Pure by Andrew Weil, M.D., Sam Fox, and Michael Stebner
Prep time: 5 minutes - Cook time: 5 minutes