Broccolini Salad Recipe
Big bowl of green - broccolini tossed with big croutons, tons of scallion slices, mozzarella, toasted almonds, and a hit of serrano pepper.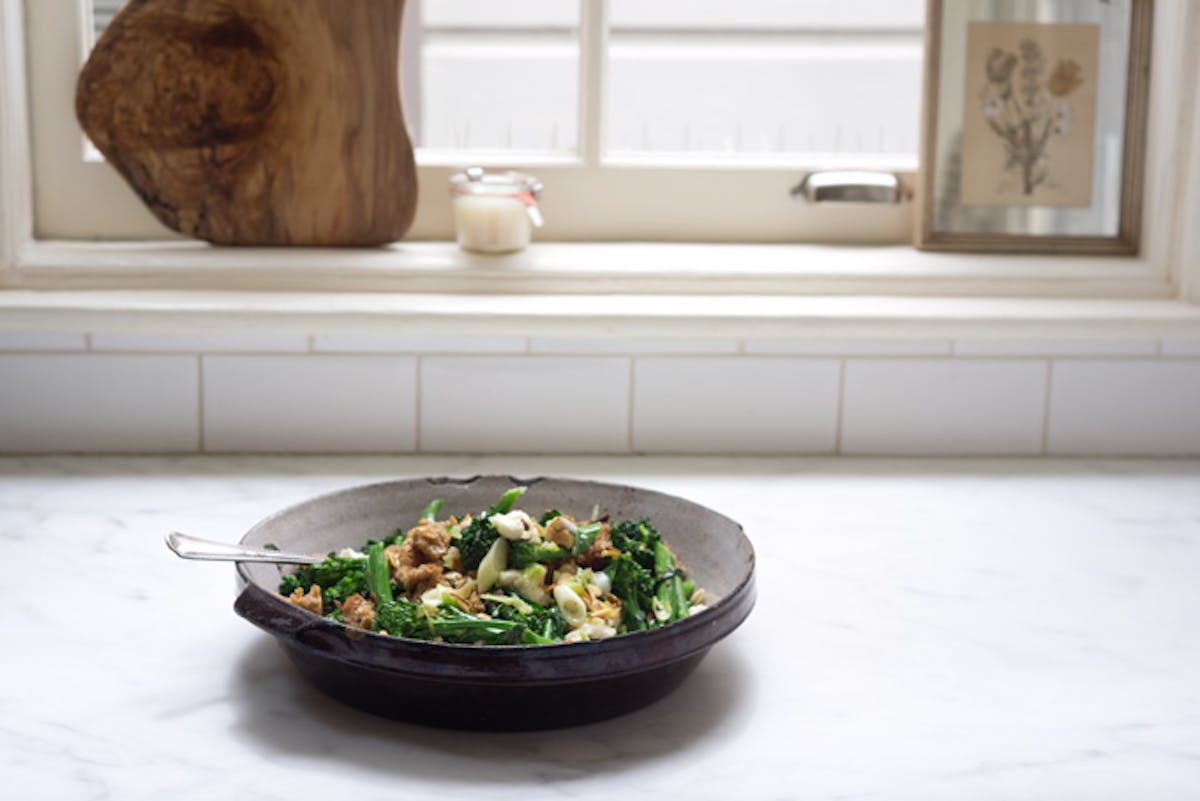 I think we've discussed this before. My friend Malinda has a real knack for making salads. Remember the shaved fennel beauty in Super Natural Every Day? That was hers. We were at her house for dinner the other night and she made a broccolini salad I parked just to the right of my wine glass. Must have had three servings. There were blanched lengths of broccolini, big shards of homemade croutons, creamy pockets of burrata, and toasted almond slices.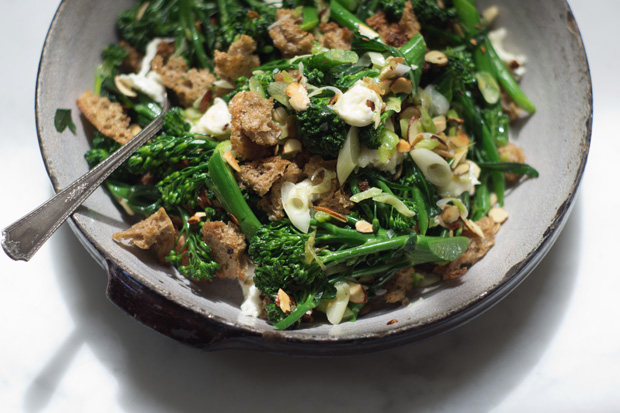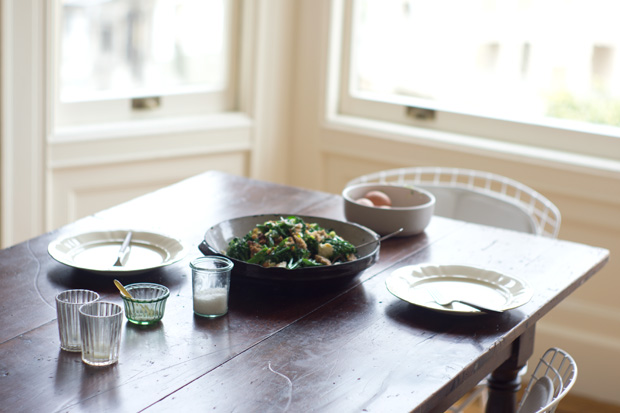 It was one of those relatively simple preparations that reminded me of how good certain things are. Sometimes I forget big, rustic homemade croutons are worth making. And mozzarella? It's great in salads - it doesn't have to be summer, and you don't have to include tomatoes. Things like that. Ideas like these get pushed out of my brain from time to time. And its nice to get reminders.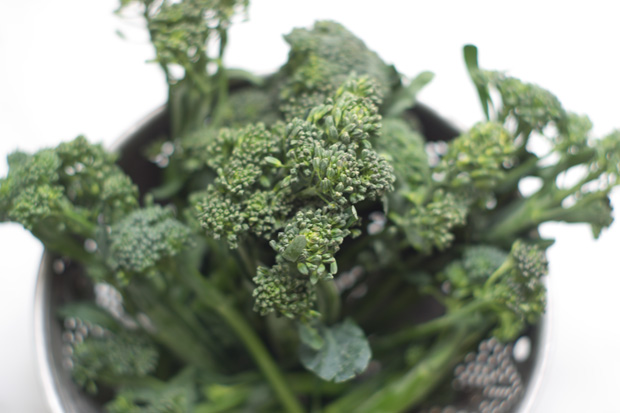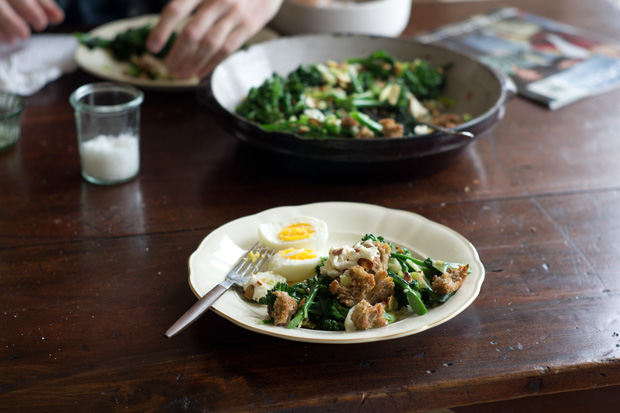 We chatted in the kitchen before dinner about dressing for the salad (and broccoli/broccolini in general). Malinda mentioned she likes to accent hers with a bit of anchovy when there aren't vegetarians around. I told her I often do the lemon zest/red pepper flake combo when I'm throwing broccoli together on a weeknight. And as that sentence was coming out of my mouth, I thought, wow, what a yawn. Surely I can come up with something more interesting than red pepper flakes the next time around.
So I kept thinking about it. On the walk home, up the stairs, brushing teeth....The image of a big pile of, whispy, thinly sliced scallions kept popping into my head. So, that's the direction I went when I made this for lunch the other day. I spiked it with some minced serrano pepper, and loaded it with toasted almonds as well. Thanks for the inspiration M :)!
Broccolini Salad
I made a meal of this by introducing a hard boiled egg - on the side. That said, you could chop and sprinkle one over each plate. Or you could work some chopped egg into the dressing. I have you make more dressing than you'll likely use, in part because it's nice to have a bit of leftover on hand throughout the week. You can try to use burrata cheese here in place of the mozzarella - as a treat. Just know it can be a bit tricky though, hit or miss. Sometimes it looses all structure, which makes it difficult to work into a salad like this.
1 lb / 16 oz / 450 g baby broccoli / broccolini, trimmed, and each stalk halved if you like

3 bunches scallions, trimmed and thinly sliced
1 small serrano chile pepper, deveined, seeded and minced (opt)
1/2 cup / 120 ml extra virgin olive oil
fine grain sea salt
3 big handfuls of big, rustic croutons
a squeeze of fresh lemon juice.
1 cup / 4 oz / 115 g sliced almonds, toasted
4 - 6 oz fresh mozzarella cheese, torn into big chunks
Fill a big pot with water and bring to a boil. Salt the water well and cook the broccolini briefly, about a minute, or long enough to take a bit of the snap out of the stalks. Drain, run under cold water to stop the cooking, and pat dry with a clean cloth. Set aside.
Combine the scallions, serrano pepper, olive oil, and a couple pinches of salt in a small saucepan. Bring to a sizzle, stirring all the while, and remove from heat. Stir in a squeeze of lemon juice.
To assemble the salad, just before serving, place the broccolini and croutons in a large serving bowl. Scoop about 1/2 of the green onions into the bowl, allowing most of the oil to drain off. Toss well and continue to add more green onions until everything is coated to your liking. Have a taste at this point to get a sense of whether you need to adjust the seasoning at all - with more salt or lemon juice. Add the almonds and toss, then one last (gentle) toss after adding the mozzarella.
Use the leftover oil (refrigerate) to cook eggs, drizzled over potatoes, drizzled into soup, etc.
Serves 4 - 6.
Prep time: 10 minutes - Cook time: 10 minutes