Chocolate Puddle Cookies Recipe
I came across a cookie when I visited Portland, it was a crackle-edged puddle of chocolate with a texture that made me think of the collision between a soft meringue and a fudgy brownie.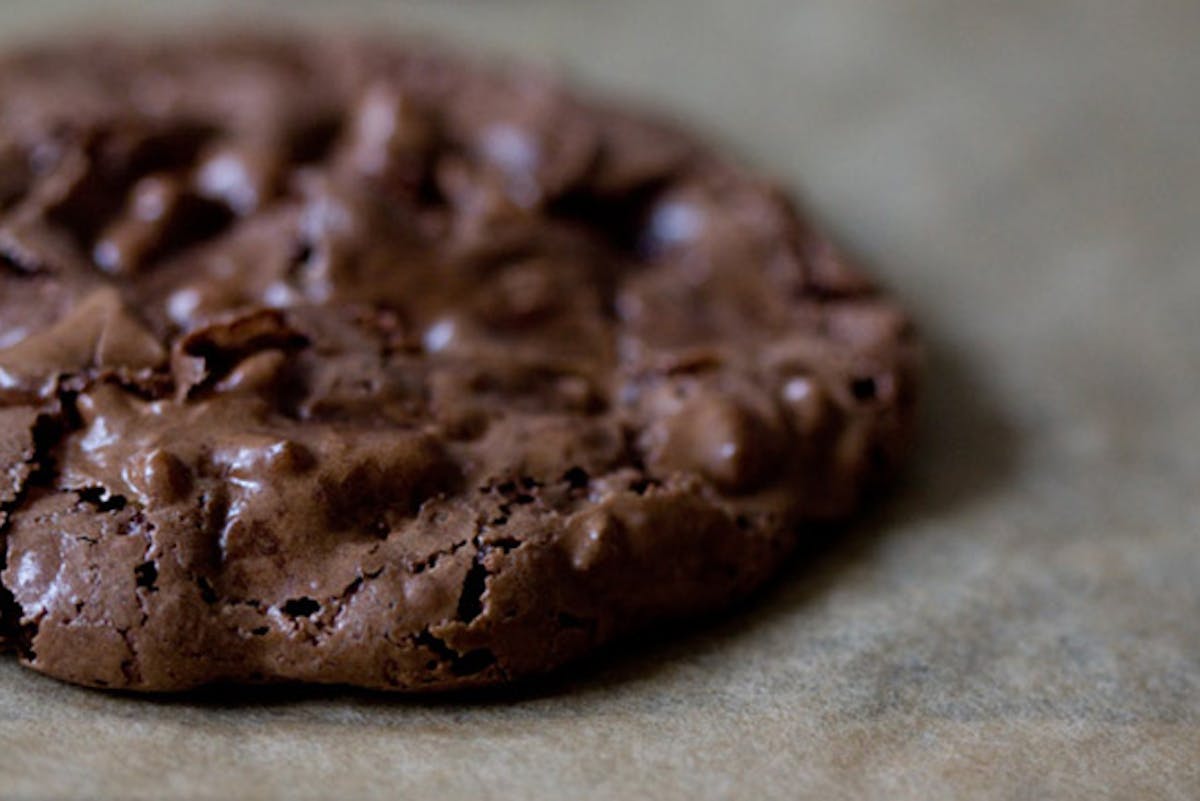 I came across a cookie when I visited Portland a couple years back. It was a crackle-edged puddle of chocolate with a texture that made me think of a collision between soft meringue and a fudgy brownie. I kid you not, love is not too strong a word to use here. I fell hard for this cookie.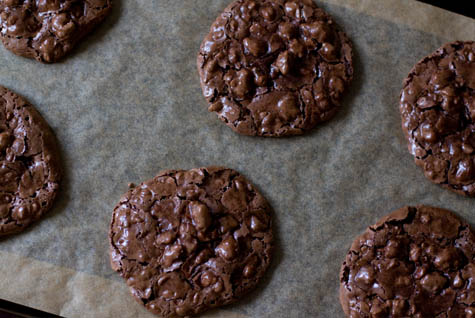 Without getting too serious, I've been having an internal debate about whether or not I should post this recipe. When I post sweets or treats, I like them to have some sort of whole grain twist, or feature a natural sweetener. I mean, that's usually how I cook and bake. But I have a big-time crush on this cookie, and I figured I'd post the recipe in all it's powdered sugar, chocolaty glory in case some of you want to make a batch. In short, there are just six ingredients between you a baking sheet of these, no mixer necessary - just a big bowl and wooden spoon.
As far as the origins of this recipe? I came across a recipe shortly after my return from Portland that sounded very close to the cookie I tasted there (they seemed to be a version of the François Payard's Flourless Chocolate-Walnut Cookie), but the recipe I was working from didn't work all that well for me. The good news is, it did provide a good starting point. I adjusted a few ingredients and my technique, and now I've been able to make them reliably. That being said, please read the head notes before making these, they have a few quirks that aren't like other cookies - and I've outlined the exact ingredients I've tested and had success with. I hope you enjoy these - they've become family favorites. And if you're looking for more chocolate inspiration, this flourless chocolate cake is a classic, everyone loves this Violet Bakery Chocolate Devil's Food Cake, and you can't go wrong with these incredible brownies.
Chocolate Puddle Cookies
I've used both 365 organic powdered sugar from Whole Foods, and Hain organic powdered sugar with success. I prefer to use non-alkalized cocoa powder (Scharffen Berger or Dagoba) but also tested with Droste, which is a Dutch-process cocoa powder. All with success. On the nut front, be mindful of how you toast your walnuts - it's the single factor that impacts the personality of these cookies most. Using deeply toasted walnuts makes for a much more intense, nutty cookie. Lightly toasted walnuts can sometimes be mistaken for chocolate chips, and make for a much more mild cookie. Both good! Also, cooking time - you don't want to over or under bake here - over bake, and your cookies will cool too a crisp, under bake, and they are too floppy and crumbly. Also, underbaking makes it more difficult to remove the cookies from the parchment paper after baking - you get the swing of it after a batch or two. Use large eggs, I suspect if you use extra-large, the batter will run, and you'll have to compensate with more powdered sugar.
3 cups / 11 oz / 310 g walnut halves, toasted & cooled
4 cups / 1 lb / 453 g confectioner's (powdered) sugar

1/2 cup plus 3 tablespoons / 2 oz / 60 g unsweetened cocoa powder

scant 1/2 teaspoon fine grain sea salt
4 large egg whites, room temperature
1 tablespoon real, good-quality vanilla extract
Preheat oven to 320F / 160C degrees and position racks in the top and bottom third. Line three (preferably rimmed) baking sheets with parchment paper. Or you can bake in batches with fewer pans.
Make sure your walnuts have cooled a bit, then chop coarsely and set aside. Sift together the confectioner's sugar, cocoa powder, and sea salt. Stir in the walnuts, then add the egg whites and vanilla. Stir until well combined.
Spoon the batter onto the prepared sheets in mounds of about 2 tablespoons each, allowing for PLENTY of room between cookies. These cookies are like reverse Shrinky Dinks - they really expand. Don't try to get more than 6 cookies on each sheet, and try to avoid placing the batter too close to the edge of the pan.
Bake until they puff up. The tops should get glossy, and then crack a bit - about 12 -15 minutes. Have faith, they look sad at first, then really blossom. You may want to rotate the pans top/bottom/back/front.
Slide the cookies still on parchment onto a cooling rack, and let them cool completely. They will keep in an airtight for a couple days.
Makes 18 large cookies.