Dried Fava Soup with Mint and Guajillo Chiles Recipe
Easily one of the best, most interesting soups I've cooked in years. Adapted from a recipe in Rick Bayless's Mexican Kitchen - a dried fava bean and roasted tomato base topped with a fascinating cider-kissed tangy/sweet quick-pickled chile topping.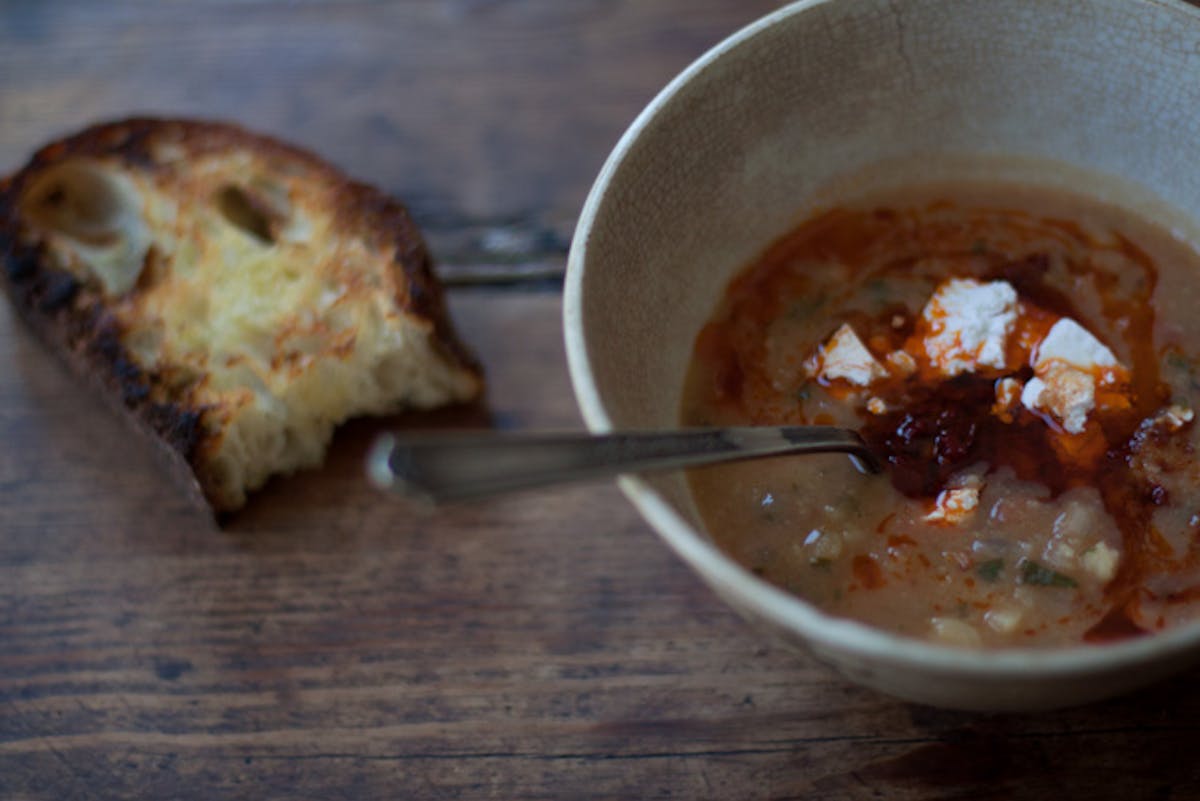 The way I approach cooking generally falls into one of two camps. Often I have an idea of what I want to make, and I simply set out to realize that. Other times I like to follow the lead of another cook or chef. Put myself in their hands completely. When it comes to the latter, I find myself combing cookbooks and magazines looking for recipes highlighting unexpected, interesting flavor combinations or techniques. I look for ideas and approaches that are new to me, or ways to use an ingredient I'm not particularly well versed in. I often turn to books that have strong roots in a specific place or in a traditional cuisine. This is a practice I try to keep up a couple times a week, and I have to tell you, the rewards can be great. This soup is a prime example. It is from Rick Bayless's Mexican Kitchen, a book originally published nearly 15 years ago. The soup is a fascinating pairing of a dried fava bean and roasted tomato base topped with a cider-kissed tangy/sweet quick-pickled chile topping. The topping calls for Mexican oregano, fresh cilantro and spearmint, and the green notes balance the earthiness of the chiles. Easily one of the best, most interesting soups I've cooked in years.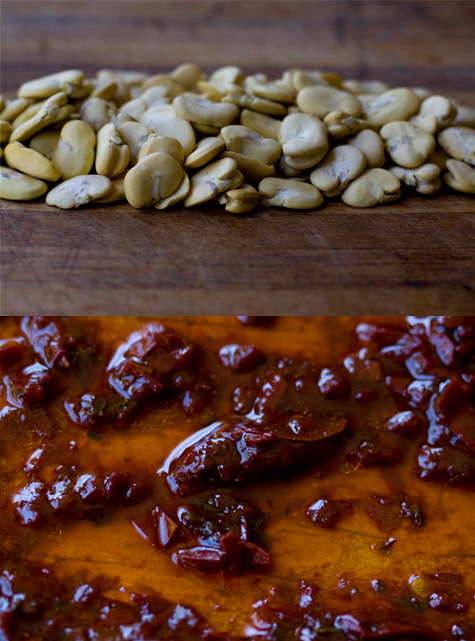 Aside from discovering a great recipe like this in Rick's book, one of the other things I really appreciate is the way he always provides alternate suggestions for recipes. He often includes vegetarian suggestions, shortcuts, and suggestions for advance preparation. For example, he includes a few lines about how do a Moroccan inspired version of this soup by omitting the chiles and incorporating saffron, ginger, and chile flakes. He also includes a version with huitlacoche and mint.
I rewrote the original recipe to reflect a few minor tweaks I made. The most significant, using dried guajillo chiles in place of dried pasillas and using my broiler to cook the onions and tomatoes.
Dried Fava Soup with Mint and Guajillo Chiles
Rick's recipe called for dried pasilla chiles, but I had guajillo chiles on hand, so that is what I used - delicious. And for the vegans out there - simply skip out on the cheese.
1 pound / 16 oz / 450g hulled dry fava beans, rinsed (see photo for reference if needed)

8 cups / 2 liters good vegetable broth or water
6 garlic cloves, unpeeled
1 large white onion, sliced 1/2-inch / 1 cm thick
1 1/2 pounds / 24 oz / 680g ripe tomatoes

6 medium dried guajillo or pasilla chiles, stemmed & seeded

2 tablespoons extra virgin olive oil
2 tablespoons cider vinegar
3/4 teaspoon dried Mexican oregano
1 1/2 teaspoon fine-grain sea salt, plus more to taste
1/2 cup / .25 oz / 10g loosely packed chopped cilantro
2 tablespoons chopped fresh mint, pref. spearmint
1/2 cup / 2 oz / 55g crumbled Mexican queso anejo or feta
Make sure the dried fava beans are clean and free of dirt. Place in a large soup pot and cover with the broth. Simmer over medium-low heat, partially covered, until very tender, about an hour. The beans should be starting to fall apart at this point.
While the beans are simmering, roast the garlic in a heavy skillet over medium heat, turning occasionally, until you get black spots all over, and the cloves have softened up - about 15 minutes. Cool a bit, remove the papery skins, chop finely and set aside. Now, you'll want to caramelize the onions a bit as well. I used my broiler, but you could also do it in a dry skillet or on a grill. In this case I placed the onions in a single layer, on a rimmed baking sheet, about 4-inches / 10cm under a hot broiler for 4-5 minutes on each side, until soft and deeply browned. Cool a bit, peel and finely chop. Use the same pan under a hot broiler to roast the tomatoes until blackened on one side, six minutes or so. Flip, and roast the other side, another 6 minutes. Cool a bit, then peel and chop, saving all the juices.
Add the garlic, onion, and tomatoes to the fava beans and simmer until the beans are the consistency of a coarse puree, 15-30 minutes.
While the soup is simmering, cut the chiles into confetti-shaped flecks using scissors or a sharp knife. Heat the oil in a small saucepan over medium heat. Add the chiles and stir for a minute, then remove from the heat. Add the vinegar, 3 tablespoons of water, oregano, and 1/2 teaspoon of the salt. Set aside and let stand for at least 1/2 hour, stirring occasionally.
Just before serving, add enough water, if necessary, to bring the soup to the consistency of a medium-thick bean soup. Let the soup come back up to a simmer, remove from heat, then stir in the mint, cilantro, and another teaspoon of salt. Taste, and add more salt if needed, but keep in mind the cheese is salty as well. Serve with a dollop of the chile mixture, sprinkled with a bit of the cheese.
Serves 8 to 10.
Adapted from the Slow-Simmered Fava Bean Soup with Mint and Pasilla Chile recipe in Rick Bayless's Mexican Kitchen.
Prep time: 10 minutes - Cook time: 100 minutes