Farro and Roasted Butternut Squash Recipe
A wonderful farro and roasted butternut squash recipe. Balsamic roasted butternut squash, deeply toasted walnuts, and nutty farro come together in this delicious recipe.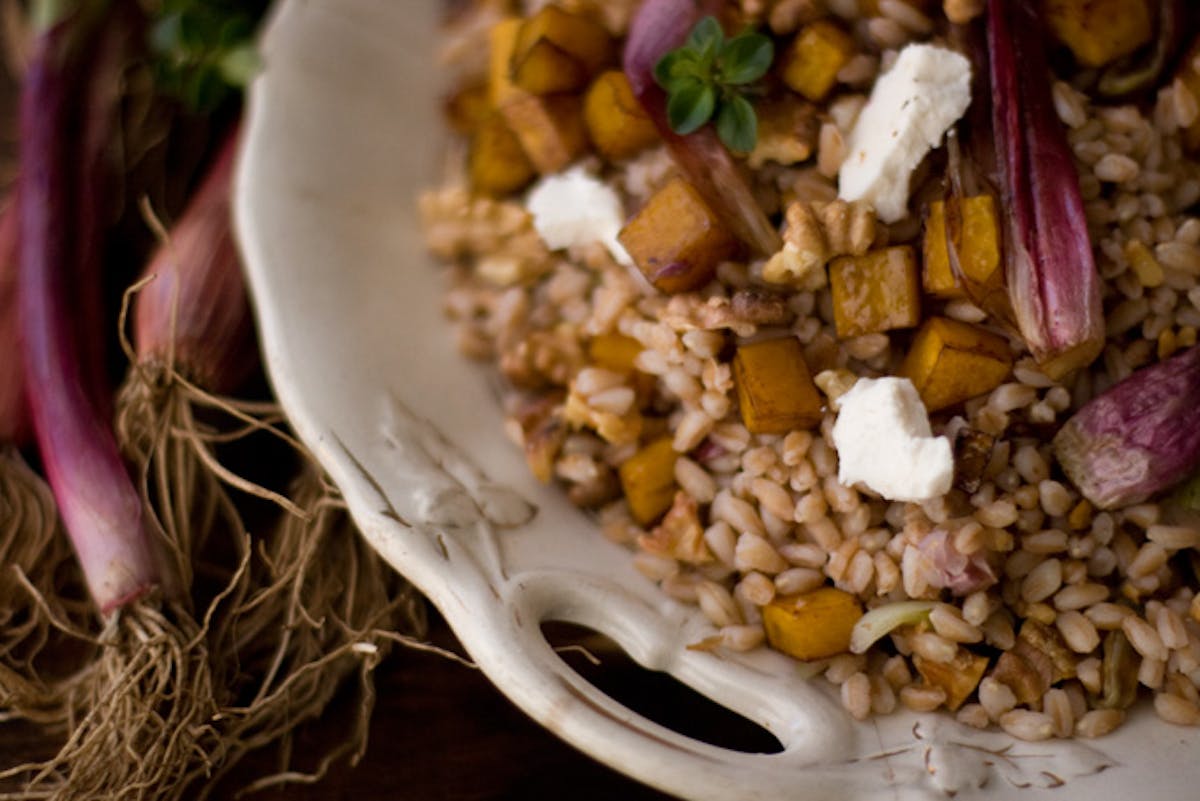 Balsamic roasted butternut squash, deeply toasted walnuts, and nutty farro come together in this salad inspired by the countless farro salads I enjoyed while on the Umbrian chapter of my recent Italian adventure. The Italians were using farro alongside cherry tomatoes and basil (with the occasional introduction of cheese or local olives), but the seasons changed while I was away, and after a survey of the farmer's market on Saturday, I knew a butternut squash recipe was in the cards.
Let me be honest, if we are talking winter squash, I'm going to advocate butternut squash for a few reasons. The root of my fondness for the butternut squash stems not only from enjoying their flavor and texture, it also comes from my ability to peel them relatively quickly* versus their other autumnal brethren. I love the color and flavor of acorn squash, and I use pumpkin here and there, but taking down a pumpkin can put me in a foul mood.
I thought long and hard about this recipe once I knew the general direction I was headed. I was taking the salad over to a friends house, for one of our regular "potlucks" and it's a group of discerning and vocal palettes - I've written a bit about these ladies before. The rainy weather was screaming roasted ingredients, so that ended up being a bit of a no-brainer, but I ran into some decision-making surrounding the final "dressing".
I knew I wanted to use a toasted walnut oil I had on hand as the dressing, or as a major component in the dressing. I thought about tossing the entire salad with a simple walnut-balsamic vinaigrette but when I tested it the balsamic totally overpowered the toasted walnut oil I was using. At the same time I was busy almost burning the walnuts. The salad actually became more about the walnuts at this point for me, I wanted to make sure that walnut flavor didn't get lost. It turned out that the deep deep flavor that came off the slightly over-toasted walnuts gave the walnut flavor in the oil and the nuts the muscle it needed to stand up to the rest of the dish.
Another possible direction: There were moments where I also considered a more Thai-inspired angle, maybe a spicy coconut milk dressing, limes, tomatoes, basil, pickled red onions - it ended up feeling too summery to me. Delicious, but off-season.
If you've never tried farro I encourage you to give it a shot. A recipe like this keeps really well in the refrigerator, can be made ahead of time, and is delicious warm or at room temperature. I know many of you have a Whole Foods Market or natural food store within your communities, check out the bin section for farro and let me know how it goes! It's great to be back in my own kitchen, thank you to all of you for the nice comments on my Italy posts.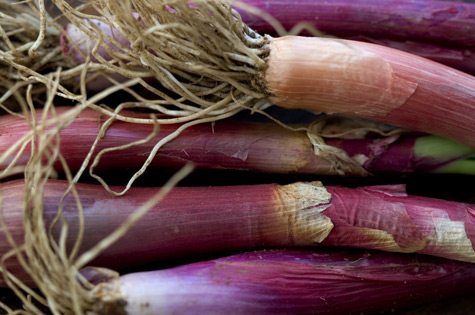 A few other seasonal recipes to consider:
- Thai-spiced Pumpkin Soup
- Curried Apple Couscous
- Baked Carrot Oven Fries
- Toasted Pumpkin Seeds
*For a recipe like this I'll take a medium butternut squash, lob off the little stem end so it is flat, cut off the entire neck - so, now I am dealing with a cylinder shape. I stand that on end and run a knife top to bottom to peel it. Then I cut the 1/2-inch disks - it's easy to cube from there. With the big bulb part, I'll just halve it, clear out the seeds, drizzle some oil and a sprinkle some salt, roast, and use that as the basis for a simple soup. No waste, minimal fuss, all ten fingers intact in the end. If you are dealing with a particularly long "neck" try cutting it into two cylindrical shaped pieces.
Farro and Roasted Butternut Squash
If you are pressed for time, opt for a lightly or semi-pearled farro (actually easier to find in some places), which will cut the cooking time for the grains down to about 20 minutes. Barley, both hulled and pearled, would make a nice substitution if you are having trouble finding farro. Also, I found the beautiful red spring onions at the farmers' market but regular red onions will work well, and will be much easier to find.
2 cups farro, rinsed and drained
2 teaspoons fine-grain sea salt
5 cups water (or stock)
3 cups butternut squash, cut into 1/2-inch dice
1 large red onion cut into 1/8ths
1 tablespoon fresh thyme, minced
3 tablespoons olive oil
1 tablespoon balsamic vinegar
1 cup walnuts, deeply toasted
3 tablespoons toasted walnut oil (or more olive oil)
1/4 cup goat cheese, crumbled
Preheat oven to 375.
Combine the farro, salt, and water in a large, heavy saucepan over medium heat. Cover and simmer, stirring occasionally, until the farro is tender, 45 minutes to an hour, or about half the time if you are using semi-pearled farro. Taste often as it is cooking, you want it to be toothsome and retain structure. Remove from heat, drain any excess water, and set aside.
While the farro is cooking toss the squash, onion, and thyme with the olive oil, balsamic vinegar and a couple big pinches of salt on a rimmed baking sheet. Arrange in a single layer and place in the oven for about 20 minutes. Toss the squash and onions every 5-7 minutes to get browning on multiple sides. Remove from the oven, let cool a bit, and mince just 1/2 of the red onions.
In a large bowl gently toss the everything (except the goat cheese) with the toasted walnut oil (or olive oil). Taste and add a bit of salt if necessary. Serve family-style in a simple bowl or on a platter garnished with the goat cheese.
Serves 6 - 8 as a side, less as a main.