Figgy Buckwheat Scones Recipe
These jammy, fig-swirled buckwheat scones are from Kim Boyce's inspiring new book, Good to the Grain, about baking with whole-grain flours.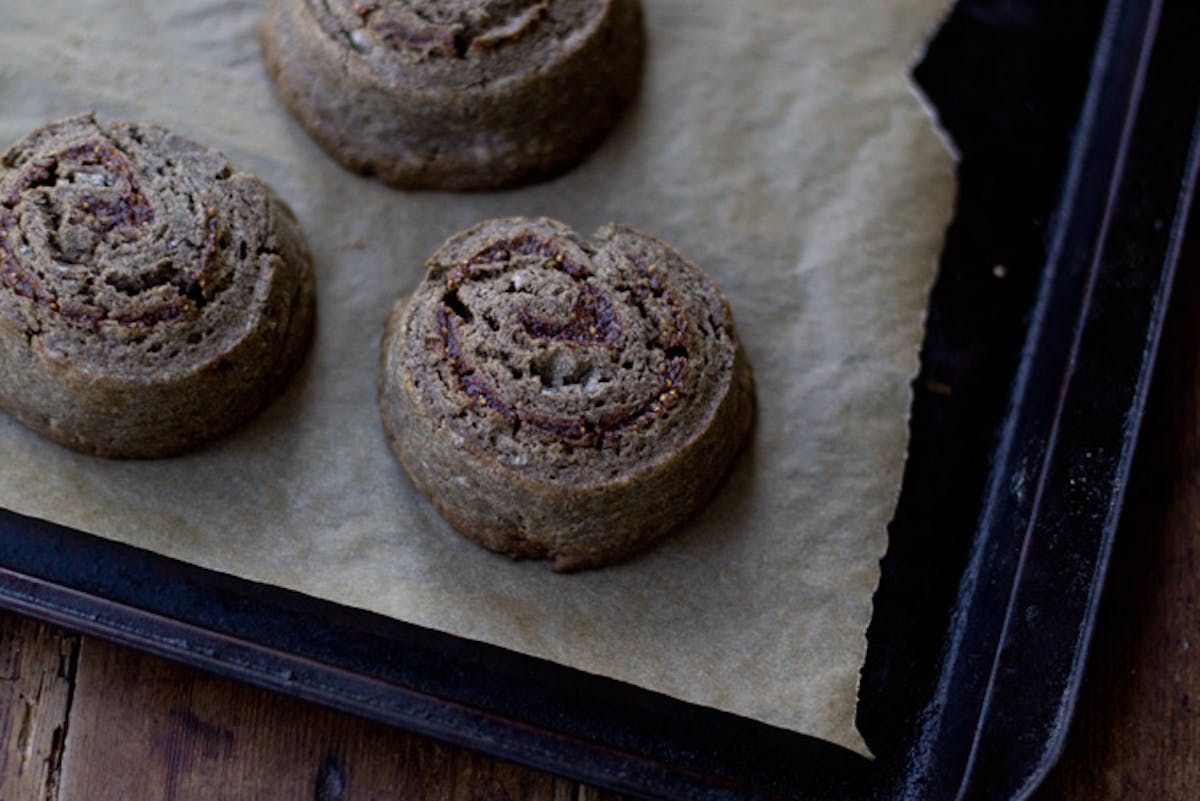 I've been waiting for months to write this post. The better part of a year, even. I'm positively itching to share this with you, so here we go. Late last summer (the lovely, gracious, talented) Luisa Weiss let me spend some time with the proofs of a baking book she was working on. She said she thought I'd like it. Which, it tuns out, was a dramatic understatement. The book she shared with me, Good to the Grain, is about baking with whole grain flours. It was written by Kim Boyce, and photographed by Quentin Bacon.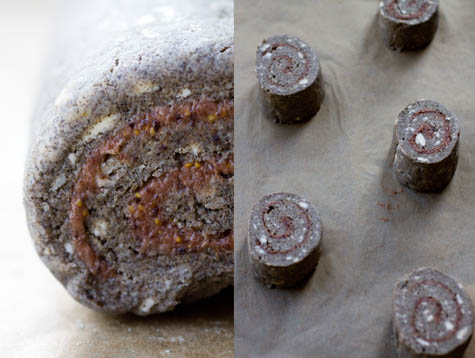 There aren't many people writing contemporary books on whole grain baking. Among those few, this one is special. In a sentence, a top-flight pastry chef intersects whole grain flours in her home kitchen. To back up a bit, Kim is a former pastry chef with major chops (Spago / Campanile) who left the professional kitchen to raise her family. Her book delves into her exploration of a broad range of whole grain flours, each of the twelve main chapters explores a separate flour - whole-wheat flour, amaranth flour, barley flour, buckwheat flour, corn flour, kamut flour, multigrain flour, oat flour, quinoa flour, rye flour, spelt flour, and yes...even teff flour.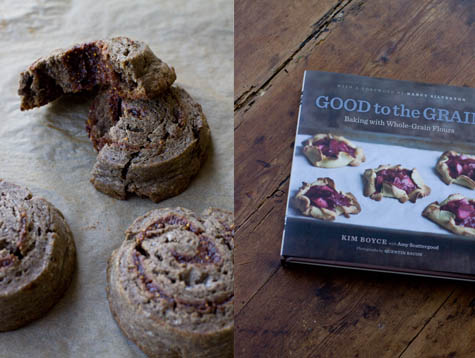 Here's the quote I gave for the back of the book,"There was a point in my life when I realized limiting myself to baking with all-purpose flour was like limiting myself to painting with just one color. Kim Boyce's collection of beautifully rustic recipes inspires us to move enthusiastically into the rich palette of flavorful whole-grain flours and explore all they have to offer. I just can't get enough of this book."
I wrote a good amount about baking with whole grain flours in SNC, but to see what someone like Kim is doing with them is both exciting and inspiring for me. I could tell at a glance, wow, she's really excited about them too. It felt good to know someone like her was (mostly ;) having fun exploring this range of flours and this approach to baking. I love seeing what she is doing, and now I know who to email when I'm stumped.
I could write an entire post about the photography in Good to the Grain, but I'll save that for another day. Instead, I'll leave you with a few notes related to the Figgy Buckwheat Scones I baked last weekend. They're a bit of a project, but a fun one requiring two main components - the obscenely addictive fig butter (dried figs, port wine, red wine, spices, sugar) and the buckwheat scone dough. Make the fig butter ahead of time, and the scone dough is a breeze to pull together. They're complex and jammy with a hint of sweetness and lots of flavor coming from the magical collision of the caramelized sugars in the fig butter and the hot baking sheet.
Related links:
- Kim Boyce (on twitter)
- Cheryl writes about Kim's muesli (here)
- Good to the Grain: Baking with Whole-Grain Flours
Figgy Buckwheat Scones
Kim's notes: I was inspired to create a scone with buckwheat and figs when I realized how similar they are. Both are ripe and jammy, almost winey. Imagine a sophisticated Fig Newton but less sweet. Although this scone recipe may seem a bit more time-consuming than others, remember that the Fig Butter can be made ahead of time.
Dry mix:
1 cup / 4.75 oz / 135 g buckwheat flour
1 1/4 cups / 5.5 oz / 160g all-purpose flour
1/2 cup / 2.5 oz / 70 g sugar
2 teaspoons baking powder
1/2 teaspoon kosher salt

Wet mix:
4 ounces / 113 g cold unsalted butter, cut into 1/4-inch pieces
1 1/4 cups / 10 fl. oz / 300ml heavy cream

1 cup / 8 oz Fig Butter (see recipe below)
1. Sift the dry ingredients into a large bowl, pouring back into the bowl any bits of grain or other ingredients that may remain in the sifter.
2. Add the butter to the dry mixture. Rub the butter between your fingers, breaking it into smaller bits. Continue rubbing until the butter is coarsely ground and feels like grains of rice. The faster you do this, the more the butter will stay solid, which is important for the success of the recipe. (HS note: for those of you who like to make short doughs in a food processor, that is what I did, and it worked out great).
3. Add the cream and gently mix it into the flour with a spatula until the dough is just combined.
4. Use a pastry scraper or a spatula to transfer the dough onto a well-floured surface. It will be sticky, so flour your hands and pat the dough into a rectangle. Grab a rolling pin and roll the dough into a rectangle that is 8 inches wide, 16 inches long, and 3/4 inch thick. If at any time the dough rolls off in a different direction, use your hands to square the corners and pat it back into shape. As you're rolling, periodically run a pastry scraper or spatula underneath to loosen the dough, flour the surface, and continue rolling. This keeps the dough from sticking. Flour the top of the dough if the rolling pin is sticking.
5. Spread the fig butter over the dough. Roll the long edge of the dough up, patting the dough as you roll so that it forms a neat log 16 inches long. Roll the finished log so that the seam is on the bottom and the weight of the roll seals the edge.
6. Use a sharp knife to slice the log in half. Put the halves on a baking sheet or plate, cover loosely with plastic wrap, and chill in the refrigerator for 30 minutes. (The dough can be kept, covered, in the refrigerator for 2 days.) While the dough is chilling, preheat the oven to 350°F. Line two baking sheets with parchment paper.
7. After 30 minutes, take both logs out of the refrigerator and cut each half into 6 equal pieces about 11/4 inches wide. Place each scone flat, with the spiral of the fig butter facing up, on a baking sheet, 6 to a sheet. Give the scones a squeeze to shape them into rounds.
8. Bake for 38 to 42 minutes, rotating the sheets halfway through. The scones are ready to come out when their undersides are golden brown. They are best eaten warm from the oven or later that same day.
Makes 12 scones.
Fig Butter Recipe
Kim's headnotes: In this recipe, dried figs are cooked in a syrup of sugar, red wine, port, and spices, and then puréed until very smooth. Adding butter at the end gives the jam a wonderful richness and a beautiful gloss. Once finished, the fig butter can be smeared over the dough in Figgy Buckwheat Scones (above), creating a flavor-packed spiral. The scone recipe requires only half the amount of fig butter made here, so reserve the remaining spread for your morning toast--or use all the fig butter at once by doubling the scone recipe.
1/2 cup / 2.5 oz / 70 g sugar
2 whole cloves
1 star anise
1 cup / 240 ml red wine
1/2 cup / 120 ml port
12 ounces / 340 g dried Black Mission figs, stems removed
1/4 teaspoon cinnamon
4 ounces / 113g unsalted butter, softened
salt to taste (hs: suggestion)
1. To poach the figs, measure 1/4 cup / 60 ml water and the sugar into a small heavy-bottomed saucepan. Stir the mixture together with a wooden spoon, incorporating the sugar without splashing it up the sides. If crystals do get on the sides of the pot, use a clean pastry brush dipped in water to wipe them off. (The goal is to prevent the syrup from crystallizing.) Add the cloves and star anise.
2. Bring the mixture to a boil over a medium flame and cook for 7 to 10 minutes, until the syrup is amber-colored. For even coloring, the flame should not come up around the outside of the pot.
3. Add the red wine, port, figs, and cinnamon, standing back a bit, as the syrup is hot. Don't panic when the syrup hardens; this is the normal reaction when liquids are added to hot sugar. Continue cooking the mixture over a medium flame for 2 minutes, until the sugar and wine blend.
4. Reduce the flame to low and simmer for 30 minutes, stirring occasionally. The figs will burble quietly as they are jostled together by the flame; they are ready when the wine has reduced by half. Remove the pan from the stove and cool to room temperature.
5. Fish out the star anise and cloves. Pour the cooled figs, with their liquid, into a food processor and purée until smooth, about 1 minute. Add the softened butter to the fig paste and process until smooth. (HS note: At this point I folded in a few big pinches of salt as well).
The fig butter can be spread right onto the buckwheat scone dough or stored in the refrigerator for up to 1 month. If it is refrigerated, bring it to room temperature before using.
Makes 2 cups.

Reprinted with permission from Good to the Grain by Kim Boyce (Stewart, Tabori and Chang, 2010)
Prep time: 100 minutes - Cook time: 45 minutes