Golden Tomato Sauce Recipe
I spent Saturday brewing beer with my brother-in-law. For dinner, later on, I brought a simple lasagna, using this golden tomato sauce as the base - garlic, red pepper flakes, and olive oil. That's it. It's good on pasta, pizza, and only takes a few minutes to pull together.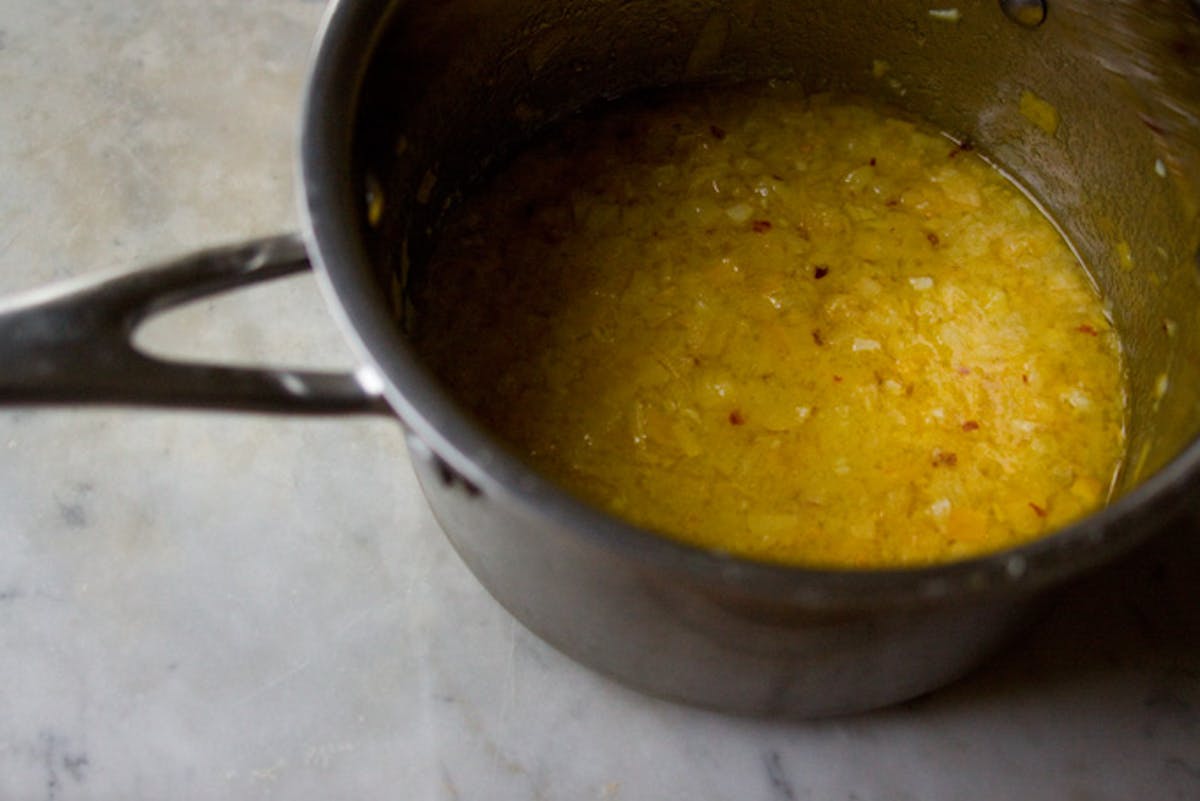 I spent last Saturday brewing beer with my brother-in-law. Thankfully he knows what he's doing in this regard, because at this point, I can't say the same for myself. We made an all-grain rye ale, building on this recipe. Put another way, we sat around the garden drinking home brews from the vault, we boiled grains, took a lot of temperatures, transferred huge pots of hot liquid from pot to pot, and enjoyed a perfect day outside. My parents stopped by later on and we had an early dinner. My contribution was a simple lasagna made with a golden tomato sauce I like to make with heirloom tomatoes this time of year. The sauce is good, and it is a great way to use up summer tomatoes.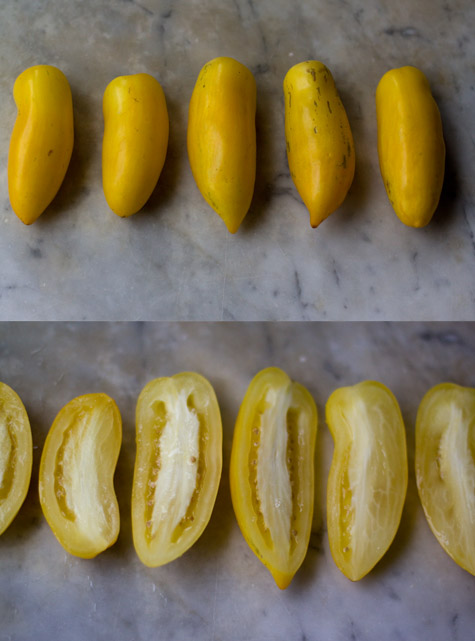 The sauce couldn't be simpler. It's similar in spirit to my favorite five minute tomato sauce - but it gets a completely different reaction. People seem to really love the idea of a yellow tomato sauce, maybe because it is a slightly unexpected take on something so familiar. That aspect is certainly one of the things I love about it - change one little variable, and all of a sudden I'm looking at something with fresh eyes.
The sauce - it's bright, a bit garlicky, with a bit of flare from red pepper flakes. Extra-virgin olive oil gives it body and rich mouth feel. And to keep things bright and lively, I tend to cook this sauce until the tomatoes barely begin to break down, just a few minutes. They break down a bit more once off the heat.
I like to serve it under pan-fried gnocchi sprinkled with lots of slivered basil and a dusting of Parmesan cheese. It's good on it's own slathered on grilled bruschetta, or on pizza. You could thin it out with a bit of broth, zap it with an immersion blender, and add a splash of crème fraîche for a quick soup. And it's delicious with any number of pastas. Like I said, I did one of my whisper-thin layered lasagnas for our family brew-dinner (torn mozzarella / basil), but I'm sure you can think of other ideas as well.
As far as our beer goes, our Ryesundschein is fermenting away in a special, custom-made, insulated, temperature controlled box (thank you Josh!). The next step is bottling. Anyhow, I'm excited - my fingers are crossed that it'll turn out. My first batch of home brew.
Golden Tomato Sauce Recipe
I don't bother peeling the tomatoes here, but you certainly could. You can also do a double or triple batch. The sauce will keep refrigerated for about a week. Also, the color of your tomatoes will dramatically impact the color of your sauce. I like to choose tomatoes that are bright yellow in color, like you see here. Alternatively, yellow tomatoes with a hint of orange make a striking sauce as well.
1 1/2 pounds / 24 oz / 680g ripe yellow tomatoes, cored and halved

3 tablespoons extra-virgin olive oil
3 medium cloves garlic, chopped
1/2 teaspoon fine-grain sea salt
1/2 teaspoon red pepper flakes
Run your finger along the inside of each tomato to remove and discard the seeds. Chop the tomatoes into 1/4-inch chunks, reserve any juice, and set aside.
Combine the olive oil, garlic, salt, and pepper flakes in a cold medium sauce pan. Now, heat the ingredients, stirring occasionally, until the garlic begins to sizzle and take on a bit of color. Stir in the tomatoes and reserved juices, and bring to a simmer. Cook for just a couple minutes, long enough for the tomatoes to start breaking down a bit. Remove from heat, taste, and adjust the seasoning if necessary.
Makes 2 cups / 475 ml.
Prep time: 10 minutes - Cook time: 5 minutes