Gougères Recipe
Gougères - I have these little cheese puffs in my freezer, ready to bake, nearly always. This version, a favorite, is made with whole wheat flour, sharp white cheddar cheese, fennel, and ale.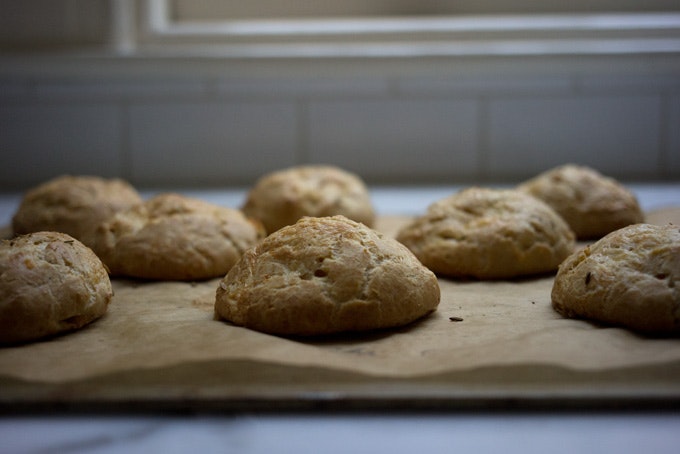 Gougères are my secret weapon this time of year. This means a bag in the freezer, always at the ready. I make the dough ahead of time (any afternoon I have a few extra minutes) then bake them straight from the freezer whenever I fancy. There is something irresistible about the way they explode in size. The way they bake into golden pom-poms of cheese-crusted magic. Like soufflés, I think there is a perception that they're tricky to make. But, I promise, with a little practice (and know-how) you can have an impressive platter piled sky-high with puffery with next to no effort. I made this batch with ale, cheese, and fennel. I love the maltiness beer brings to the dough, set off by the bite of sharp cheddar cheese.
A couple things. There are a number of approaches people take when making gougères. I opt for the path resulting in the least amount of dishes and devices to wash after. Meaning, a one-pan method, stirring by hand. I don't bother with a mixer. And I push dollops of the dough onto parchment lined baking sheets from a spoon rather than piping from a bag.
This recipe calls for beer and milk as the liquids in the batter, but the direction you take the flavors is adaptable. You might trade out the beer for water, tea, or other flavorful liquid. I like a bit of milk in the batter, as I think it helps the dough bake into that lovely golden-brown color. Also, don't feel married to this combination of cheese and herb/spices, it's a favorite, but I certainly vary each batch based on what is on hand.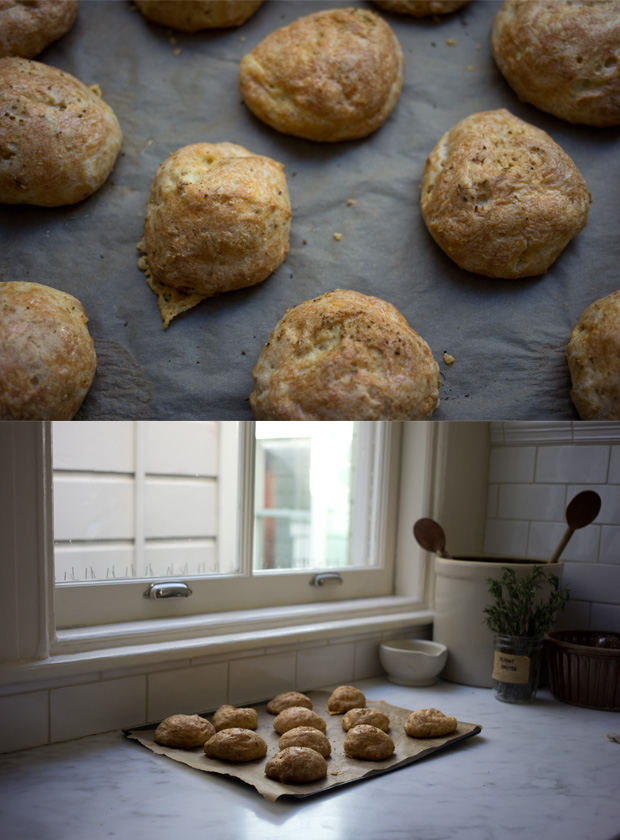 Important things you don't want to learn the hard way: be sure to use large eggs (not extra-large). Prep all your ingredients ahead of time. And one note related to baking, let the gougères brown all the way, particularly up the sides, before pulling them from the oven. The resulting structure will prevent the tops caving.
Gougères
I've included a bunch of tips and things in the main post. If this is the first time you've made gougères, be sure to give that a quick read-through first, before jumping in.
2/3 cup / 160 ml beer / ale OR water
1/3 cup / 80 ml milk
8 tablespoons butter, thickly sliced
3/4 teaspoon fine grain sea salt
scant 1/2 cup / 65 g / 2.25 oz all-purpose flour
scant 1/2 cup / 65 g / 2.25 oz whole wheat flour
4 large eggs, room temperature
1 1/4 cup / 3 1/4 oz / 90 g sharp white cheddar, grated on box grater
1 teaspoon fennel seeds, crushed w/ mortar + pestle
Preheat oven to 425F / 220C, with a rack in top third. Line a baking sheet with parchment paper.
Bring the beer, milk, butter, and salt just to a boil in a large (thick-bottomed) saucepan over medium-high heat. Dial back the heat a bit. Add the flours and use a wooden spoon to stir, stir, stir. Really go at it. Keep going for a couple minutes, until the dough comes together smoothly, and gives off a faint toasty scent. Remove from heat and let cool, stirring occasionally to let heat out, for about five minutes. Long enough that the eggs won't cook when you attempt to work them in.
One at a time, add each of the four eggs, stirring vigorously after each addition. Stir in 1 cup of the cheese, and right away scoop gougères onto the prepared baking sheet in heaping tablespoon-sized dollops, leaving at least 1 1/2 inches between each. Sprinkle with the remaining cheese and fennel seeds. Place in the oven, bake for FIVE minutes, then dial the heat back to 375, and bake another 20- 25 minutes, or until gougères are deeply golden all over, puffed, and well set. If you notice the gougers in the back browning much more quickly than the ones in the front, spin the sheet 180 degrees about 2/3 through.
Alternately, if you aren't baking the gougères immediately: shape pans of gougère dough, sprinkle with cheese, and freeze for 1/2 hour. Transfer to a freezer bag at this point, until you're ready to bake. Bake straight from the freezer, same as above, with a couple extra minutes.
Makes ~ 2 dozen 3-inch gougères.
Prep time: 10 minutes - Cook time: 30 minutes