Green Curry Porridge Recipe
A boisterous green curry porridge made with toasted brown rice, a spicy herb-packed green coconut broth, all punctuated with winter squash and lots of green onions. It's the kind of bowl that keeps you warm and full and happy inside-out. It kept us going as we prepped for the recent QUITOKEETO shop update.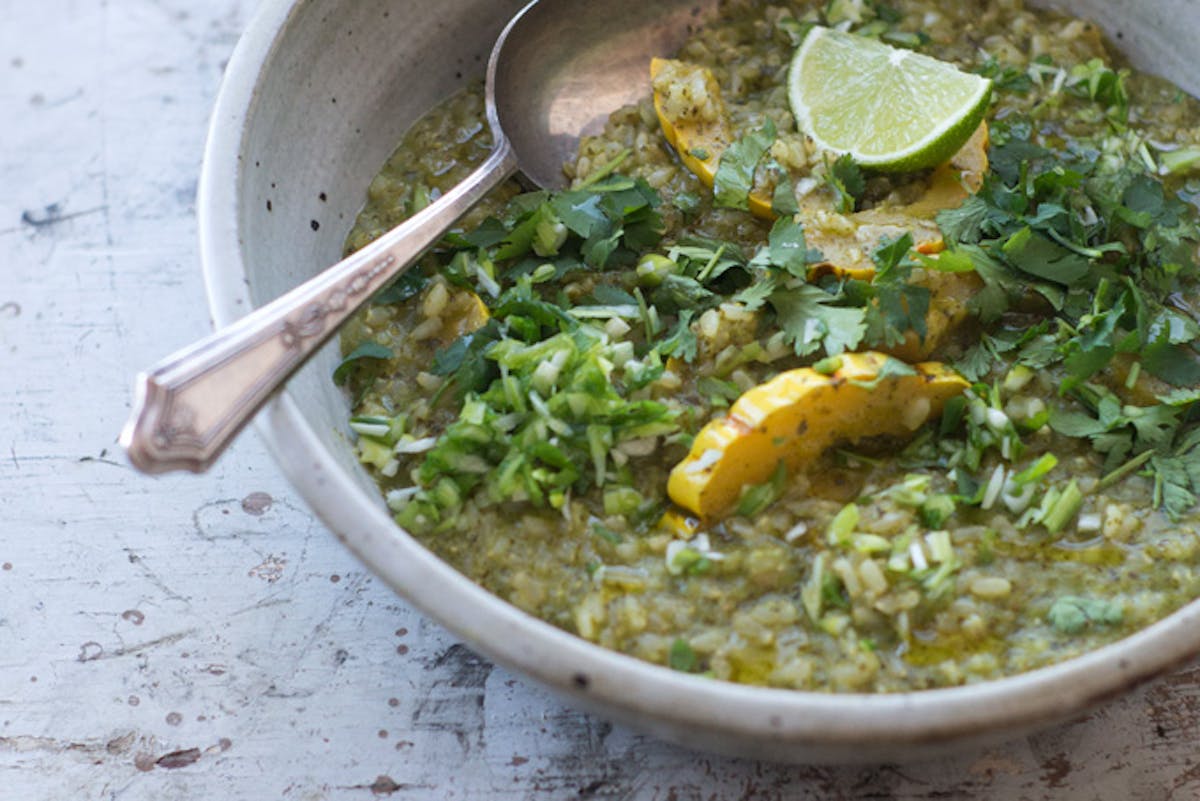 I thought I'd share another QUITOKEETO lunch with you today. This one in particular was a stand-out. It went something like this: a boisterous green curry porridge made with pan-toasted brown rice, spicy herb-packed green coconut broth, all punctuated with winter squash and lots of green onions. It's the kind of bowl that keeps you warm, and full, and happy - inside-out. I spent most of last week preparing for a shop update. One shipment I was particularly excited about was from India. For any of you who ever plan to go, or just want to day-dream about it, Fiona Caulfield's Love Travel Guides are hard to beat. The boxes of books actually smelled of saffron. I'm realizing the inventory is getting pretty low, but there are more on the way (if you hop on the list, I'll ping you when they come in).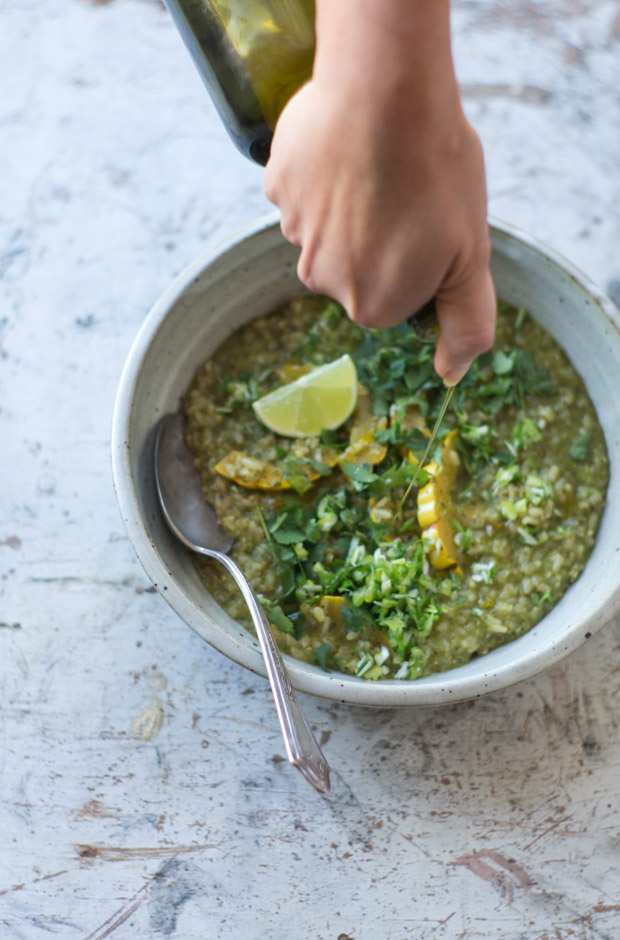 1. This is a shot of my Love Guides as I was packing for India, they're considerably more worn-in at this point, and with lots of adventures under their belts. 2. Some QUITOKEETO favorites in the wild, and a guest appearance by Herriott Grace tucked into the the corner. 3. An early round of international shipments, ready for their long journeys.
There's also this playlist. Hope you enjoy the porridge! xo -h
Green Curry Porridge
You can use sorrel here when you come across it in place of the spinach/lime juice. If you use a winter squash other than delicata, consider peeling it first. Also! This recipe can easily be doubled for an extra-large pot. The leftovers are well worth it.
2 tablespoons extra-virgin olive oil
2 tablespoons fresh lemongrass, minced
3 medium garlic cloves, minced
1 tablespoon ground coriander
1 3/4 cups uncooked brown rice
5 cups water
4 teaspoons fine grain sea salt
1 14-ounce can full-fat coconut milk
1 tablespoon minced ginger, peeled
1 small serrano chile, seeded
1 cup cilantro, plus more for serving
1/2 cup green onion tops (reserve the bottoms for serving)
1 cup sorrel (or 1 cup spinach + 2 T. lime juice)
1 small delicata squash, halved, deseeded, cut into 1/4-inch thick crescents

For serving: chopped green onions, chopped cilantro, lime wedges, olive oil
To a large pot over medium heat, add the olive oil, lemongrass, garlic, coriander, and rice. Stir constantly until the rice kernels are toasted and fragrant, 7-10 minutes. Add the water, slowly and while stirring--the heat will cause the water to bubble. Stir in 2 teaspoons of the salt and let the soup simmer gently, stirring occasionally, for about 25 minutes or until the rice has cooked through and many of its grains have burst.
In the meantime, combine the coconut milk, ginger, serrano chile, cilantro, green onion tops, sorrel, and remaining 2 teaspoons of salt in a blender. (Alternatively, you can use an immersion blender here.) Blend until smooth, then taste and adjust, if needed. Add the herbed coconut milk, along with the squash, to the porridge. Simmer for an additional 10-15 minutes, or until the squash is tender. Taste for seasoning and adjust to your liking.
To serve, ladle the porridge into bowls and top each with chopped green onion, a small heap of chopped cilantro, a drizzle of olive oil, and a wedge of lime.
Serves 4-6.
Prep time: 10 minutes - Cook time: 55 minutes