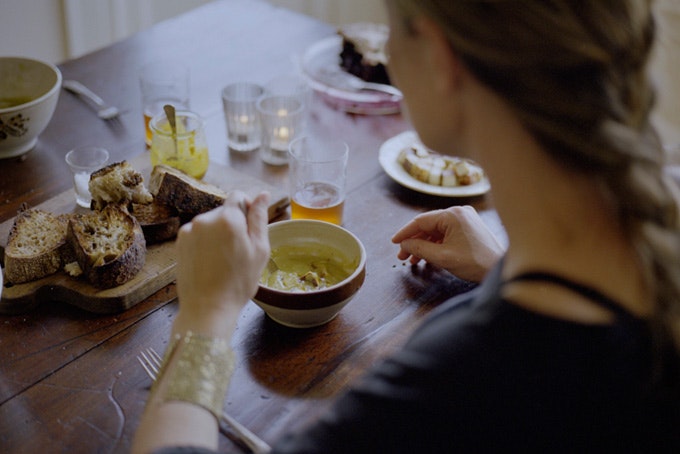 Green Lentil Soup with Curried Brown Butter Recipe
From where I sit, I can see the laundry piled high knee-high. The trash, compost, and recycling are overflowing, threatening to take over the kitchen entirely. When I glance down, I can see my toenails are painted a shade of vampy maroon, my feet sit flat against a white tile floor covered in a hideous patina of flour, sugar, and fiber particles that have migrated from the jute runner in the hallway. It's just gross.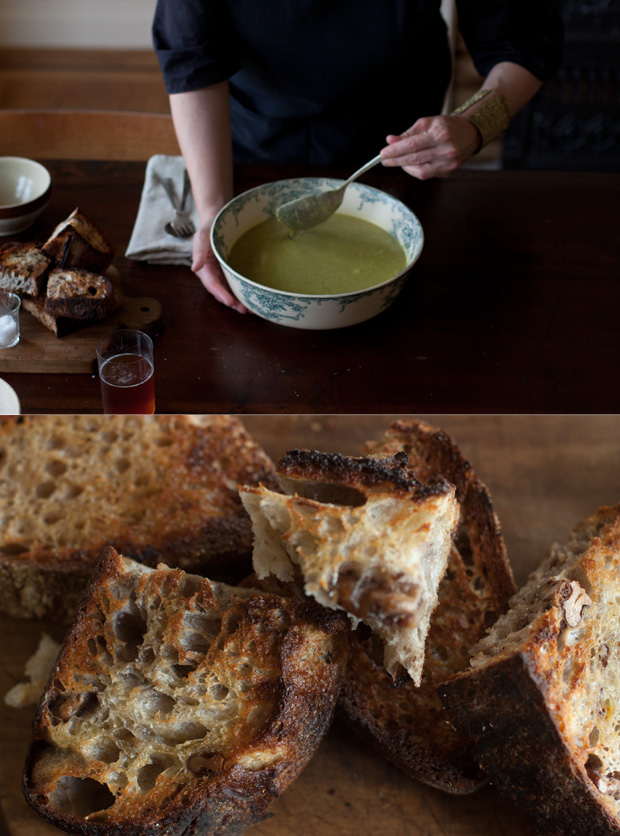 That said, this is the first time in the past ten days I've had a moment to sit down and spend some time with a growing pile of magazines and media (including the new Kinfolk), and I have no intention of moving anytime soon. I did a short little essay about winter in the new Kinfolk (volume two), it goes along with some pictures Wayne and I contributed. I thought you might like to see a few of the (photo) outtakes from the shoot, and have the recipe for the soup in the photos. It's one of my favorite cold-weather soups - green lentils (or split peas), topped with a curried brown butter drizzle, and pan-fried paneer cubes. Some of you might recognize it from SNED.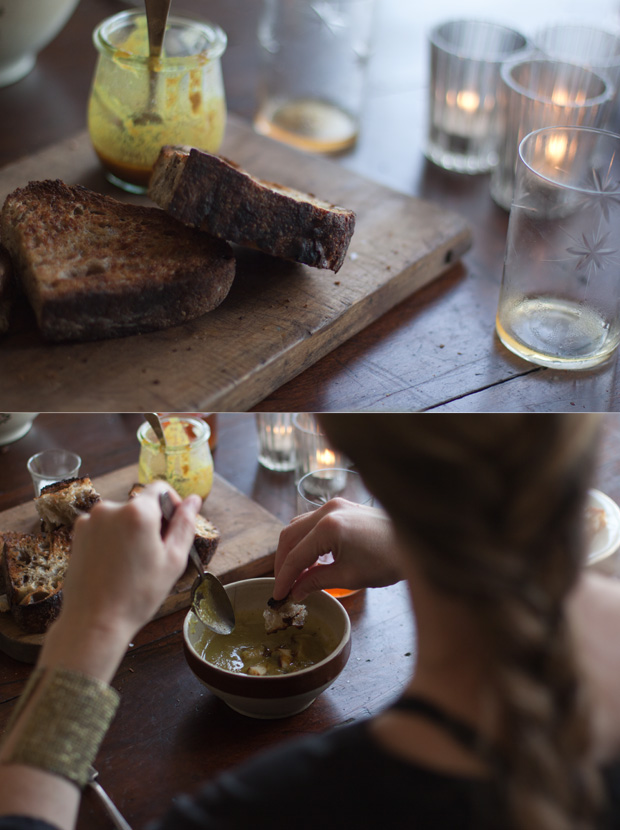 We shot it as we sat down for an early dinner one night. The soup was leftover, the bread from Tartine, and the beer home made. Wayne threw some cubes of paneer cheese in a skillet, at the last minute, as an added touch.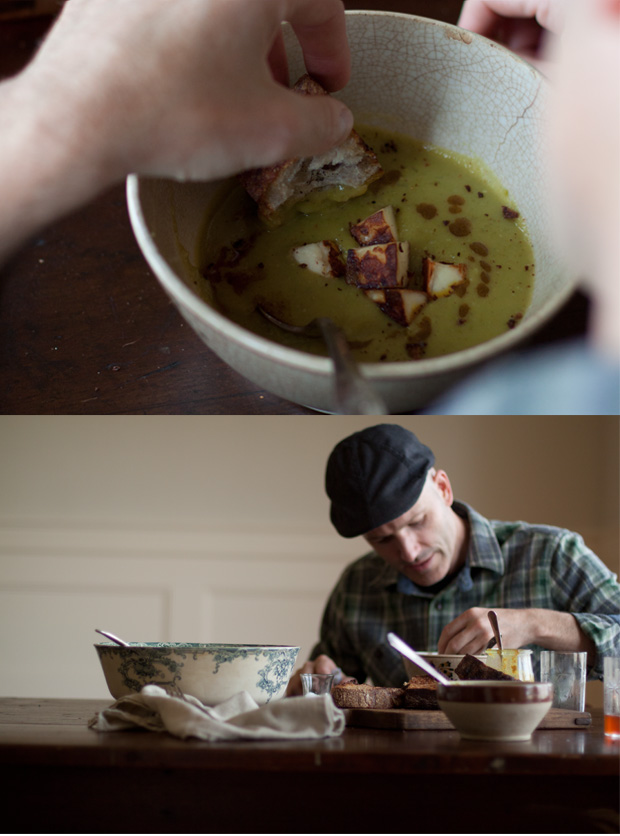 Happy New Year everyone. And thank you all for making this year extra special - it was a genuine treat to meet so many of you at various events/book signings. Stay warm and safe. And we'll reconvene in the new year! xo -h
Green Lentil Soup with Curried Brown Butter
You can use either green lentils of green split peas here. Both are delicious, but the green split peas tend to lend a brighter green color to the soup.
2 tablespoons unsalted butter, ghee, or extra-virgin coconut oil

1 large yellow onion, chopped

3 cloves garlic, chopped

1/2 teaspoon red pepper flakes

5 1/2 cups / 1.3 liters good-tasting vegetable broth or water

1 1/2 cups / 10.5 oz / 300 g green lentils or green split peas, picked over and rinsed

3 tablespoons unsalted butter

1 tablespoon Indian curry powder

1/2 cup / 125 ml coconut milk

Fine-grain sea salt

1 bunch fresh chives, minced

small cubes of pan-fried paneer (optional)
Combine the 2 tablespoons butter, onion, garlic, and red pepper flakes in a large soup pot over medium heat, stirring regularly, until the onions soften, a couple minutes. Add the vegetable broth and lentils and simmer, covered, until the lentils are tender. This usually takes 20 to 30 minutes, but can take as long as 50 minutes.


In the meantime, warm the 3 tablespoons butter in a small saucepan over medium heat and let it brown. When it starts to smell nutty and fragrant, stir in the curry powder and sauté until the spices are fragrant, less than a minute.

When the lentils are finished cooking, remove from the heat, stir in the coconut milk and 1/4 teaspoon salt, and puree with an immersion blender. You can leave the soup a bit chunky if you like, or puree until it is perfectly smooth.
Stir in half of the spiced butter, taste, and add more salt, if needed, typically a couple of teaspoons if you used water instead of a salted broth. Serve drizzled with the remaining spice butter and sprinkled with chives, (and paneer cubes if you're using them).


Serves 4 to 6


from Super Natural Every Day by Heidi Swanson, copyright © 2011. Published by Ten Speed Press, a division of Random House, Inc.

Prep time: 5 minutes - Cook time: 45 minutes