Grilled Pizza Recipe
Grilled pizza recipe with an outline of techniques and considerations about the technique it takes to get grilled pizzas right - with topping ideas.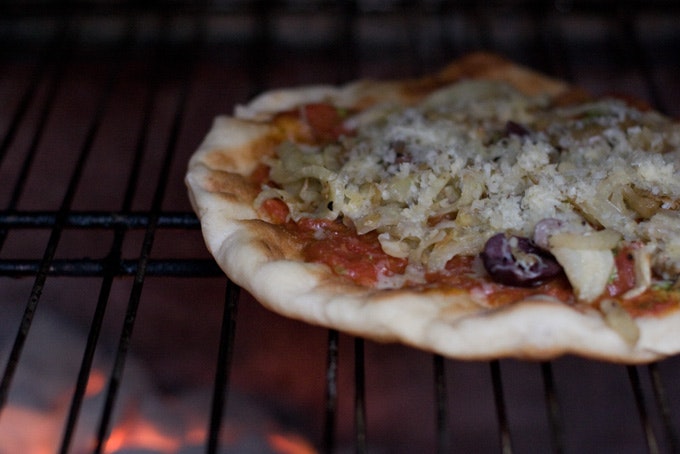 A few nights ago we made the first grilled pizzas of the summer. With fog enveloping San Francisco, Wayne and I bundled in our best jackets and scarves and clambered up the steepest hill in the neighborhood, our bags packed with an assortment of pizza toppings. Our friends Aaron and Malinda have an outdoor oven in their backyard and the plan was to give it a good workout. A parade of pizzas commenced until the fire died out. With many summer nights ahead, I thought I'd pass along a few of the things I've learned about getting grilled pizzas right.
The dough: I've done grilled pizzas with a range of pizza doughs. If you're looking for a dough made with whole grain flour, try this one. It's a riff on Peter Reinhart's Napoletana Pizza Dough recipe I wrote about a few years ago - I've had success with both on the grill. As far as the thick or thin debate goes - I like to pull my dough out parchment thin - to the point where it almost rips and you can see through it. That being said, leaving the dough a bit thicker yields a pizza with a different personality, still delicious - try both to see what you like. I haven't had any trouble with my dough sticking to the grill, start with a clean gill and I'd try adding a bit of heat if you are having any trouble with sticking.
Temperature: Controlling the temperature of the grill is key to your success - and I wish you luck. That being said, if your luck and skill is anything like mine - this is a battle that some nights you'll win, and some you'll lose. The heat from the oven we used this time was nice and round - I'd qualify it as medium-hot. We didn't have any trouble with burning, and the dough crisped up nicely. When using a gas grill, the lid is my friend. I use the lid to control the heat, and to get the hot air circulating all the way around the dough. If you need your toppings to cook/melt more quickly - slap the lid on for a bit. Keep in mind, you have to be particularly vigilant with pizzas you've pulled parchment thin - they'll burn through in a flash. Broadly speaking, whatever type of outdoor oven/grill I'm using I obsessively check the bottom and top of the dough and let it tell me what it needs - more time, more heat, a flip, etc.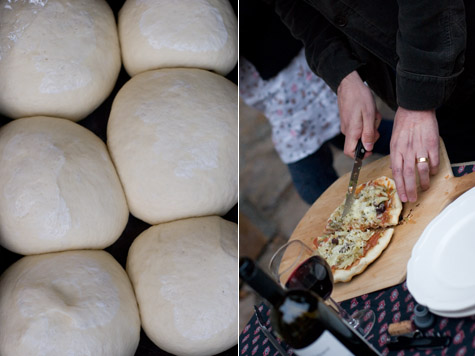 Be organized: Once you throw that dough onto the grill, the next steps come in rapid succession whether you're ready or not.
Toppings: Use flavor-packed, fast cooking ingredients that have a tendency to melt quickly for your grilled pizza toppings. This time around we did a range - Aaron made the caramelized fennel & olives (pictured above), we also had spinach/pea & ricotta pesto, potatoes & smoke chile sauce, and tomato & roasted red peppers. I like thinly sliced potatoes on my pizza, I also like them creamy and tender, so I saute them ahead of time. As far as cheeses go, it's hard to go wrong - I like salted ricotta, good mozzarella, and shredded aged gruyere. Don't be afraid to pre-cook ingredients if needed. And lastly (I almost forgot this one), don't go overboard with the toppings - thoughtfully curate each pizza so that the flavors of each ingredient have room to speak. You want to avoid the kitchen sink approach.
If you've never grilled pizzas before, give it a go. It's fun for a small crowd because everyone can take a turn making their own custom pizza. If you have favorite topping ideas, give a shout out in the comments - I suspect this won't be the last time we grill pizzas this summer.
Grilled Pizza Recipe
I included many pointers in the main entry for this post about temperature, dough, toppings and the like - so, be sure not to miss that before you get started. The pizza in the photo was made with my favorite tomato sauce, Aaron's caramelized fennel & olives, and a bit of grated Gruyere cheese.
Pizza dough:
I've had success with White Whole Wheat Pizza Dough or Peter Reinhart's Napoletana Pizza Dough recipe.

Toppings:

- my favorite five minute tomato sauce

- caramelized fennel & olives: Made by slicing fennel thinly, but not paper thin (a mandolin does the job). In a large skillet over med-high heat, saute the fennel in olive oil for 3 or 4 mins, to brown a bit. Turn down the heat to low and cook for another fifteen to twenty minutes. A few minutes before the fennel is done, toss in a handful of your favorite pitted olives.

- Gruyere cheese, grated
When you are ready to pull out the dough, go for it. I try not to over handle the dough, but like it to be an even thickness throughout (so you aren't fighting parts that are burning, while other parts are still doughy). Brush olive oil on one side, and turn that side down onto the grill. Now that the dough is on the grill, brush the side that is face up with olive oil. If you are on a gas grill, this is when I'd slap on the cover in 20-30 second stretches. Check on the bottom of the dough often, and when it is deeply golden, flip the dough.
Get the toppings on quickly. In this case, brush a thin layer of tomato sauce across the pizza, a dusting of cheese, and a generous tangle of the fennel and olives. Check on the bottom of the dough regularly, and when it is deeply golden use a baking sheet or pizza peal to remove. Dust with a bit more cheese, a drizzle of olive oil and enjoy.
Experiment with different toppings, that's half the fun. One of the other pizzas we did (not pictured) was with a spinach & pea ricotta pesto, thin slices of new potatoes, Gruyere, and a drizzled of this hot sauce from SNC.