Harissa Spaghettini Recipe
A unique and flavor-packed pasta recipe. Whole wheat pasta noodles, olives, kale, pine nuts tossed in a pan for a tangle with a garlic-charged harissa and olive oil sauce.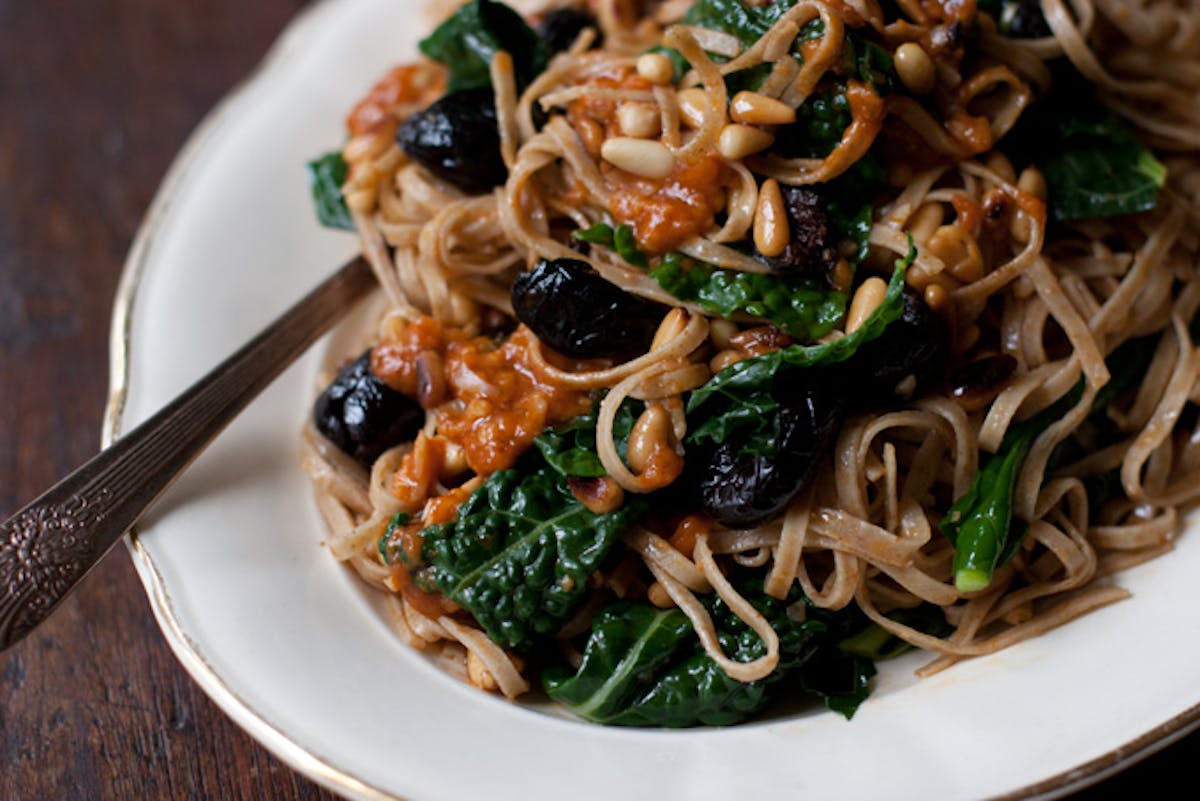 One of the condiments that survived my recent refrigerator scouring was a three-quarters full tube of harissa - the brick red, earthy, and sometimes potent North African spice paste. I had it earmarked for a pasta dish I had in mind - long, thin whole wheat pasta noodles, olives, kale, pine nuts tossed in a pan for a tangle with a garlic-charged harissa and olive oil sauce. I'm packing my bags for a quick trip to Chile and Argentina, and thought this would be an easy send-off supper - with leftovers I can bring on the flight.
Keep in mind as you head into this recipe that the range of harissas available for purchase is vast - trust your taste buds, and if any of you have favorite brands, give a shout in the comments. One tube might be tastelessly tomato-y, the next tongue-torchingly hot. That being said, the best road to a great harissa is to make your own, but I'd be lying if I said I'm religious about it - hence, the tube of red in my refrigerator door.

Harissa Spaghettini Recipe
A few quick notes - you can substitute any whole whole pasta, really. Cut the kale into big bite-sized pieces. Harissa can be found in many ethic food sections, or you can make it yourself.
3 medium cloves garlic, peeled
a big pinch of fine grain sea salt
1/4 cup extra virgin olive oil
2 tablespoons harissa (paste)

8 ounces (1/2 pound) whole wheat spaghettini
1 small bunch kale, well-washed and deveined
1/2 cup oil-cured black olives, pitted
1/2 cup pine nuts, toasted
zest of 1 lemon
Bring a big pot of water to a boil. In the meantime, place the cloves of garlic on a cutting board and sprinkle then with a big pinch of salt. Crush with the flat side of a knife. Now crush and chop, crush and chop until you have a garlic paste. Alternately, you can use a mortar and pestle. In a small bowl whisk together the garlic paste, harissa, and olive oil. Set aside.
Generously salt the boiling water, add the pasta, and cook per package instructions. Just before the pasta is done add the kale to the pasta water, count to six, drain and set aside.
Heat half of the harissa dressing in the now empty pasta pot Add the pasta and kale, black olives, pine nuts, and lemon zest. Stir over the heat for a minute or so, then turn everything out onto a platter and drizzle with the remaining harissa olive oil.
Serves about 4 - 6.