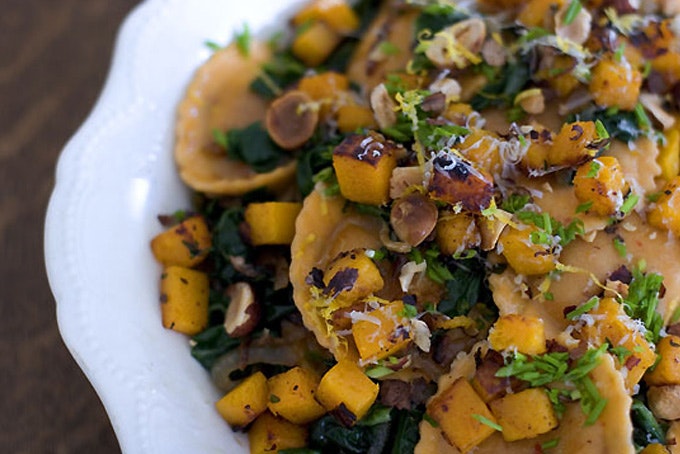 Hazelnut & Chard Ravioli Salad Recipe
Do you remember last spring when I took a fresh look at a typical pasta salad recipe? Well, I've been making a fall/winter version lately - plump raviolis tossed with toasted hazelnuts, sauteed ribbons of chard, and caramelized onions. The colorful platter is finished off with a dusting of cheese, snipped chives, and lemon zest. You can prepare most of the components ahead of time, and throw it together in less than five minutes when you are ready to serve it up family-style.
If you read my other pasta salad recipe post, you know that I like the idea behind pasta salad, but think they are out of balance, and more times than not - uninspired. That being said, with a bit of tweaking I think the pasta salad can continue its reign as one of the most potluck and party-friendly plates imaginable.
A bit about today's recipe. As I mentioned above, pasta salads are great for entertaining for a few reasons - they keep nicely, you can do them ahead of time, and everyone likes them well enough. The version I did up above is hearty and substantial enough to satisfy mixed crowds of vegetarian and non-vegetarians - you can easily make a vegan version if need be. With a bit of planning it is also low-maintenance, I don't like to be in a flurry of cooking when I have friends over, so I try to come up with food that requires minimal attention from me once the doorbell starts ringing.
The day ahead I roast the hazelnuts, wash and cut the chard, caramelize the onions, and brown the butternut squash - I suspect I could even get away with pre-cooking the raviolis at the same time (see recipe headnotes). When I'm ready to serve the pasta salad the next day I toss everything together (strategically) in a big, hot skillet and plate it on a large platter. I threw this together the other night when my wine club came over and liked it enough to make it again as a side dish / vegetarian main dish on Thanksgiving. Hope you like it as much as I did.
Before I sign off, I wanted to share a couple photos with you. Many of you leave nice comments each time I feature a plate or cup or saucer from my mom's collection. She has been nice enough to lend me the occasional item for photo shoots hover the years. I took a few shots of some of my favorite items when I was visiting this weekend - there are stories and people behind many of these items - and I look forward to sharing those details at some point in the future.
I hope everyone had a wonderful Thanksgiving. I have much to be thankful for on many fronts, but I wanted to say a special thank you to all of you who have contributed such thoughtful comments, feedback, ideas, inspiration, support, and spelling corrections(!) to this site over the years. Can you believe 101 Cookbooks is almost five years old!?
Hazelnut & Chard Ravioli Salad Recipe
Choose a winter flavored ravioli, I used a fresh (but store-bought) sweet onion & red chard ravioli, but I suspect a butternut squash ravioli would be delicious as well. I sometimes precook the raviolis and keep them in a single layer on a parchment-lined baking sheet until I am ready to use them - this helps prevent the raviolis from melding into one another after cooking. I used a butternut squash version of the potato "croutons" shown here. Substitute butternut squash for the potatoes, you can make them a day ahead, but they loose some of their structure overnight. The flavor is still great, but you'll loose a couple points for eye-appeal. I sometimes do a big batch of the onions and keep them in a jar in the refrigerator to use in recipes like this one.
3/4 lb. raviolis (see headnotes)
2-3 tablespoons extra virgin olive oil, divided
fine grain sea salt
2 yellow onions, thinly sliced
1 bunch swiss chard, deveined and cut into 1/2-inch ribbons
1/4 cup Parmesan cheese, freshly grated
1/2 cup hazelnuts, toasted and chopped
1 cup butternut squash "croutons"
zest of one lemon
1/4 cup chives, minced
Into an extra-large pot of well-salted boiling water add the raviolis. After a few minutes, when the raviolis float and are cooked through, drain them and toss with one tablespoon of the olive oil. This prevents them from sticking together. Set aside.
To caramelize the onions, heat another tablespoon of the olive oil in a large thick-bottomed skillet with a pinch of salt. Cook over high heat, stirring occasionally, until the onions collapse and turn deep brown in color. You can do this ahead of time (or just before serving) - whatever you prefer. Remove from skillet and set aside.
Just before serving heat the remaining tablespoon of olive oil, again in a big skillet over high heat. Add the raviolis. Stir in the onions, and then the chard. Wait until the chard begins to wilt, then stir in most of the cheese and most of the hazelnuts. Gently fold in the butternut squash and lemon zest. Remove from heat.
Serve on a big platter garnished with chives and remaining hazelnuts and Parmesan.
Serves 6.
Related Recipes
Comments
Post Your Comment
More Recipes
Popular Ingredients