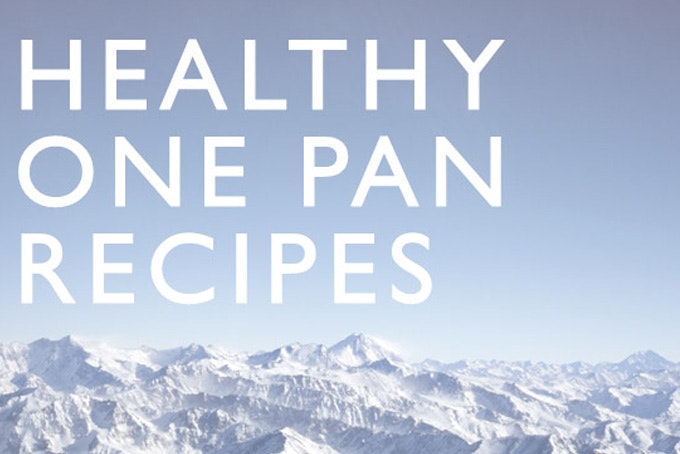 Healthy One Pan Recipes Recipe
Quite a number of you have emailed me over the past couple months asking about my favorite healthy, one-pan recipes. The type of thing that you can pull together any night of the week without too much fuss or fanfare. I love big-flavored, colorful stir-fries, and hearty chunky soups, so I included a lot of those types of recipes on the list. The sort of food that will fills me up, works for me nutritionally, without being too heavy. I'll add more to the list as I think of them...
Green Curry Broth - A beautiful, thin green curry broth, fragrant with garlic, lemongrass, and ginger. It gets heat from serrano chiles, and zings of tanginess from fresh lime juice. Cumin and coriander seeds keep things grounded, and a flurry of freshly chopped herbs make the sky open up.

Lemony Chickpea Stir-fry - A tasty, quick, and easy stir-fry recipe featuring golden crusted, pan-fried chickpeas, chopped kale, summer squash, tofu, and a bit of lemon zest. You can use whatever vegetables are in season for this recipe.

Ribollita - An impromptu freezer cleaning inspired this huge pot of ribollita. It's a thick Tuscan stew - dark greens, lots of beans, vegetables, olive oil, thickened with day-old bread.

Shredded Brussels Sprouts & Apples - Shredded brussels sprout ribbons, apples, garlic, pine nuts, and tofu in a skillet with a hint of maple syrup.

Broccoli Crunch - A great broccoli recipe, and a favorite of mine. Tiny green florets, crisp apples, crunchy shallots, candied nuts and slivered red onions are tossed in a barely sweet, creamy almond vinaigrette. Add baked tofu or pan-fried tempeh and you can easily turn this side into a main course.

Caramelized Tofu - One of my favorite tofu recipes, caramelized strips of tofu served over sauteed shredded brussels sprouts. It come together quickly and uses just one pan.

Rustic Cabbage Soup - Hearty, healthy, and satistfying - this cabbage soup recipe is super simple to make. Slice a cabbage into thin ribbons and cook it down in a simple pot of sauteed potatoes, onions, beans, garlic and flavorful broth. Finished each bowl with a generous drizzle of great olive oil and a dusting of shredded cheese.

A Tasty Frittata - Frittatas are the ultimate one-pan meal, and this version is a favorite of mine - great anytime of day. Made with potatoes, onions, and eggs, drizzled with a cilantro chile sauce (or whatever sauce or pesto you have on hand).

Yellow Split Pea Soup - Healthy, beautifully textured, and colorful this split yellow pea soup makes for a terrific lunch. The yellow split pea soup base is topped with a tzatziki-inspired yogurt dollop, a touch of mint, a spoonful of finely chopped black olives, and a drizzle of olive oil. Alternately, here's another Vegetarian Split Pea Soup - delicious, healthy, textured made from an impossibly short list of ingredients.

Lively Up Yourself Lentil Soup - Healthy, quick, and satisfying this lentil soup recipe delivers layer after layer of flavor. The tang of the tomatoes plays off the earthiness of the lentils, and the fragrant bolt of saffron yogurt brightens each bowl. I make this multiple times a week.
Let me know your favorite healthy new year cooking ideas.