Herb Salad Recipe
A lovely herb salad recipe made from lots of summertime herbs, green beans, and corn.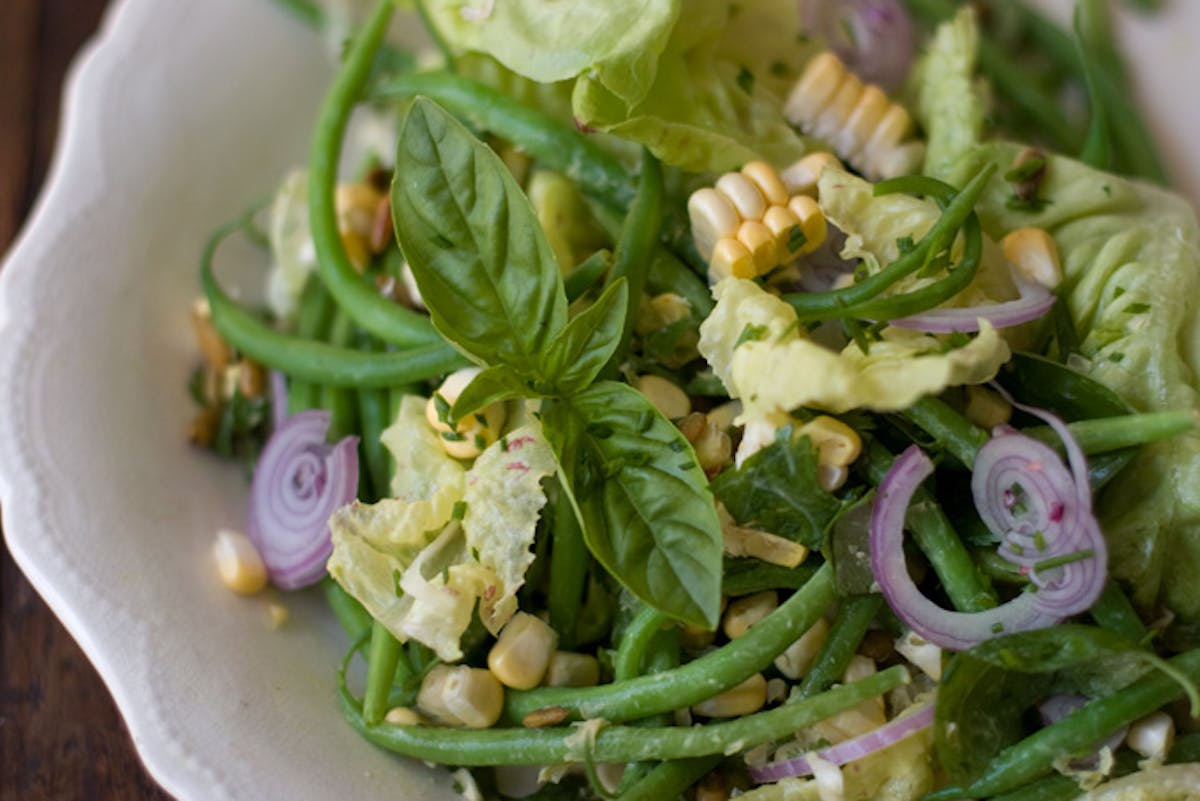 Those of you who have been longtime readers know that I struggle on the gardening front. Oh how I struggle. Some years I don't even bother planting anything. I'm sufficiently discouraged by the skeletons of previous crops - they greet me when I step out to stretch on my back patio each morning. One neighbor is convinced I'm simply a drip line away from my own personal container garden of Eden. Sure. I was having lunch with two friends back in March, one is an editor for the garden section of a major magazine, the other is an accomplished food writer - she had an article about her (newly) prolific lemon tree in the newspaper that very week. It was inevitable, the topic turned to gardening. I half-heartedly stated, "well maybe this is my year."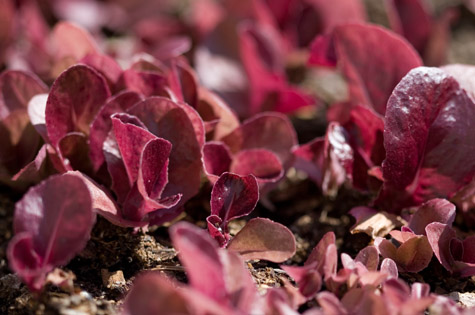 Thinking back on it, this was more a question than a statement. Over the course of the next five minutes, it was decided that I would grow lettuce. They said, "anyone can grow lettuce." They said, "sprinkle the seeds in a pot, water, seriously, anyone can grow lettuce." So I bought a $100 pot. It might have been $200, I can't remember. Shallow, wide, architectural - perfect for lettuce growing, right? Sprinkled the seeds (heirloom red lettuce!), watered, stood back and waited. Nothing really happened. Nothing really happened for weeks, and then months. It was a shallow pot of dirt for the duration of the summer. Then, seemingly out of nowhere, a week or so back, the pot sprang to life with stunning red lettuce. In my eyes, a small miracle.
Although the lettuce seeds were (painfully) slow to sprout, it was a gateway crop of sorts. After I planted the lettuce I started collecting other edible plants. Why stop at lettuce? This was my year. I picked up a few edibles at Flora Grubb - one of the nice guys who works there set me up with an earful of advice and some organic fertilizer. I have a pot for thyme, a pot for snap peas, one for pineapple sage, curry, chives, red heritage raspberries, currants, basil and red-stemmed peppermint. The dill plant I bought at the Marin market back in April never made it into a pot, but it is still alive. I harvested three currants last week. Still no drip line.
I love my little garden, even though I'm still trying to understand it. Lots of the plants are flowering, I suspect they wouldn't be flowering if they weren't happy - or at least that's what I tell myself. I made this herb salad using some of them of what I picked out on my patio, supplemented with ingredients from the market. I can't quite bring myself to pick the red lettuce yet.
Herb Salad Recipe
Buy your corn in husk, the best tasting corn I get is from the farmers market - stay clear of the husked, shrink wrapped stuff. If you like a little spicy kick add some chopped serrano chile to the avocado dressing. You can easily make this vegan by leaving out the yogurt in the dressing - I might thin it a bit with water or a splash of olive oil.
2 ears sweet corn, husked
1 big handful lettuce, torn into bite-sized pieces
3 big handfuls green beans or haricots vert, blanched for 20 seconds in boiling salted water, cooled completely under cold water

1/2 red onion, thinly sliced
1 bunch of chives, finely chopped
1 handful cilantro, loosely chopped
1 small handful of small/medium basil leaves
1 handful of pepitas, toasted

fine-grain sea salt
1 clove garlic, peeled
1/3 cup Greek yogurt
1 tablespoon lemon juice
1 medium avocado
Cut each ear of corn in half and carefully cut kernels from cobs. Combine the raw corn, lettuce, green beans, red onion, herbs, and pepitas in a large bowl.
Now make the avocado dressing by sprinkling a big pinch of salt on the garlic clove. Chop and crush it into a paste. Place the garlic in a medium bowl along with the yogurt, lemon juice, and avocado. Puree with a hand blender. Taste, add salt one pinch at a time until properly seasoned. If you aren't dressing the salad immediately, cover with plastic, pressing into the top of the dressing to prevent browning.
Gently toss the ingredients with a couple big dollops of the avocado dressing. Taste, add a bit of salt and/or more dressing if needed.
Serves about 6-8.