Itsy Bitsy Chocolate Chip Cookies Recipe
The perfect bite-sized chocolate chip cookie. Tiny, thin, golden, crisp, a bit nutty with plenty of shaved chocolate.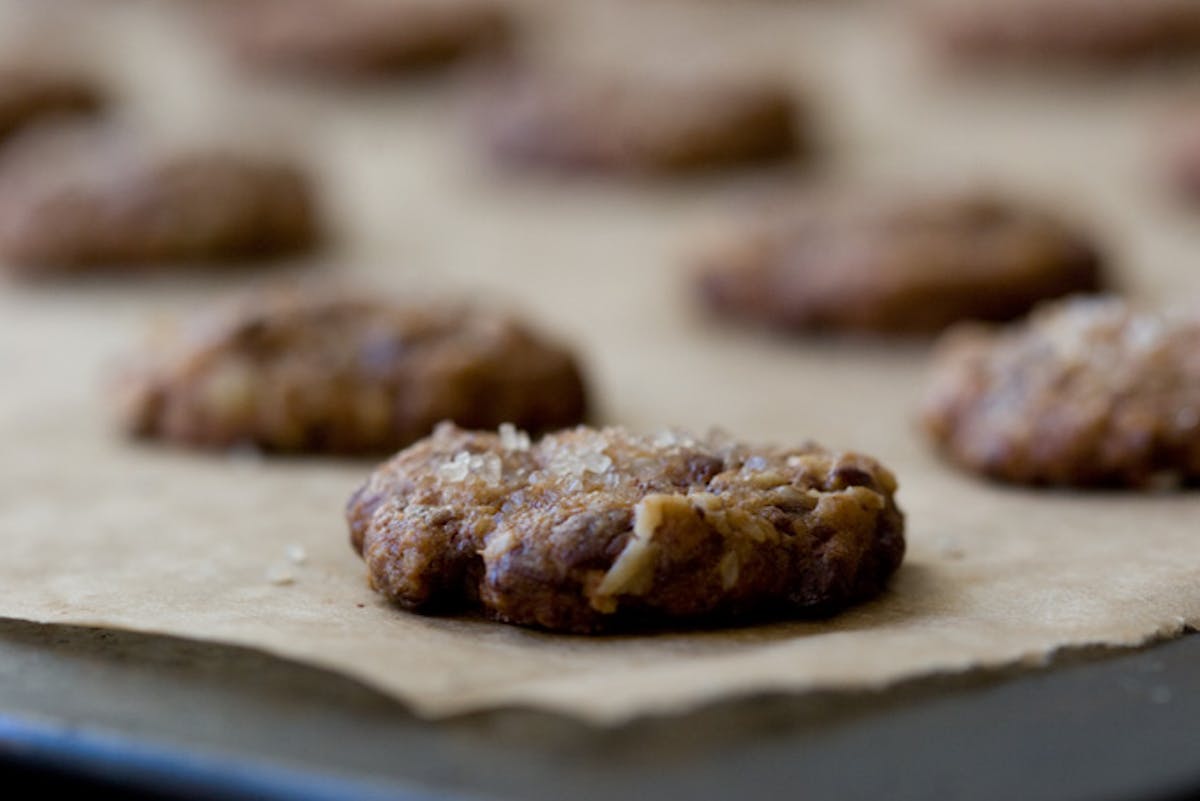 I recognize the lead photo for this post makes these cookies look enormous. They're not. In fact, one of these cookies is about the size of a half-dollar, and you might be able to fit a dozen of them in the palm of your hand. And while the photo might be a bit misleading, the trade-off is that you can see all the flecks of shaved chocolate, oats, and walnuts that are packed into every tiny cookie. The grains of sugar on top? They give the cookies just the right amount of crunch. These are the perfect bite-sized cookie, and each batch makes nearly twelve dozen of them.
I started working on this recipe over the summer (it took a few tries!). I knew I wanted my cookie to be tiny. I wanted it to be thin, and I wanted it to be golden, crisp, nutty, with plenty of chocolate. I started shaving the chocolate early on, instead of using chips or chunks. It ended up being one of the things that makes these cookies unique -and it allows you to press the dough near flat.
The recipe doubles easily, and I can't resist mentioning that ice-cream sandwiches made with them are tres cute and tasty.
More Chocolate Chip Cookie Recipes
Or explore more favorite cookie recipes - I especially love the classics like these shortbread cookies, these limoncello macaroons, these ginger cookies, or these special snickerdoodles. Have fun baking!
Itsy Bitsy Chocolate Chip Cookie Recipe
I use whole wheat pastry flour here, but you can substitute unbleached all-purpose flour if you like, or if that is all you have on hand. You might also add-in some finely chopped crystallized ginger, chopped raisins or currants, or wheat germ. You could try barley flakes or spelt flakes in place of the rolled oats. There are lots of different ways to take this cookie.
5 ounces good-quality semi-sweet chocolate bar (Scharffen Berger 62%)
1 cup whole wheat pastry flour
1/2 teaspoon baking powder
1/2 teaspoon baking soda
1/2 teaspoon salt
1 cup old-fashioned rolled oats
1/2 cup walnuts, very, very finely chopped (by hand)
1/2 cup unsalted butter, at room temperature
scant 1 cup natural cane sugar (or brown sugar)
scant 1 tablespoon organic unsulphured molasses (blackstrap)
1 large egg
1 1/2 teaspoon vanilla extract
1/4 cup large-grain sugar (for ex: turbinado)
Preheat your oven to 350F degrees, racks in top and bottom third. Line a couple baking sheets with parchment paper.
Finely chop the chocolate bar into 1/8-inch pieces, more like shavings really. Try to avoid big lumps and chunks, which make flattening out the cookie dough later more difficult.
In a mixing bowl, whisk together the flour, baking powder, baking soda, salt, oats, walnuts, and shaved chocolate. Set aside.
Using a mixer (or by hand) beat the butter until fluffy. Beat in the sugar and mix until it is also light and fluffy. Scrape down the sides of the bowl once or twice. Beat in the molasses, then the egg, mixing until both are well incorporated, scrape down the sides of the bowl once or twice. Beat in the vanilla. Add the flour mix and stir by hand until the ingredients barely come together into a uniform dough.
I like these cookies tiny, barely bite-sized, so I scoop out the dough in exact, level teaspoons. I then tear those pieces of dough in two before rolling each 1/2 teaspoon of dough into a ball shape. Place two inches apart on your prepared baking sheets. Gently flatten each dough ball into a thin, round patty with two fingers and then sprinkle the top of each cookie with a pinch of large-grain sugar. Bake for 7 minutes or until cookies are golden and fragrant. Remove from oven, and cool on a wire rack.
Makes about 12 dozen tiny, bite-sized cookies.