Labneh Recipe
How a package from Jaipur, India inspired lots of yogurt-straining, labneh-making.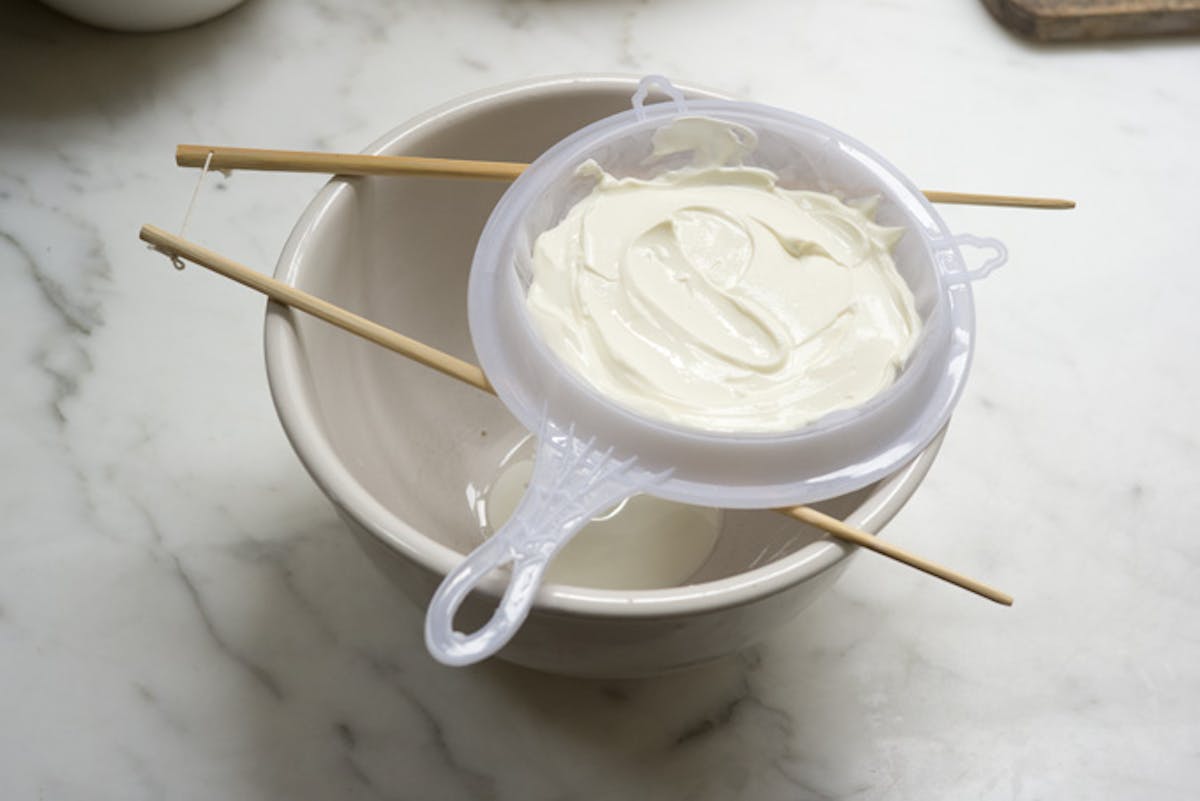 I've been straining yogurt, aka making labneh, quite a lot lately. It started when I received a package from Jaipur, India. The package was cloth-covered and hand-stitched at the seams. My address in massive black penmanship. It may have been the most intriguing package I've received via post, and was sent by my friend Melissa, who (some of you might remember) I met after sitting down for lunch at the Anokhi Cafe. Melissa runs the cafe, and we hit it off from there. I remember her telling me about her favorite strainer - which she described as an unattractive plastic piece of crap, but one that does a fantastic job on the yogurt front. She sent me one! And she was right, this strainer has a very fine, double lining, which allows the liquid whey to flow from the yogurt leaving a thick silky white yogurt cream behind - perfect for spreading, rolling, and blending. I thought it might be interesting to keep a list of all the things I did with the last batch I made. And, before I get ahead of myself, you really don't need a "special" strainer to do this, you can use a couple layers of cheese cloth instead - a bit more messy, but it does the job too (I'll put detailed instructions in the recipe section)...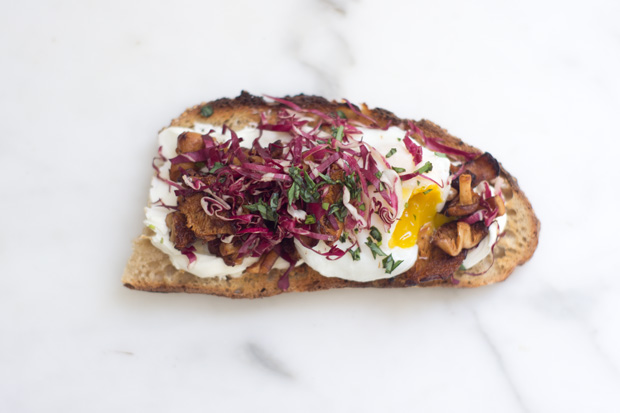 With the last batch of labneh, here's how I used it....
- The above open-faced sandwich was on of the first things I made - a fast A+ lunch. Thin toasted bread, a layer of labneh, pan-fried hedgehog mushrooms, poached egg, shredded radicchio and tarragon, sea salt.
- smashed a few threads of saffron with brown sugar in a mortar and pestle added a bit of labneh, and used it to fill pitted dates.
- spread across a shallow bowl, drizzled generously with olive oil, fragrant Mexican oregano crumbled across the top, served with toasted pita wedges.
- shaped into small balls, rolled in za'atar, drizzled with lots of olive oil.
- Served a dollop alongside an asparagus frittata with loads of fresh herbs and a drizzle of lemon olive oil.
- slice of rye toast, layer of labneh, layer of jam.
- I've made it with less salt and used it as a beautiful frosting. It kind of ends up being in the realm of a cream cheese frosting. Sweeten the labneh with honey, sugar, sifted powdered sugar, etc - whatever your preference.
I'm also, of course, curious about how you use it. Give a shout in the comments if you make strained yogurt and do interesting things with it! xo-h
Labneh
This recipe uses a large container (1 quart) of yogurt, which strains down quite a lot. That said, ff you think you'll have a hard time using this much labneh, half the recipe. The longer you let the yogurt strain, the thicker it gets.
32 ounces plain full-fat yogurt
1/4 teaspoon fine grain sea salt
If you don't have a strainer like the one pictured above, don't worry, you can use cheesecloth in its place. Simply line a deep bowl with a double layer of cheesecloth. Stir the salt into the yogurt and pour into the cheesecloth. Bring the cloth together into a bundle and secure with a string. Hang the bundle over a bowl (or wide pitcher), making sure the bottom of the cheesecloth is suspended in air (you don't want it sitting in the liquid). I used to do this by securing the bundle to a wooden spoon. Cover the whole contraption, and refrigerate for at least 24 hours, but go longer if you like - it's all about personal preference. Much of the liquid will drain out and the yogurt will thicken. Remove from the cloth and proceed with one of the above suggestions.
Makes about 2 cups of labneh.