Lemon Cucumber Tofu Salad Recipe
A simple tofu salad recipe made by marinating cucumbers and chopped dill in lemon juice and olive oil, then tossing with tofu, pine nuts, and avocado.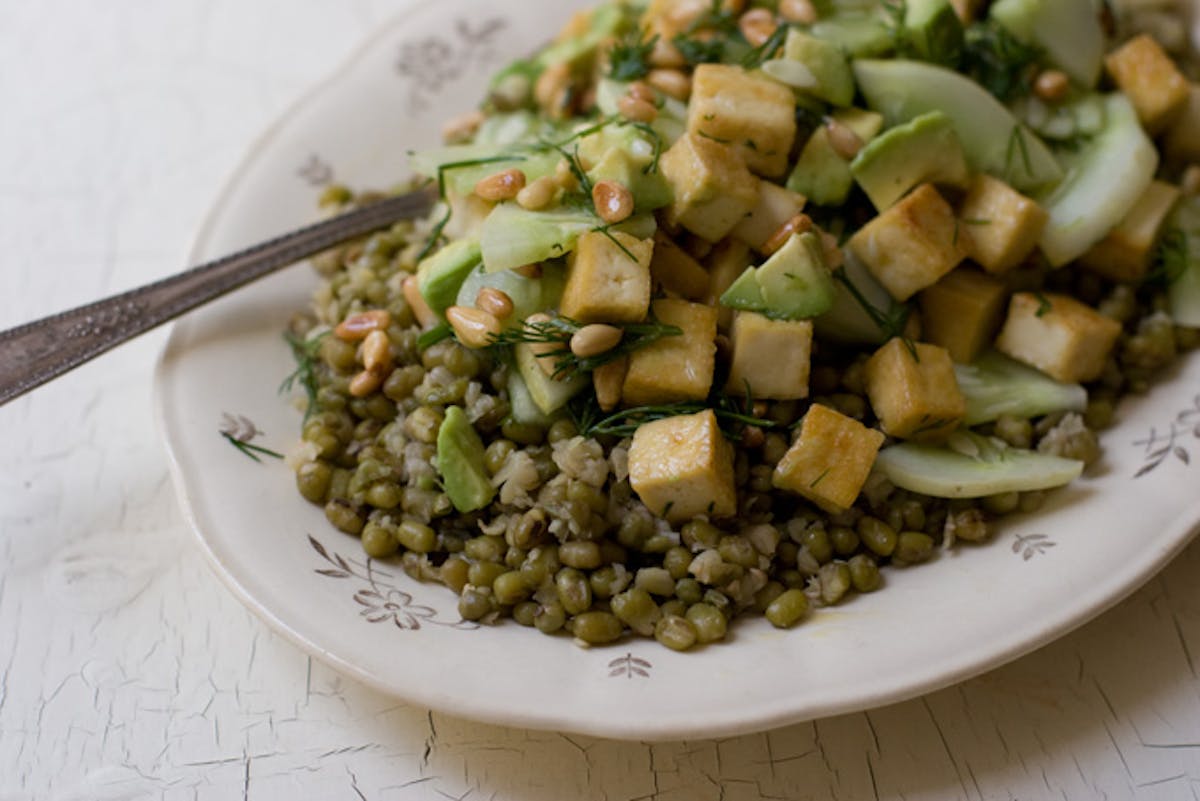 The other night I found myself standing in front of a 6-foot by 4-foot display of summer squash. Standing, staring, thinking about what I might need for the week. An older gentleman came up beside me carrying a handful of lemon cucumbers. They were beautiful. The size of baseballs, pale with vibrant yellow marks. With a twinkle in his eye, he started telling me how much he'd enjoyed the cucumbers he'd purchased the previous week. Well, two lemon cucumbers came home with me that evening. I eventually made a simple tofu salad with them. I marinated the cucumbers and some chopped dill in lemon juice and olive oil, then tossed that mixture with tofu, pine nuts, and avocado. Not my idea at all - the inspiration came when I posted a note on Twitter: Two lemon cucumbers - seeking inspiration. Any ideas?
A bunch of you replied with really great ideas. @carstenknoch sent me this: lemon cucumbers, capers, dill, light vinegar & olive oil. Maybe avocado? Feta or tofu cubes. Toasted nuts of some kind.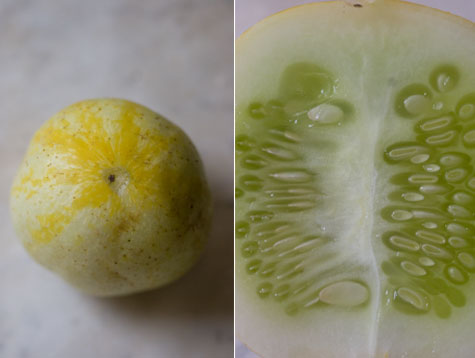 I had everything but the capers, and went for it. It's a salad I suspect I'll make again and again. The cool cucumber works nicely with the lemony marinade, dill, and creamy avocado. The toastiness of the pine nuts worked as an important counter-balance. I served the salad over some leftover mung beans I had in the refrigerator, but as I mention in the head notes below, you might serve it on its own, or over any number of grains, greens, or noodles.
For those of you who have never encountered a lemon cucumber, you can see a picture of one up above. They don't taste like lemon, they taste richly of cucumber. Another thing you might notice is how fragrant they are when sliced. I look for lemon cucumbers with good skin - because I rarely peel them. And although they may seem to have seeds that are larger than conventional cucumber, I eat the seeds too.
Thanks to all of you who provided ideas. We'll have to do this again more often!

Lemon Cucumber Tofu Salad Recipe
I served this over a platter of cooked mung beans (which I love), but I imagine it would be delicious over salad greens, brown rice or soba noodles as well. And if you can't find lemon cucumbers, you can substitute regular cucumbers, no problem.
2 lemon cucumbers, quartered then sliced into 1/4 inch thick slices
1 handful of fresh dill (about 2/3 cup loosely packed)
1/4 cup extra virgin olive oil
1/4 cup fresh lemon juice
2 big pinches of salt
8 ounces nigari extra firm tofu
1/4 cup pine nuts
1/2 of a large, ripe avocado
Toss the cucumbers, dill, olive oil, lemon juice and salt together in a medium bowl. Let sit for at least 20 minutes tossing gently once or twice along the way.
In the meantime, cook the tofu. Cook the tofu and a pinch of salt in well-seasoned skillet (I've been trying to stay away from non-stick) over medium-high heat for a few minutes, until the pieces are browned on one side. Toss gently once or twice, then continue cooking for another minute or so, until the tofu is firm, golden, and bouncy. Set aside.
Just before serving cut the avocado into cubes.
Spoon the cucumbers out of the lemon-olive oil mixture into a large salad bowl. Add half of the remaining dressing, the tofu, and half of the pine nuts. Gently toss. Taste. Add more dressing or salt if you like. Sprinkle the avocado across the top of the salad and gently toss once or twice to distribute it throughout the salad. Serve topped with the remaining pine nuts.
Serves 2 - 3.