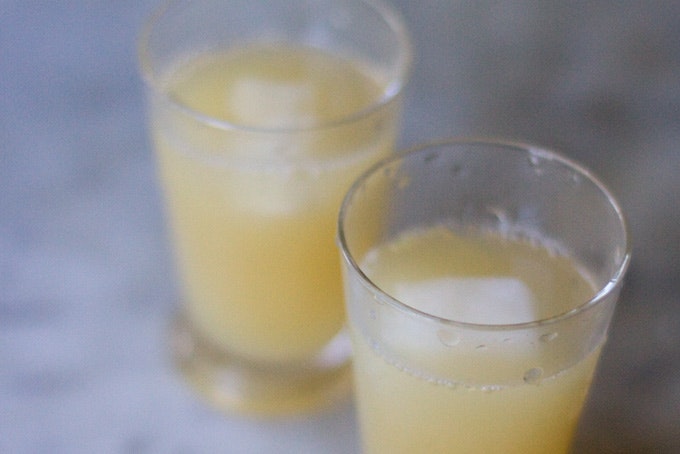 Lime, Grapefruit and Ginger Juice Recipe
I wanted to let you know that a few of us are going to focus on cooking from Breakfast, Lunch, Tea: The Many Little Meals of Rose Bakery over the next two months. I've always liked the idea of cooking from one book for an extended time period, and we've been doing that lately. We did - Moro East last, and The Essential New York Times Cookbook before that. The more the merrier, we'd love to have you join us. To kick things off I decided to start with this beauty - a lovely yellow, citrus-centric Lime, Grapefruit and Ginger Juice.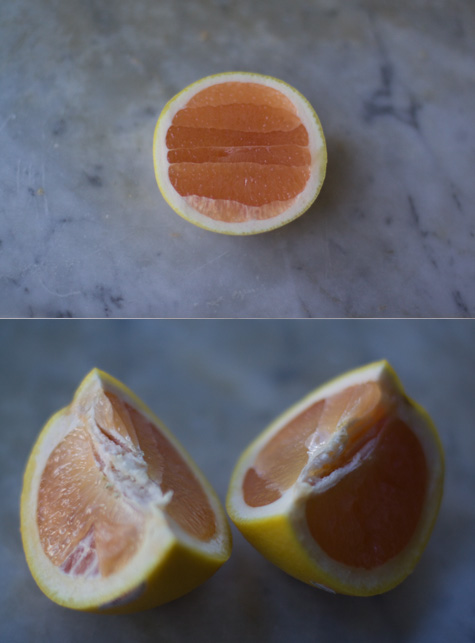 It's still citrus season here in San Francisco, and this is a great way to use up a couple ruby red grapefruits. I don't really do the smoothie thing much these days, but I do love a good fruit juice blend. If you're looking for a jolt something bright, invigorating, spicy and citrusy - this is just the thing. It's a pick-me-up minus the caffeine. You steep grated ginger in a bit of sugared water, and then strain it into a lime & grapefruit juice blend. I like to sip it out of a tiny cordial glass with a big ice cube or mix it with sparkling water as an afternoon refresher. It has a good amount of kick, and you can feel it going down - in a good way.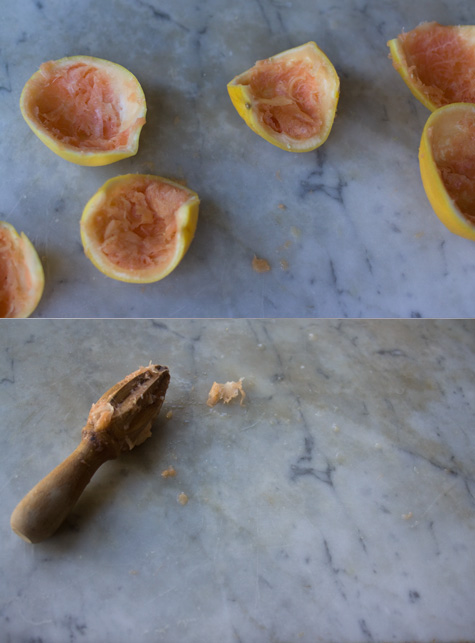 I suspect there will be plenty of other recipes to discover in this cookbook. So please, feel free to join us. I think this is going to be a fun one to cook from. As I mention on the site, cafe classics are well-represented - scones, smoothies, multiple granolas, soups, salads, and sandwiches. But one of the things I appreciate about this book is the inclusion of recipes that feature natural sweeteners, and slightly off-beat whole grains and flours (quinoa / millet). The book includes many vegetarian recipes, quite a number of vegan recipes, gluten-free recipes, etc. Clearly this is a thoughtful compilation of recipes meant to be crowd-pleasers.
Lime, Grapefruit and Ginger Juice
This juice is quite strong - but invigorating! You can make it more/less sweet, to your tastes. And you can mix it with more/less water sparkling water, also to taste. You can also double the recipe if you need to use up more citrus. The juice freezes well in baggies or ice cube trays. I typically use ruby red grapefruits here.
3 tablespoons natural cane sugar
2 tablespoons ginger, peeled then grated
1 cup / 240 ml water

very scant 1/2 cup / 95 ml fresh lime juice - 2 juicy limes
1 1/3 cups / 310 ml fresh grapefruit juice - 2 juicy grapefruits
In a small saucepan, over medium heat, stir together the sugar, ginger, and water. Simmer for 5 minutes, transfer to a glass bowl or cup, and place in the freezer for a few minutes to cool.
Strain the ginger into a pitcher along with the lime and grapefruit juices. You can either strain the citrus juices or leave them pulpy, just be sure to catch any seeds before they go in. Stir and taste, if you want a bit more sugar, go for it, but I find this plenty sweet. Serve straight in a tiny chilled glass with ice. Or use a splash to freshen up a glass of sparkling water.
Makes about 2 cups / 1 pint.
Adapted from Breakfast, Lunch, Tea: The Many Little Meals of Rose Bakery
Prep time: 5 minutes - Cook time: 5 minutes