Maintaining a Long-term Blog (+Roasted Cauliflower Rice) Recipe
I thought I'd attempt a slightly different type of post today - one that explores the theme of maintaining a blog over an extended time period. Plus a roasted cauliflower rice recipe - orange zest, hazelnuts, goat cheese, and wilted pea sprouts..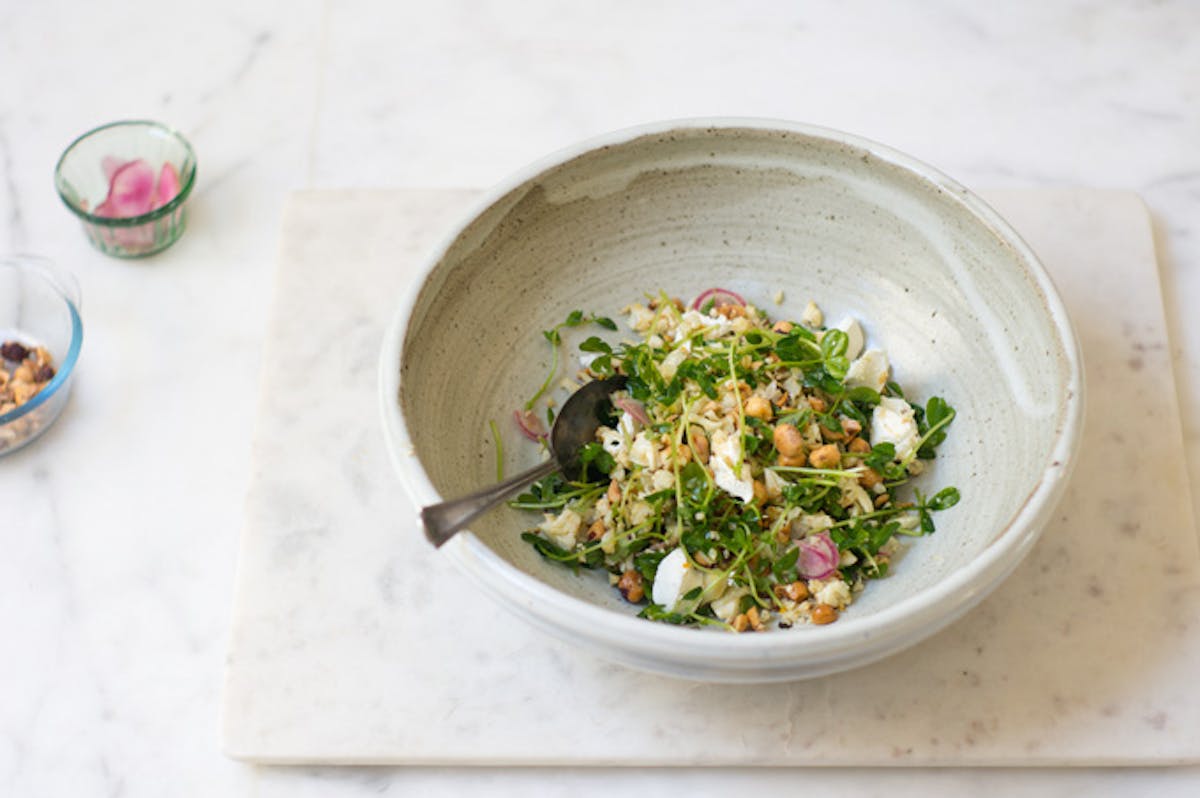 I've been posting to this site for a dozen years. I was twenty-nine when I started, an enthusiastic home cook with a creative streak, and a good number of cookbooks. You could probably describe me in much the same way now, but older, with a bit more perspective and better knives. Over the years I've been asked many questions - both via email, and in person - many of them curious about the process of writing cookbooks, or having a site like this. So, I thought I'd attempt a slightly different type of post today - exploring the theme of maintaining a blog over an extended time period. It's something I feel is important to my life and creative process for reasons you might expect, but perhaps some that you don't.
I look forward to creating something new here each week. Sometimes the content is quick and fast, other times deeper. It's not something I've come to think of as a chore, or something I feel obligated to do to sustain a readership. I come at it each week with positivity. And it's this aspect that seems to genuinely surprise some people. Which, in turn, surprises me.
Here's how I approach this site, and have for a long time. I think of it as my practice. It's something I'm committed to, and look forward to being committed to for years to come. Contributing something new each week helps me develop in areas that I find important creatively - cooking, writing, taking photographs - and the only way I'm able to grow is through experience, experimentation, and regular practice.
I'm not sure I knew what I was doing at the time, but I set up a template early on that required me to write, photograph, and explore (or develop) recipes. I set a pace I could imagine maintaining ten years out, and threaded it into my daily life. I find it reasonable to ask myself to look for a spark of inspiration each week and explore it here. And it is something I committed to. When it comes to individual posts, some attempts are more successful than others. And there are certainly days when I feel one aspect of a post is off or could be stronger. But I feel like the important thing is to put forth my best effort in that moment, and bring that experience and knowledge to the next post or endeavor. I'm a better cookbook author because of this practice. I write better recipes. I have a stronger sense of who I am as a cook. And I have plenty more to learn, discover, and experience. It's all an evolution that takes place over time.
I dabble with other platforms like Instagram and whatnot, but the intersection of story, photography, recipe, and design is the realm I'm most interested in exploring, and for me that happens here first. I've never thought of this site as a stepping stone to other work. It is the work I love to do. And when projects emerge outside of this space, all of the insight and experience I've gained here, make those projects stronger. Books allow me to stretch out, dive deeper, go slower, work on paper, and focus - and for that I love working on them. But I only have a strong sense of what I want to accomplish on a book project, because of my experience here. I'd say the same for the shop. For me, it all loops back to the practice. It is the challenge, and it is what always gives back. If I find myself out in the weeds, two things in particular guide me, and I try to remind myself of them:
Consistency: I hope to develop an inspired post a week. Sometimes it's more frequent, sometimes a bit less. But it's the mark I try to hit. The keyword here is inspired. It's part of the exercise for me to find an inspired line into a post. It's can be tricky - what can I find that sparks an element of enthusiasm, interest, curiosity in myself, also worth sharing? If I'm bored, you're going to be bored. I have a life outside of this site, and other things I work on. I'm often blindingly busy - but that is part of my challenge to myself. It's part of my commitment. Work the puzzle. Try. Said another way, I don't want to miss out on all the aspects of the culinary realm I find amazing, enchanting, compelling, and delightful...all the things that require time, and looking, and learning - because I'm too busy. There are always other aspects of life competing for attention. Making a serious, and regular commitment helps me clear the space for some of this exploration.
Point of View: Have one. Point of view is the air in the room related to any site like this. It's critical for any creative endeavor, really. On a food blog or recipe journal, you experience point of view in a writer's voice, the photography, the bowl they choose for a soup, in the recipe they choose to share, the color of the dish towel, the view from their window, the people sharing their table. You can't just show up and borrow a point of view, the challenge is to develop your own, and it takes time and intent. My point of view evolves incrementally - it changes with every new city I visit, every meal I cook, every chef I chat with, every Saturday I visit the farmers' market. It contributes to everything from narrative approach to photographic style, I also think about it in relation to recipes in particular.
Because nearly all of the posts on this site are anchored in a recipe, I tend to think about what makes a recipe my recipe, and not someone else's (unless it is someone else's, then becoming part of the story). I thought I might deconstruct today's recipe a bit - more than I normally do - to give a bit of a lens in. Let's take Cauliflower Rice, you've likely seen or heard of it before. It's not a new idea, chopping cauliflower into rice-sized "grains", but it's clever, and a great concept. Here's how I started to think about developing a recipe:
- There's already a distinctive way to chop this, so I'm not going to build on that.
- There's a chill in the air, lets roast instead of blanching, or sauté. A seasonal/weather consideration.
- The cauliflower will be tender after toasting, some nutty crunch would be good, and the oven is already heated (to roast the cauliflower) - toasted hazelnuts.
- the California hippie in me wants some sprouts or green brightness to play off the roasted ingredients and bring a nutritional boost. Work these in somehow. No need to cook separately, they'll go in raw, and collapse down a bit when combined with the hot cauliflower.
- I like citrus notes, the brightness it brings, particularly to roasted ingredients, so I opted for orange zest and juice. Nice alongside the hazelnuts too.
- A little something unexpected. Wildcard. Caraway plays nicely with the orange and hazelnuts. Plus a little je ne sais quoi from fresh marjoram.
In writing a recipe I tend to collapse components whenever possible - so you'll see in writing this recipe I don't make a separate dressing. Instead I thread the addition of those ingredients through the recipe. That's a technical, but also stylistic, call. You can see how this recipe comes together down below. I could write it a hundred different ways. But I write it and share it this way.
Some of my favorite sites do less frequent posts, or more, or are wildly irregular. There is a whole spectrum out there, exploring what works on an individual basis is part of the process. Knowing what you want to explore is important for longevity. And even more important than that might be understanding which platform is most suitable in the first place. The creative tools out there now are incredibly powerful. Why would I start a blog on a content management system (CMS) today when the audio, video, socially networked mini-blogs, or animation tools are so compelling? I'd point you back to the beginning of this post for my answer to that question. But that might not be the right answer for you. I use this platform because it is conducive to what I want to do more of, not less - writing, and cooking, taking photos, and interacting with others in the space this creates. If I wanted to be great at editing videos, I'd make that part of my practice. If I wanted to meet interesting people and become a good interviewer, I'd practice making an interview-specific podcast. If I wanted to have a cooking show, I'd regularly explore time in front of the camera instead of behind. There's a lot to be said about doing the work you want to be doing - and chipping away at it, regularly, as a practice, has the potential to help show you the way.
I think I could dive deeper into other aspects of this theme - exploring public versus private content creation; or why so many people start sites and quickly abandon them; or ways to think about evolving a site as you're evolving as an individual; writing for yourself versus writing for an audience.....it's a lot to think about, a lot to consider. In the short term, I hope this is helpful for some of you. And even if it's not something you're thinking about, the cauliflower rice recipe is certainly worth taking for a spin. xo-h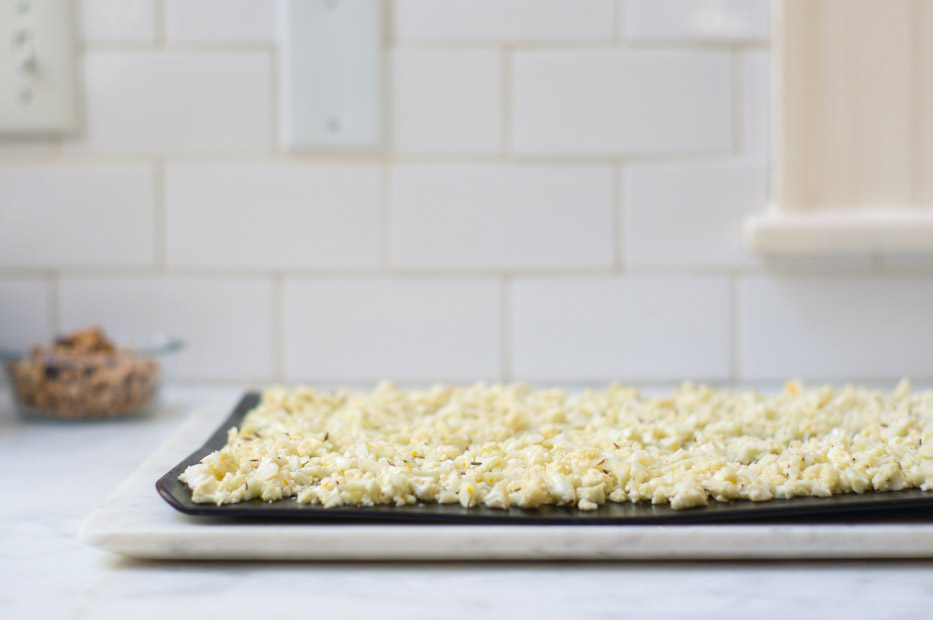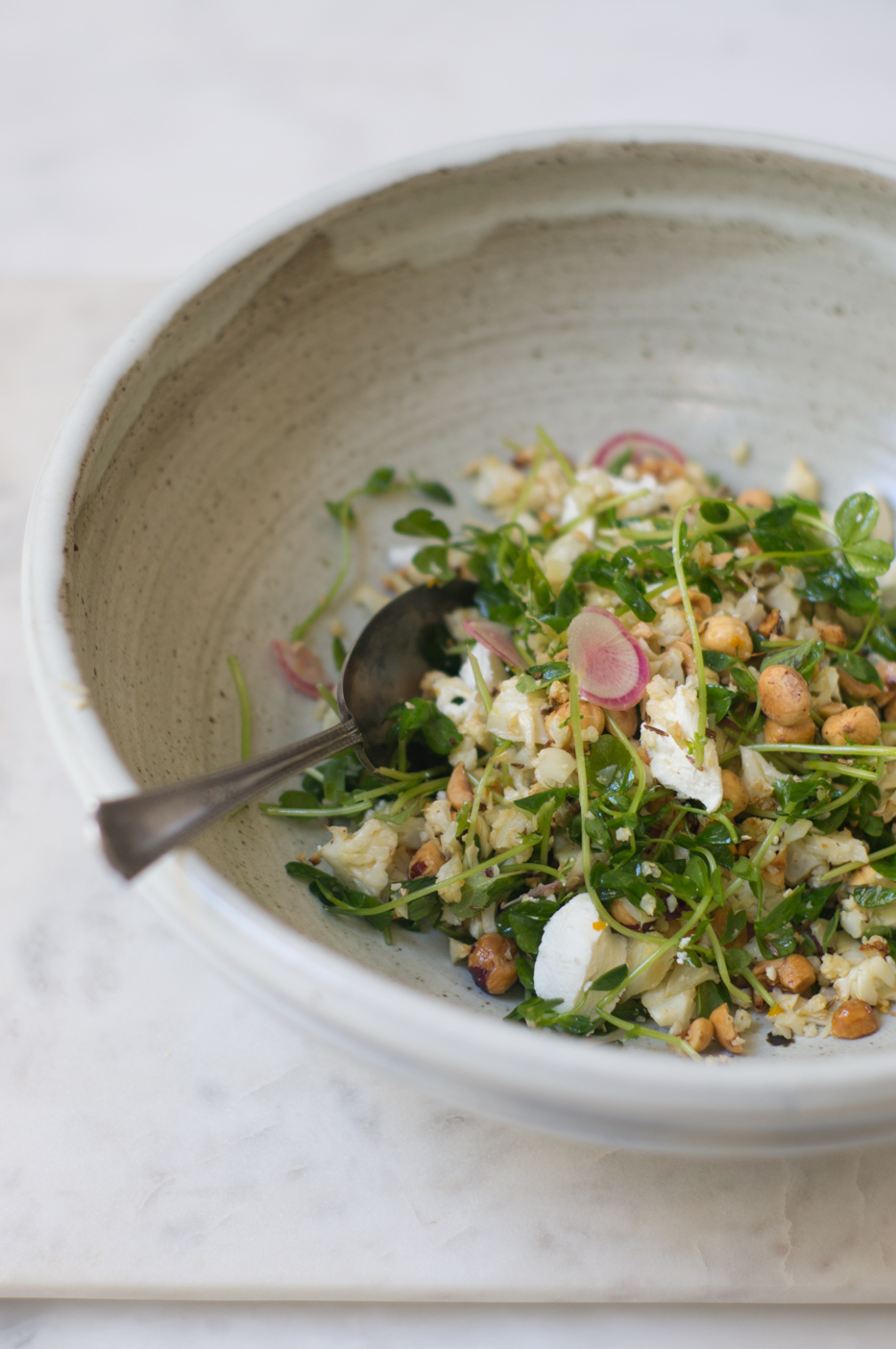 Roasted Cauliflower Rice
You can make this replacing the roasted cauliflower with blanched, sauteed, or steamed cauliflower - all come together more quickly. But I like roasted cauliflower in the fall and winter.
1 medium-large head of cauliflower

3 tablespoons extra virgin olive oil
one orange, zest and juice
1 1/2 teaspoons caraway, lightly crushed
2 medium cloves garlic, minced
1/2 teaspoon fine grain sea salt, plus more to taste
2/3 cup toasted hazelnuts, chopped
2 big handfuls pea sprouts or micro greens
1/4 cup thinly sliced radishes
3 tablespoons fresh marjoram
1/3 cup crumbled goat cheese
Heat oven to 375F with a rack in the top third. Cut the stems and florets from the head of cauliflower and chop them into small pieces resembling rice. You should end up with about 5 cups. Transfer the cauliflower to a large bowl and toss well with the olive oil, zest of the orange, caraway, garlic, and sea salt. Arrange in a single layer on a large baking sheet and place in the oven for about 35 minutes, tossing once along the way (after ~20 minutes), or until the cauliflower is tender and golden-edged.
Transfer the roasted cauliflower to a large bowl and toss with 1 tablespoon of freshly squeezed juice from the orange. Add the hazelnuts, pea sprouts, radishes, and marjoram. Toss well, taste and add more salt and orange juice if needed. Turn out into a bowl or platter, and finish with the goat cheese.
Serves 4.