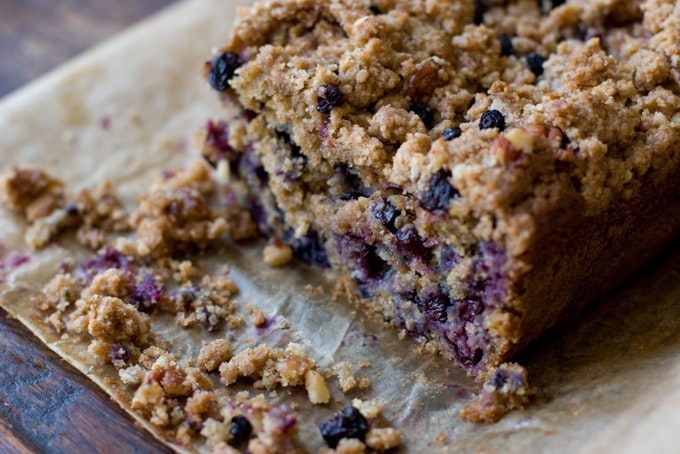 Maple Huckleberry Coffee Cake Recipe
I bought some seductively aromatic, wild huckleberries from Far West Fungi. They were deep violet in color and sweet, tart, and floral in flavor. I ate a big handful and decided to bake the rest into a maple-accented, crumble-crowned coffee cake - the finale of a lunch I was making for my sis. Maple is a nice match for many berries and I made it my sweetener of choice for this cake. In the back of my mind, I was aiming for a rustic cake that used no white sugar and no white flour. It's a stunner of a cake - the huckleberries burst and bleed into the crumb of the cake in quite a dramatic fashion. The crumble crust plays off the tenderness of the cake nicely, so be sure to get a bit of it in every bite.
If you can't find wild huckleberries, no worries, substitute blueberries or chopped blackberries - if it's juicy, fruity, and goes with maple I suspect it'll be good.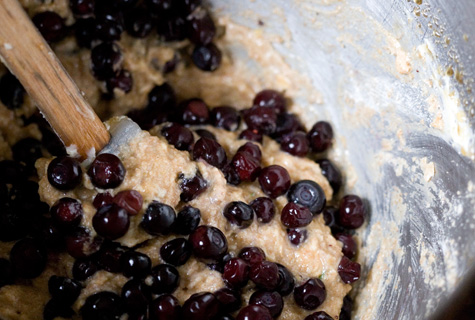 Oh! And I almost forgot. I added a bit of thyme and rosemary from my herb garden. Just a hint to play off the berries, and perfume the cake - barely a whisper.
Maple Huckleberry Coffee Cake Recipe
I used a 1-pound loaf pan here, but you could likely get away with a 8 or 9-inch cake or pie pan. Just check in more frequently as the coffee cake is baking because the cooking time will be different. If you have trouble locating whole wheat pastry flour, I suspect spelt flour would make a good substitution - unbleached all-purpose flour is an option as well. I used maple sugar as the granulated sweetener in the crumble top - but I recognize that it can be expensive and/or hard to find - feel free to substitute raw cane sugar or brown sugar.
1 cup whole wheat pastry flour (or spelt flour)
3 tablespoons rolled oats
1/2 teaspoon baking powder
1/2 teaspoon baking soda
scant 1/2 teaspoon fine grain sea salt
1/4 teaspoon fresh thyme, chopped
1/4 teaspoon fresh rosemary, chopped
4 tablespoons (1/2 stick) unsalted butter, room temperature
1/3 cup maple syrup, room temperature
1 large egg, room temperature
zest of one lemon
2 teaspoons vanilla extract
1/4 cup buttermilk
1 1/3 cups fresh wild huckleberries (or other berries), well picked over

Topping:
1/2 cup whole wheat pastry flour
4 tablespoons cold unsalted butter, cut 1/4-inch cubes
1/3 cup maple sugar (or brown sugar)
1/4 teaspoon fresh thyme
1/2 cup chopped pecans

special equipment: a 1-pound loaf pan
Preheat the oven to 350F degrees, rack in the middle. Butter a 1-pound loaf pan, and line with parchment paper. Alternately, you could just butter and flour the pan, but I've found that lining the pan with parchment makes removing the cake from the pan after baking no problem.
In a medium bowl, whisk together the flour, oats, baking powder, baking soda, salt, thyme, and rosemary. Set aside. In a separate large bowl beat the butter with an electric mixer or by hand - until light and fluffy. Drizzle in the maple syrup and beat until well incorporated, scrape down the sides of the bowl a couple times along the way. Beat in the egg, lemon zest, and vanilla extract, scraping the sides again. Add half of the flour, stir just a bit, now add a splash of the buttermilk, stir again, but not too much. Add the rest of the flour and stir a bit, and now the rest of the buttermilk. Stir until everything barely comes together and then very gently fold in one cup of the huckleberries. Scrape the batter evenly into the prepared pan and set aside.
To make the streusel topping, place the flour, butter, maple sugar, thyme and pecans in a food processor and pulse 20-30 times or until the topping is a bit beyond sandy/crumbly. It should be moist-looking - on its way to being slightly doughy. Crumble 2/3 of it over the cake batter, sprinkle the remaining 1/3 cup huckleberries on top of that, and then add the last of the crumble. Barely pat in place with your fingertips.
Place the coffee cake in the oven and bake for 45-50 minutes or until the top is golden and a toothpick inserted into the center of the cake comes out clean. Let the cake cool for five minutes and then remove it from the pan to cool on a rack (this way the cake won't steam in the pan as it's cooling.
Serves 12 - 16 modest slices.
Prep time: 10 minutes - Cook time: 50 minutes