Mixed Mushroom Soup Recipe
A big, hearty mushroom soup made with a mish-mash of market mushrooms, pearled barley, toasted sesame oil, and onions.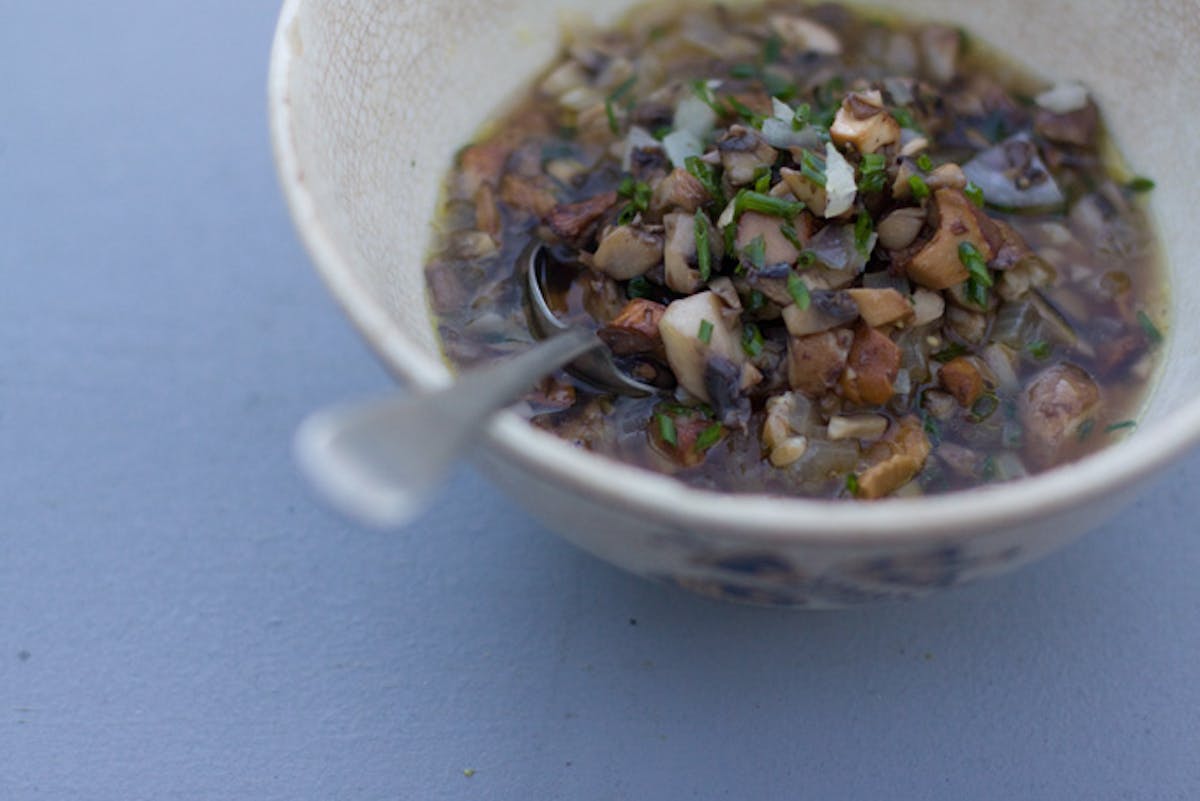 Big, hearty soups are what appeal to me this time of year - flavorful broths punctuated with earthy mushrooms, starchy beans, long-cooked onions, or chunks of roasted winter squash. The sort of soups and stews that are able to take their place at the center of a meal instead of being relegated to a side dish. This is exactly the sort of soup I made over the weekend. I used a mish-mash of market mushrooms, a bit of cooked barley, and a good dose of onions. I gave it a bit of a Japanese flavor profile by using toasted sesame oil and shoyu/soy sauce as finishing elements. Quick, hearty, and satisfying.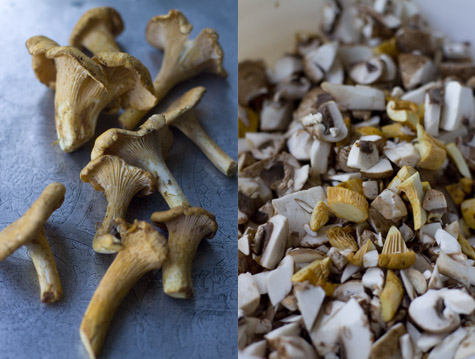 You've heard me say it before, there a few things that help me eat well throughout the week - even when things get busy. I make over-sized pots of soup, like this one, let the leftovers cool to room temperature, then freeze them off in quart-sized baggies. A lot of the soups I love have grains and veggies and often some element of protein. They make for quick, one-pot lunches and dinners that you can pull from the refrigerator or freezer and have on the table in under ten minutes. It feels awesome. I've found on days when I'm too busy to shop, or cook something from scratch, these sorts of soups are just the thing I crave. And its a nice option to have versus eating out or ordering take-out.
As I mention down below, I made this soup with barley, but it could also work well with wild rice or brown rice. You could also skip the soy sauce and toasted sesame oil, and take things in an entirely different direction. A bit of smoked paprika and lemon creme fraiche might be interesting. Or what if you did a saffron yogurt swirl, like we did for this lentil soup and added lots of chopped chives to finish?
And a little housekeeping, if you'll permit? Somehow, six months has passed since the last update on my new cookbook. Not sure how that happened, but I assure you - plenty has been going on behind the scenes. I turned in the manuscript over the summer, we decided on an entirely new jacket, a handful of people I deeply admire were kind enough to write notes for the back cover, and if all went well last week, Super Natural Every Day should be at the printer. I can't believe I'm actually typing that sentence. I promise to do a proper write up and post a bunch of pics sometime in the next couple of weeks.
And! before it slips my mind - I know many of you are on the lookout for vegetarian Thanksgiving recipes, and vegan ones as well. I updated those pages the other day and hope some of these recipes might make it to your holiday tables.
And lastly - a few of us have started cooking recipes from the newly-released Essential New York Times Cookbook. I think we'll focus on it through November, and then pick another cookbook to focus on in December. Please join us if you like! I learn much from spending time with individual books - and I bet you will too. So far, I've cooked Bill Granger's Scrambled Eggs, a variation on the Poppy Seed Torte, and the Takeout-Style Sesame Noodles - you can see my notes here. Judy Rodger's Warm Bread Salad is next on my list. -h
Mixed Mushroom Chowder
As I mention in the main pot, I used cooked pearl barley that I happened to have bagged and frozen on hand. I could've just as easily reached for brown rice, wild rice, or even wheatberries - use whatever you've got! On the mushroom front - use a combination of mushrooms - brown, porcini, chanterelle, etc. The soup was particularly good with a slab of grilled sesame seed bread from Tartine.
You might add a bit of cubed pan-fried tofu, tempeh, or seitan, crouton-style to make this a complete one-dish meal. And as far as leftovers go, for a slightly more decadent version, I'm thinking about whipping up a bit of heavy cream, adding the toasted sesame oil to it, salting it, and serving the soup with a dollop of the cream plus some chives on top...
3 tablespoons extra virgin olive oil or clarified butter

1 pound assorted fresh mushrooms, cut into bite-sized pieces

fine grain sea salt & freshly ground pepper
1 medium yellow onion, finely chopped
1 medium red onion, finely chopped
2-3 tablespoons shoyu or soy sauce
1 1/2 cups cooked pearled barley
6 cups / 1.5 l good-tasting vegetable broth
1/4 teaspoon toasted sesame oil
finely chopped chives, to serve
In your largest, widest soup pot heat two tablespoons of olive oil over medium-high heat. Stir in the mushrooms and season with salt and pepper. Cook stirring a couple times along the way, until the mushrooms release their liquid and they are deeply browned. About 8 minutes. Remove the mushrooms from the pan, set aside on a plate.
Using the same pot, heat the remaining tablespoon of oil over medium-high heat. Stir in the onions and cook until tender, a few minutes. Stir 2 tablespoons of the shoyu, barley, and then the vegetable broth. Bring to a simmer, then reduce the heat a bit. Add the mushrooms and cook another 10 minutes or so. Stir in the toasted sesame oil and taste. You might want to add remaining tablespoon of shoyu or soy sauce, particularly if your broth wasn't very salty. And you might want to add more toasted sesame oil a few drops at a time. Just keep tweaking until everything balances out for you. Serve sprinkled with lots of chopped chives.
Serves about six.
Prep time: 15 minutes - Cook time: 20 minutes