Monica Bhide's Chile Pea Puffs Recipe
Monica Bhide's Chile Pea Puff recipe - crispy-skinned baked snacks stuffed with peas, paneer cheese, chiles, and garlic. From her new cookbook - Modern Spice: Inspired Indian Flavors for the Contemporary Kitchen.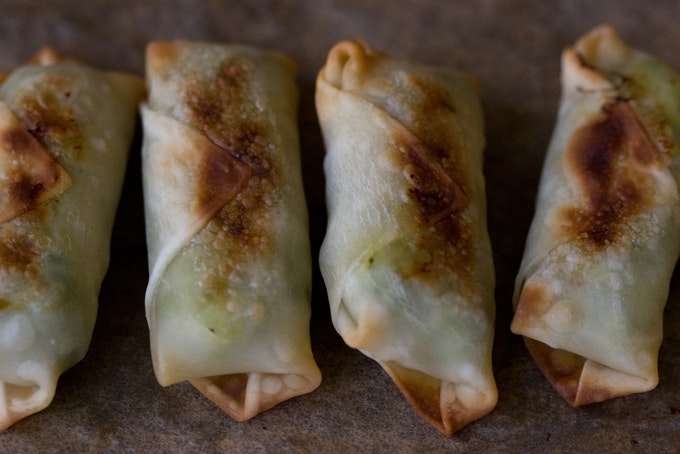 I have some special books to highlight in the next few weeks. As I'm sure you've noticed by now, my attention meanders when it comes to cooking. Sometimes weeks will go by when I'm focused on experimenting with my own ideas, then a book will catch my attention and I'll spend days cooking from that author's point of view. It's one of the great aspects of cooking - easily being able try on another cooks shoes and walk around a bit. I made Monica Bhide's Chile Pea Puffs over the weekend - crispy-skinned baked snacks stuffed with peas, paneer cheese, chiles, and garlic. The recipe is from her new book, Modern Spice: Inspired Indian Flavors for the Contemporary Kitchen, and representative of the type of recipes you'll find throughout.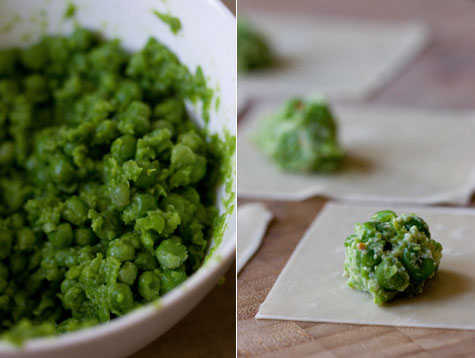 So, the big turn-off when it comes to cooking Indian food at home is the expansive list of ingredients and spices required for many traditional preparations (I'm speaking v. broadly here). Or at least, that's the turn off for me. When I do Indian, it often ends up being more Californian than Indian - I bail out on a spice here and there, and often bump up the fresh vegetables. What I like so much about Modern Spice is the way Monica has turned a contemporary eye toward the Indian pantry and developed a collection of recipes that are mindful of tradition, but not afraid to build on it or break with it. What I'm saying is, if you're looking for a book full of traditional Indian standards, there are other books to buy - great ones. If you're looking for ways to integrate many of the alluring flavors and ingredients of India into your daily cooking, this book is packed with ideas for vegetarians and non-vegetarians alike.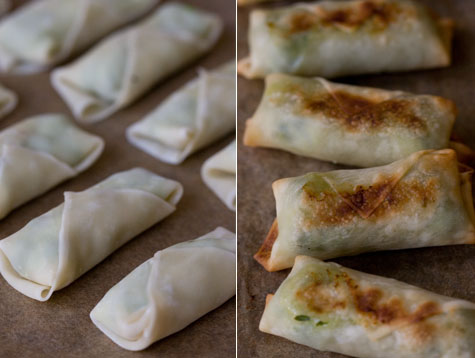 To give you a better sense of the recipes in the book, here's a sampling of the ones that are top of my list: Kumquat and Mango Chutney with Onion Seeds, Peanut Tikkis with Tamarind-Date Chutney, Masala Omelette with Green Chile Chutney, Paneer with Orange-Apricot Chutney, Heirloom Tomato Salad with Chaat Masala, Indian Onion Rings, The Indian "Burger", Saffron-Cardamom Macaroon, Lychee Phirni. There are more than enough veg-friendly recipes in Modern Spice to make it a worthwhile purchase for vegetarians, and robust chapters on poultry, fish, meat, and shellfish for those who aren't.
Modern Spice is printed in black-and-white with a color photo insert and spans 265 pages. The recipes are fresh and vibrant, most span a single page or less, and (in many cases) feature concise ingredient lists. The Chile Pea Puff recipe I'm featuring today is a good example. I've done pea dumplings before, but I love the serrano and paneer twist on these. I made a double batch, froze half, and will make Monica's Kumquat and Mango Chutney to go with them the next time we have friends over.
Feel free to read more about Monica here, and you can stop by her blog as well.
Monica Bhide's Chile Pea Puffs
Heidi notes: If you have the time make a double batch of these, they freeze really well - a month or two double bagged. Bake straight from the freezer. You can get paneer at an increasing number of places now - at most Indian grocers, and some cheese shops. If you can't track down the paneer, no problem. You can make these dumplings with ricotta, crumbled tofu, or queso fresco. Vegans, go the tofu route, and seal the wrappers with water in place of the egg white. Monica suggests baking these (see photo), but also mentions they can be fried.
nonstick cooking spray (HS note: or a bit of olive oil)
1 cup cooked green peas, lightly mashed
1/4 cup crumbled paneer
2 small green serrano chiles, minced (remove seeds to reduce heat)
1/4 teaspoon salt to start
1/4 teaspoon red chile powder or red chile flakes (less to reduce heat)
1/2 teaspoon minced garlic
32 wonton wrappers
1 egg white, lightly beaten
Preheat oven to 400F degrees. Lightly grease a baking sheet with cooking spray (HS note: or line with parchment paper).
In a bowl combine the peas, paneer, green chiles, salt, chile powder, and garlic. Mix well.
Place one teaspoon of the mixture into a center of a wonton wrapper. Lightly brush the sides og the wrapper with the egg white. Fold the wrapper over to form a triangle, or if you are using round wrappers, fold to form a half-moon. Press the edges with a fork, gently to secure the seam so the filling does not fall out. (HS note: I rolled them into mini-spring-roll shapes - see photo)
Place the puffs in a single layer on the baking sheet. Spray them lightly with cooking spray (HS note: or brush with a bit of olive oil). Cook for 7 to 8 minutes or until they are crisp and the skin changes to a lovely golden brown. Turn once, halfway through baking. Serve immediately with your choice of chutney.
Makes 32 puffs.

Reprinted with permission from Modern Spice: Inspired Indian Flavors for the Contemporary Kitchen by Monica Bhide. (Simon & Schuster, 2009)