Nut and Seed Biscotti Recipe
Thin, biscotti-style crackers densely pebbled with all manner of nuts and seeds - green pistachios, rust-toned hazelnuts, and off-black poppy seeds.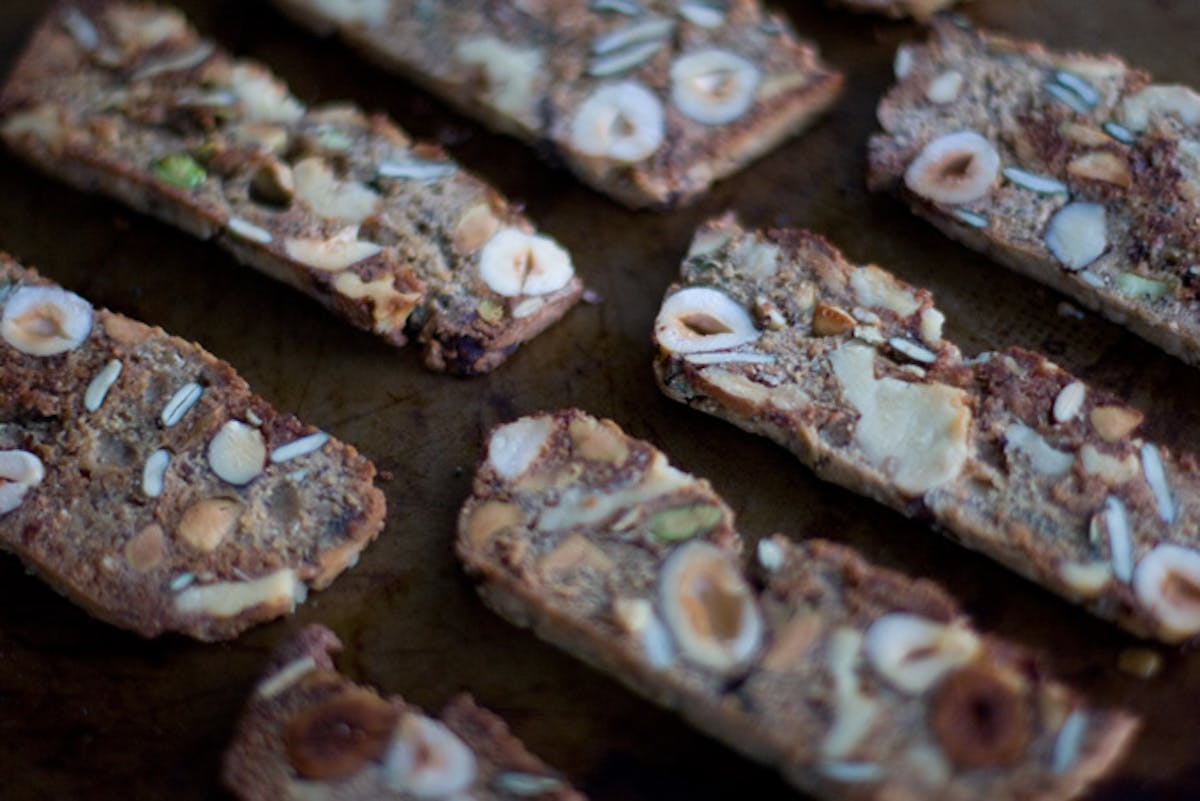 The other afternoon I set out to make thin, biscotti-style crackers. They were to be densely pebbled with all manner of nuts and seeds - green pistachios, rust-toned hazelnuts, and off-black poppy seeds. I envisioned nuts and seeds packed together like pebbles in concrete, with barely enough flour and egg to bind everything together. I'd double-bake them - first in a loaf pan, after which I'd slice them thinly. Then back in the oven on a baking sheet until crisp.
As with many cookies or crackers you can certainly experiment with shape. These make a nice, three-bite base for a generous slather of goat cheese topped with a bit of chutney. You could also incorporate any number of spices, herbs, or zests into the cracker dough, or experiment with your own medley of nuts and seeds. The next time I may slice them the long way - a bit more challenging, but I suspect it would result in an even more dramatic (while still being rustic) cracker.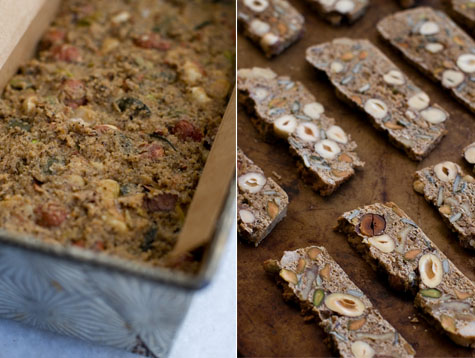 The best of the best were the crackers I sliced thinnest. They had good snap, toasted up beautifully, and were notably better than their thicker counterparts. As I mention in the recipe, I used a serrated knife and a combination of two knife techniques. 1. A back-and-forth slicing motion (if there were lots of nuts at the surface of that partiular slice) 2. A fast and decisive single cut. But the real key to easy slicing is making sure the loaf is well baked through. Let me know if you end up making these with your own ingredient twists - you can post to the comments, or if you have pictures post them to the 101 Cookbook Flickr group.
Nut and Seed Biscotti Recipe
My seed mixture was a blend of 1 cup lightly toasted hazelnuts, 1/3 cup each of lightly toasted walnuts, pistachio nuts, and pumpkin seeds, and 1 tablespoon poppy seeds. If you don't have white whole wheat flour, all-purpose flour should work. I'm also anxious to try these with spelt flour to see how it goes.
1 1/3 cups white whole wheat flour
2 cups mixed nuts and seeds (see head notes)
scant 1/2 teaspoon fine grain sea salt
2 large eggs
2/3 cup natural cane sugar, fine grain
1/4 cup extra-virgin olive oil
Preheat oven to 300F degrees. Rack in the middle. Lightly butter or oil a 1-pound loaf pan and line with parchment paper.
Combine the flour, nuts and salt in a medium bowl and set aside. In a separate large bowl whisk together eggs and sugar. Add the flour-nut mixture to the egg mixture and stir until combined. The dough will be quite thick. Scoop into the prepared pan and press the dough into place using damp fingertips. You want to be sure everything is nice and compact, level on top, with no air bubbles hiding in there. Bake for 45-50 minutes - or until the loaf tests done. If you under-cook the loaf at this stage, it makes slicing difficult. Remove loaf from the oven, and turn the oven up to 425F.
Immediately run a sharp knife around the perimeter of the loaf, remove it from pan, and set the loaf upside down on a cutting board. Using a thin serrated knife (or the thinnest, sharpest knife you have), slice the loaf into 1/4-inch thick slices. Place the slices on a baking sheet. brush tops with a bit of olive oil and bake for 3-4 minutes or until the bottoms are a touch golden and toasty. Pull them out of the oven, flip each one, and brush the other side with olive oil. Bake for another 4-5 minutes or until nice and crisp. Let cool.
Makes 1 1/2 - 2 dozen.