Oatmeal Muffins Recipe
A crumble-topped muffin recipe made with an oatmeal and yogurt base. Craggy, golden-topped, the last thing I'll bake before moving on to a new oven.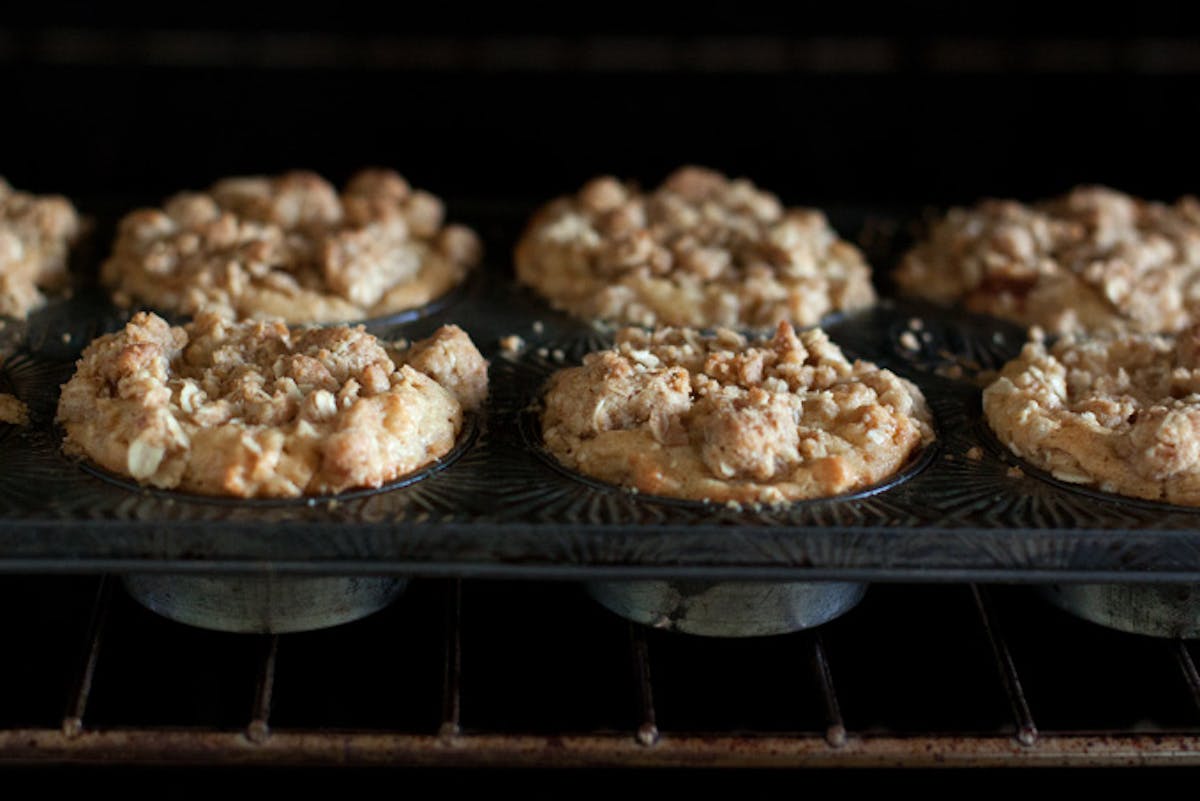 These oatmeal muffins are a good-bye kiss from my workhorse of an oven. The last hurrah. Although, not much to look at, I have a lot to thank it for. We've survived two cookbooks together, a thousand meals, and unlike some other stoves I've lived with - this one was easy-going, not particularly temperamental. I'll miss it. I'm going to miss all sorts of things about this apartment, but now's not the time to get sentimental on you. There are more boxes to pack. The muffins? They're crazy-good-substantial-notlikecake. Crumble-topped with an oatmeal and yogurt base. They're a bit custard-y when hot, and not-at-all when cooled. Craggy, golden-topped - the perfect send-off.
I couldn't resist putting a crumble on these, the same one from the Tutti-Frutti Crumble in Super Natural Every Day. The muffins themselves don't come across as particularly sweet, but you get a nice amount of sweetness from the topping. Overall, I would say, the muffins might classify as lightly-sweetened, which is what I like. That said, you could add a drizzle of honey or maple syrup to the wet ingredients if you think you might want a slightly sweeter punch to these. Or stir in some sweet fruit.
I kept these pretty straight forward - rolled oats, yogurt, etc. You could take them in a thousand directions with different spice combination, or citrus zest, or add-ins like seeds, or berries, or dried fruit. The most important thing though is this - pop them out of the pan as soon as you can after baking. Let them cool outside the pan on a baking rack. In the pan they steam, and it will impact the texture of the muffins. And not in a good way...I hope you like them.
Oatmeal Muffins
Don't use instant oats here, go for rolled oats. It's worth noting, I used the crumble-topping from the Tutti-Frutti crumble in Super Natural Every Day - and it makes about double the crumble you'll need for these muffins. I'm never one to complain about having extra crumble on hand - you can keep it in the freezer until the next time you want a crumble top on something. Crumble, then freeze. Also, this recipe yields a slightly awkward 1 1/2 dozen muffins. Bake all at once, or bake a one-dozen pan batch, keep the leftover batter in the refrigerator for a couple days, then bake the rest.
Crumble topping:
scant 3/4 cup / 3 oz / 85 g whole wheat pastry flour
1/2 cup / 1.5 oz / 45 g rolled oats
1/2 cup / 2.5 oz / 70 g natural cane or brown sugar
scant 1/2 teaspoon fine grain sea salt
1/3 cup / 2.5 oz / 70 g unsalted butter, melted

Muffin batter:
1 cup / 3.5 oz / 100 g rolled oats
3/4 cup / 3.5 oz / 100 g unbleached all purpose flour
3/4 cup / 3.5 oz / 100 g whole wheat pastry flour
1/2 teaspoon baking soda
scant 1/2 teaspoon fine grain sea salt
7/8 cup / 7 oz / 200 g unsalted butter, plus more for greasing pan
1/2 cup / 2.5 oz / 70 g natural cane or brown sugar
1 1/2 cups / 12 oz / 350 ml plain yogurt
2 large eggs, whisked
Preheat oven to 350F / 180C. Butter one or two muffin pans generously. I didn't use paper liners, and I'm glad I didn't. Place oven racks in top third of oven.
Get your crumble topping for your muffins started first. Use a fork to combine the flour, oats, sugar, and salt in a bowl. Stir in the melted butter. Divide the mixture into three portions, and use your hands to form into three flat-ish patties. Place the patties in a bowl in the freezer for about ten minutes.
Now, onto the muffin batter. In a medium bowl combine the oats, flours, baking soda, and sea salt. Set aside.
Melt the butter in a small saucepan. Remove from heat and stir in the sugar. Whisk in the yogurt, and then the eggs. Pour the wet ingredients over the dry and stir just until combined. Do your best to avoid over mixing.
Pour the batter into the muffin tins, filling each 3/4 full. Pull the crumble from the freezer and break it up into small and medium pieces. Sprinkle the top of each muffin with crumble, place the muffins in the oven and bake 30 - 35 minutes or until tops are golden and a toothpick comes out clean. Let cool just a minute or so, then turn out onto a cooling rack - important!
Makes about 1 1/2 dozen muffins.

Prep time: 10 minutes - Cook time: 35 minutes