Old-Fashioned Blueberry Cake Recipe
An old-fashioned blueberry cake sweetened with molasses adapted from a reader submitted recipe to the July 1974 issue of Gourmet Magazine - rustic, dark as chocolate, tender, and punctuated with lots of tiny pockets of oozy, magenta berry flesh.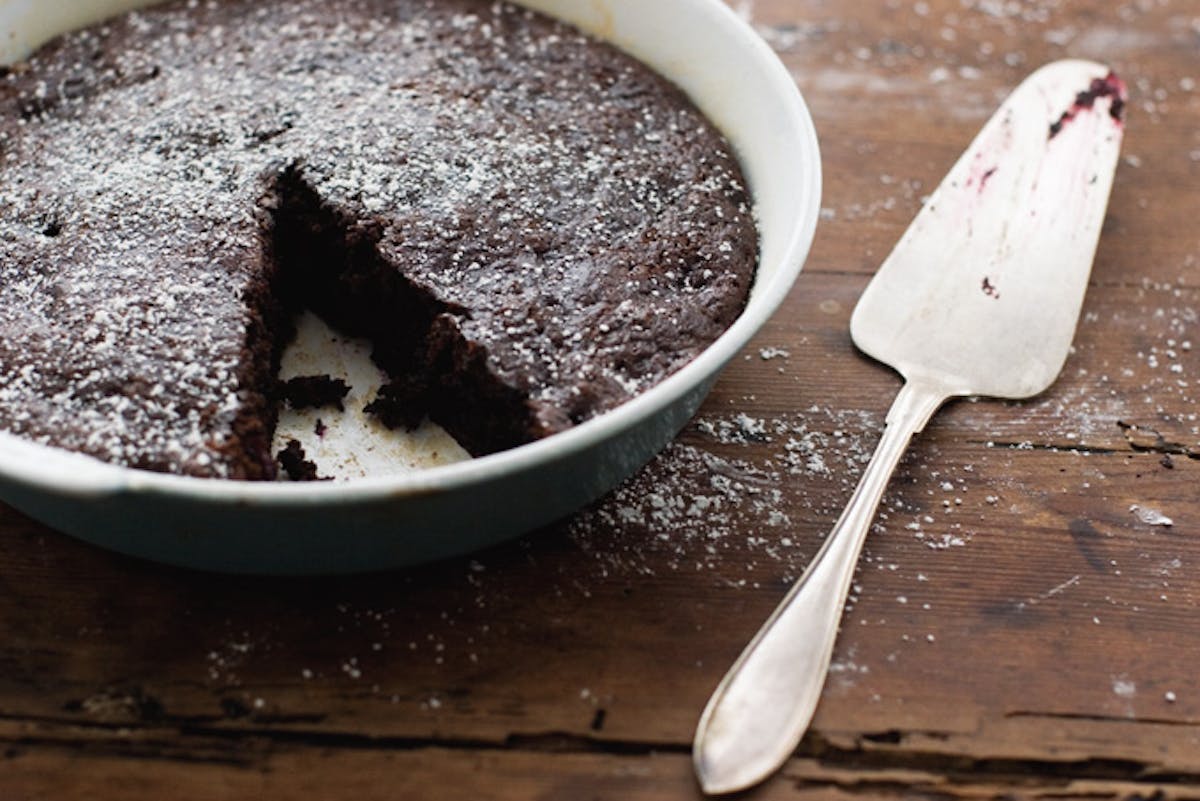 This inspiration for today's recipe came from a July 1974 issue of Gourmet Magazine. I sometimes come across vintage piles of Gourmet at yard sales, or on eBay, and can't help but buy them. This particular issue featured a lake-side picnic setting on the cover and originally cost seventy-five cents. On page two there was an old-fashioned blueberry cake recipe submitted by reader Patricia Michaelson that caught my attention. It was a simple cake sweetened with blueberries and molasses. That's it. Many cakes use a cup or two of sugar, so I was intrigued and curious...and a touch skeptical. And butter? Not much at all - also peculiar. The resulting cake was rustic, dark as chocolate, tender, punctuated with lots of tiny pockets of oozy berry flesh, and flavored with a dramatic molasses undercurrent.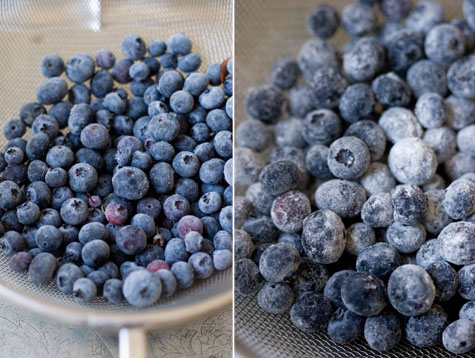 I made a few changes to the original recipe, and rewrote it from the ground up for you. It is important to use the right type of molasses - unsulphered, preferably organic. I'll link to the brand I buy most often here, and in the ingredient list. If you aren't sure, taste your molasses - it should taste good. Strong but good. And while we're on the topic, it should be said, if you aren't a fan of molasses, this cake isn't for you. The molasses and blueberry flavors melded together beautifully in a not-too-sweet, sophisticated way - but I quite like molasses. On the berry front, use the sweetest berries you can get your hands on. If you come across great berries, stock up. A lot of times I'll buy fresh berries, set aside some to eat, and then freeze the rest (to use in a cake list this). And one last note - although I dusted the top of the cake this time with powdered sugar, I think the way to go next time is with a big dollop of sweetened freshly whipped cream (or both!).
Thank you Patricia Michaelson of Scituate, Massachusetts. We very much enjoyed your cake, and I look forward to making it again soon.
Old-Fashioned Blueberry Cake Recipe
For those of you who want to use a whole grain flour here, I think I'd start by trying a 50/50 blend - half whole wheat pastry flour, half unbleached all-purpose flour. If you have a very fine, powdery soft whole wheat pastry flour, you might be able to get away with using it for 100% of the flour, but some of the whole wheat pastry flour has ragged, rustic texture that might be a problem here.
1 cup plus 2 tablespoons unbleached all-purpose flour
1 teaspoon baking powder
1/2 teaspoon baking soda
3/4 teaspoon fine grain sea salt

1/2 teaspoon cider vinegar
5 tablespoons milk (divided)
1/2 cup unsulphered molasses
2 large eggs, lightly beaten
3 tablespoons unsalted butter, barely melted

1 1/2 cups blueberries, frozen (I freeze fresh berries)
1 teaspoon flour

Serve with a sprinkling of powdered sugar (optional), or a big dollop of sweetened freshly whipped cream
Preheat your oven to 350F degrees. Butter and flour a 9-inch round cake pan (or equivalent).
In a large bowl sift together the flour, baking powder, baking soda, and salt.
In a small bowl whisk together the cider vinegar with 3 tablespoons of the milk. In another bowl whisk the molasses with the remaining 2 tablespoons of milk. Whisk the cider vinegar mixture into the molasses mixture, then whisk in the eggs.
Pour the wet ingredients over the dry and stir until just barely combined. Stir in the butter. Toss the blueberries with 1 teaspoon of flour and fold them into the batter.
Pour the batter into the prepared pan and bake for about thirty minutes or until a toothpick poked into the center comes out clean. Let cool for a few minutes and then serve sprinkled with powdered sugar, or with a dollop of whipped cream on the side. We just enjoyed this cake served straight out of the pan, but you can turn it out if you like.
Serves 8 - 10.
Prep time: 10 minutes - Cook time: 30 minutes