Peanut Butter Cookies Recipe
Not your typical peanut butter cookie recipe - but just as good. Tastes pretty darn close to the classic but without all that butter, and with maple syrup in place of the white sugar. Vegan, egg-free, and easily made wheat-free if you like.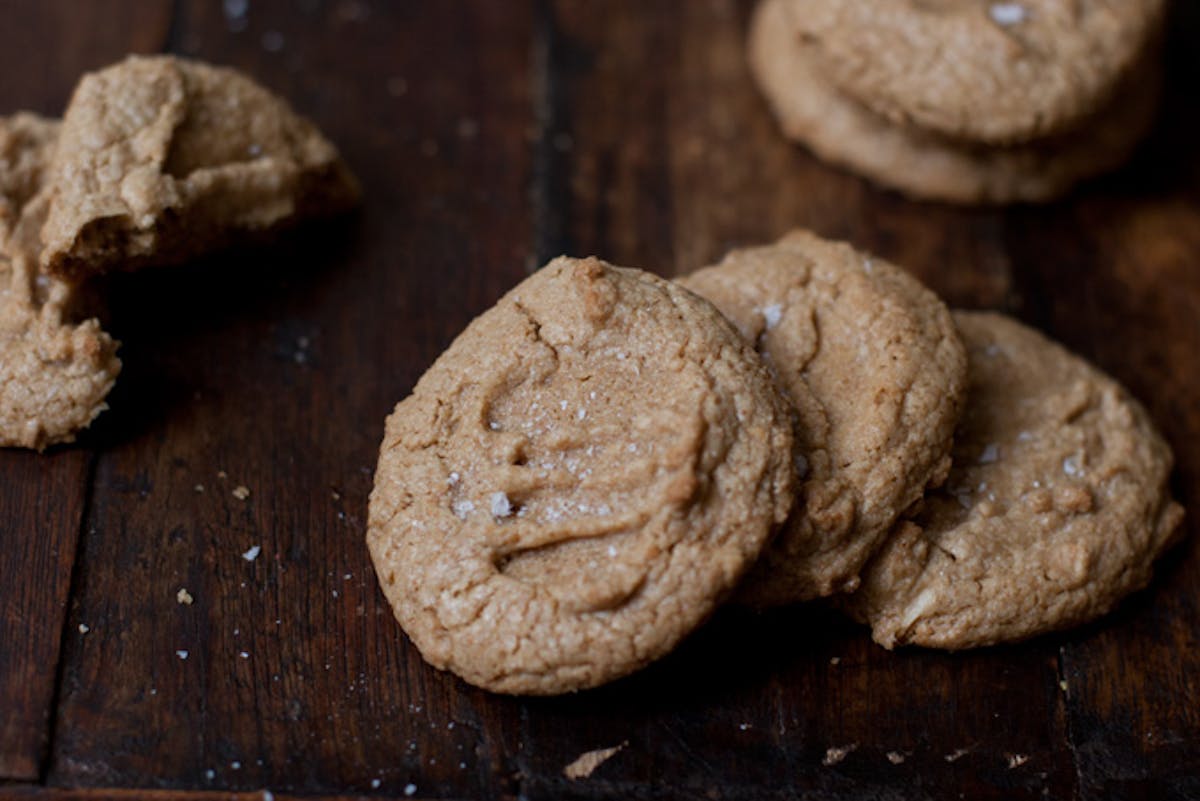 I had my heart set on writing a peanut butter cookie recipe for Super Natural Cooking. A recipe that featured ingredients other than white flour, white sugar, and huge amounts of butter, yet somehow retained the spirit and flavor of the classic peanut-y cookie everyone loves. In the process I cooked many, many batches of bad cookies, and eventually gave up. I tried a lot of flour and sweetener combinations - nothing tasted good. One memorably bad batch tasted like un-sweet, hot, steamy nut cakes. That did me in. Flash forward two years and I'm back at it. My first try last week wasn't so great, but I think I'm really onto something with this version - you be the judge. The cookies are maple syrup sweetened and come together with just seven ingredients. I cut out the eggs and butter altogether. Bonus points for being able to lick the bowl clean and not worry about raw eggs.
I'll mention this in the head notes as well - whole wheat pastry flour is my flour of choice for these cookies. It delivers a tender crumb and traditional coloring. Spelt flour is great too - it just bakes off a bit darker, a worthy substitute for people who might need to choose spelt flour over wheat because of allergies. I did a white whole wheat flour in the past with a slightly different recipe - no good. Too dry and bread like. Vegans, these cookies are for you too - no substitutions needed.
Peanut Butter Cookies
Spelt flour bakes into a slightly darker cookie (photo), whole wheat pastry flour is slightly blonder - more traditional in appearance in the end. Finish the cookies with chopped nuts or a sprinkling of flaky salt. I'd also recommend seeking out a peanut butter that is well combined, and not super-oily (extra slick) looking - to avoid problems with the cookie batter.
2 cups whole wheat pastry flour, spelt flour, or unbleached all-purpose flour

1 teaspoon baking soda
3/4 teaspoon fine grain sea salt
1 cup organic, chunky natural peanut butter
1 cup maple syrup
1/3 cup extra virgin olive oil
1 1/2 teaspoons vanilla extract
Preheat oven to 350F degrees. Place racks in the top third.
In a medium mixing bowl combine the flour, baking soda, and salt. in a separate larger bowl combine the peanut butter, maple syrup, olive oil, and vanilla. Stir until combined. Pour the flour mixture over the peanut butter mixture and stir until barely combined - still a bit dusty looking. Let sit for five minutes, give one more quick stir, just a stroke or two. Now drop by heaping tablespoonfuls onto parchment-lined baking sheets. Press down on each one gently with the back of a fork. It's a loose batter, so if you're set on doing criss-crosses, go ahead and chill the batter for an hour or so before this step. Bake for 10, maybe 11 minutes - but don't over bake or they will be dry. Let cool five minutes and transfer to a cooling rack.
Make 2 - 3 dozen cookies.