Peanut Butter Krispy Treats Recipe
A twist on the classic, I use crisp brown rice cereal slathered in a decadent peanut butter maple syrup sludge. This version of treats has bits of chopped, toasted pistachios throughout - also vegan (no marshmallows) and gluten-free.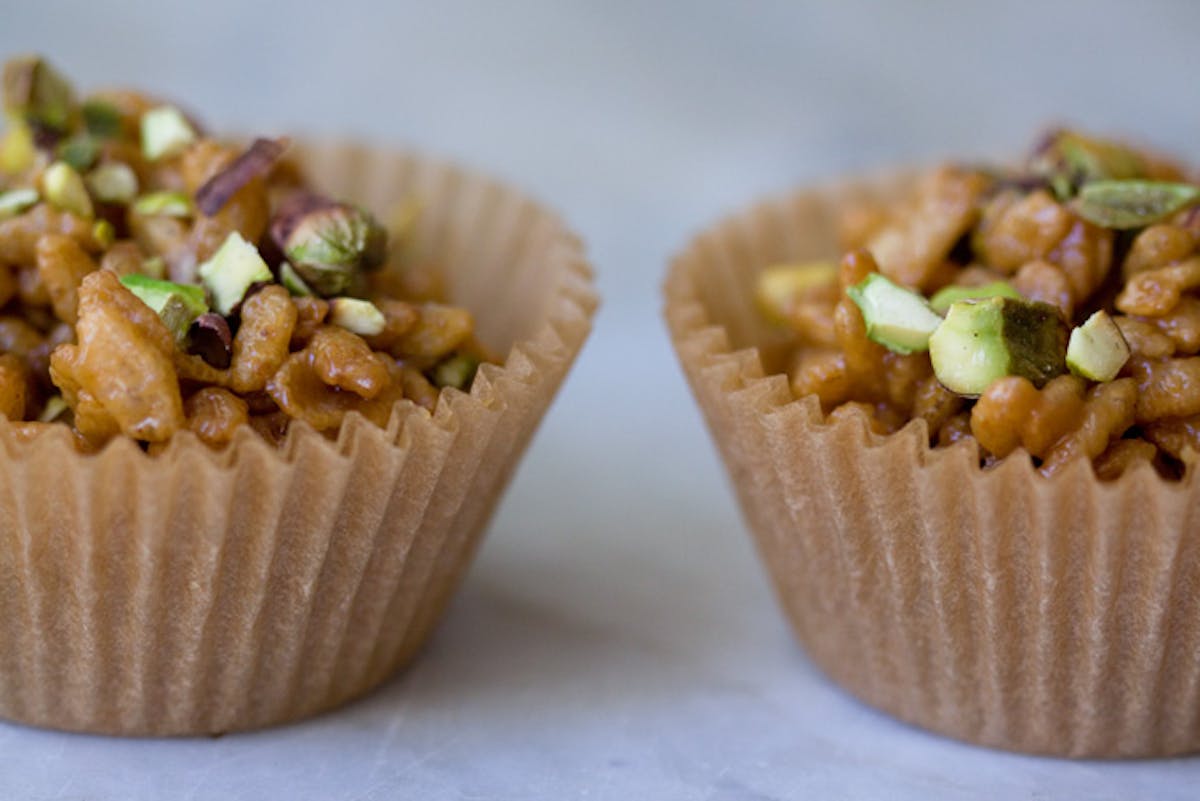 Most of what I'm going to need in the next two weeks is arranged in small piles on my bed right now. A couple dresses, cameras, and books. Film, lipstick, light meter, passport, hand wipes, ponytail holders, and batteries. I'm getting on a flight to Paris in a few hours. Pinch me, I've never been (!?!), and I can't wait. Last year Clotilde and I started chatting about swapping apartments. The idea was this - she and Maxence would come stay here in San Francisco, and Wayne and I would stay in her place in Montmartre. We settled on dates, bought our tickets, and here I am bubbling with excitement, trying to pack, doing my best not to forget my toothbrush. I made a few little airport snacks to bring along including these peanut butter crispy treats, a riff on the version I made for Super Natural Cooking.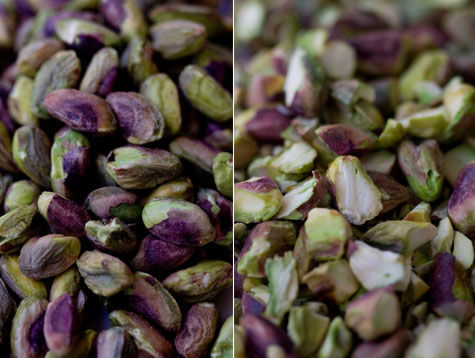 They are made with crisp brown rice cereal (available at many natural foods stores) mixed into a hot, decadent peanut butter maple syrup sludge. I did this version with lots of chopped, toasted pistachios throughout. Also, instead of cutting them into bars, I pressed them into wrapper-lined muffin tins.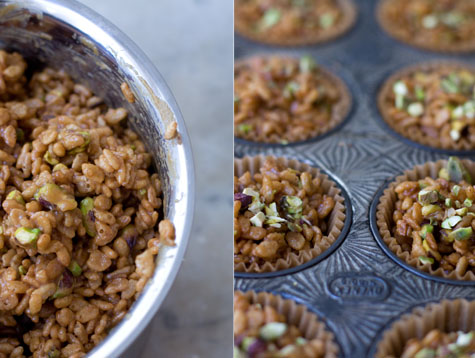 You can serve these guys to mixed crowds too. Vegans, vegetarians, and people who avoid gelatin like them in part because I don't call for marshmallows (which often contain gelatin). Instead I use a slightly obscure natural ingredient called agar agar flakes. It's a sea vegetable that you can use to thicken puddings, custards, or in this case to give the peanut butter and maple syrup mixture some binding power. You can find the flakes in many natural food stores.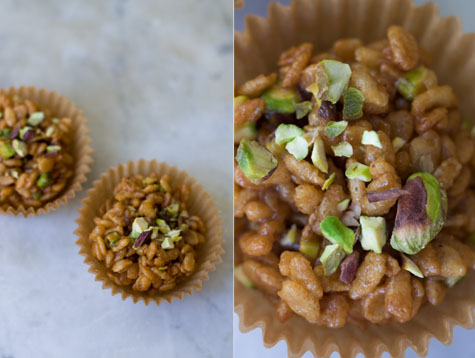 We have a layover in Chicago, and I'm going to keep these right near the top of my carry-on, for convenient snacking. And no worries - while I'm gone, I'm not abandoning the site altogether. I have a couple recipes waiting on the server to share, and a new favorite cookbook list from a friend in Sweden. Hopefully that'll be enough to keep things lively around here until I get home. If you have any advice, tips, or places not to miss in Paris or Madrid, my thanks in advance. I have quite a list going for both cities, but some of my favorite spots from our trip to Tokyo were ones you suggested! xo -h
Peanut Butter Krispy Treats
Be sure to use crisp brown rice cereal and not puffed rice cereal.
3/4 cup unsalted peanut butter
3/4 cup maple syrup
1 teaspoon fine-grain sea salt

2 1/2 teaspoons agar agar flakes (available at a health foods stores)

4 cups unsweetened (or lightly sweetened) crisp brown rice cereal


3/4 cup pistachios, toasted and chopped
Line two muffin tins with about 18 muffin/cupcake wrappers, and set aside.
Combine the peanut butter, maple syrup, salt, and agar flakes in a large saucepan over low heat and stir constantly until smooth, hot, melted, and bubbling just a bit. Add the cereal and 1/2 cup of the pistachios and stir until well coated. Spoon two heaping tablespoons of the mixture into each muffin wrapper and press into place with the back of a spoon. Alternately, if you want krispy squares, you can transfer it to an 8 by 8-inch baking dish. Sprinkle with the remaining pistachios and refrigerate until completely cool (this also helps the agar set).
Makes about 1 1/2 dozen treats.
Prep time: 10 minutes - Cook time: 5 minutes