Poppy Seed Pancakes Recipe
My go-to poppy seed pancake recipe. Made with buttermillk, a generous amount of poppy seeds, toasted sunflower seeds. Drizzled with an simple-to-make, chunky citrus syrup.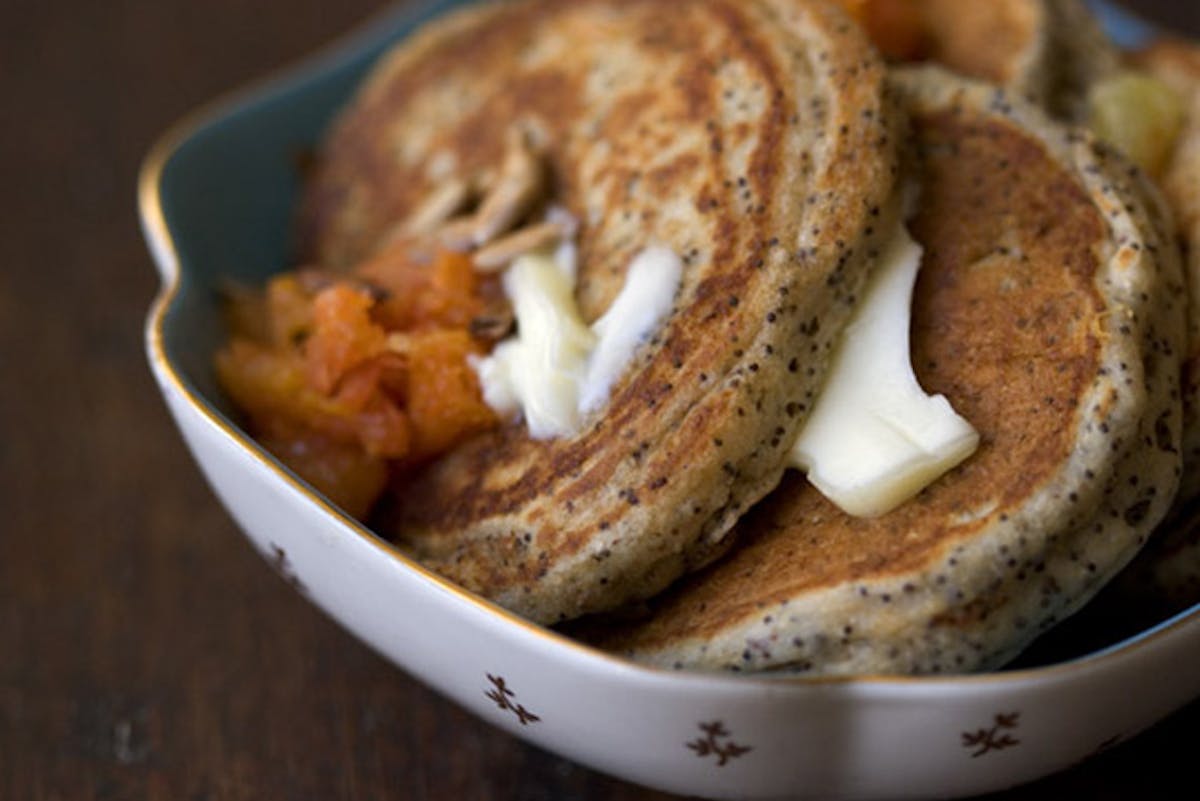 This freckled batch of fluffy buttermilk pancakes is punctuated with all manner of surprises. The recipe was inspired by a tiny pouch of Full Belly Farm poppy seeds hand-delivered to me by regular Mighty Foods contributer Rachel Cole. While the poppy seeds here are apparent, enveloped by the batter you'll also find deeply toasted sunflower seeds which lend a nutty depth to the pancakes you wouldn't get otherwise. I drizzled the lot with a chunky, orange and lemon-flecked, homemade citrus syrup.
Don't skimp on the poppy seeds, there's something irresistibly delightful about the role they play in these crowd-pleasing pancakes. I mean really, who can complain about the peppy crunch they lend to every bite of pancake or muffin they infiltrate?
And lastly, while I love this citrus-drizzled version of the recipe, you might certainly rework it into a delicious savory poppy seed pancake. You would just stir a few handfuls of anything from chopped sun-dried tomatoes, herbs, lemon zest, and/or crumbled cheese to chopped olives, cooked grains, or smashed roasted garlic into the batter. Replace the syrup with a generous slather of a creatively concocted compound butter and you're on your way.
Related links:
- Full Belly Farm
- Just noticed this informative Michael Ruhlman post on compound butter as well.
Poppy Seed Pancake Recipe
If you can't find white whole wheat flour, feel free to substitute unbleached all-purpose flour. If you can't find agave nectar, substitute 1/4 cup sugar + 1/4 cup maple syrup, I use the light agave nectar for this recipe (it also comes in amber). You can also use whole wheat pastry flour in place of the other flours I've mentioned. I love cara cara oranges and use those when I can get them.
1- 2 oranges, peeled, segments torn into small pieces
1 lemon, peeled, segments torn into small pieces
1/3 cup agave nectar

2 cups white whole wheat flour (or unbleached a-p flour)
1 teaspoon aluminum-free baking powder
1/2 teaspoon baking soda
1/2 teaspoon fine grain sea salt
1/3 cup poppy seeds
1/2 cup sunflower seeds, toasted until deeply golden
2 1/4 cups organic buttermilk
2 large organic eggs, lightly beaten
2 tablespoons butter, melted

butter, to serve (and for pan)
To make the citrus syrup put the orange and lemon segments and agave nectar in a medium saucepan over medium-low heat. Heat and stir until the ingredents combine. Bring the mixture to a gentle simmer for for 5 or 6 minutes. Remove from heat and set aside.
To make the pancakes combine the flour, baking powder, baking soda, salt, poppy seeds and sunflower seeds in a large bowl. Add the buttermilk, eggs and melted butter. Stir all the ingredients until they are just combined. Don't worry if the batter is a bit lumpy, you don't want to over mix.
Heat your skillet, pan, or griddle to medium-hot and brush it with a bit of butter. Test for the right temperature. If a drop of water dropped onto the pan starts to dance, you are in the ballpark. Pour about 1/3 of a cup of batter into the skillet. Wait until the pancake bottom is deep golden in color, then flip with a spatula and cook the other side until golden and cooked through. Repeat with the remaining batter. Serve with a golden pat of butter and a nice drizzle of syrup.
Makes about 12 large pancakes, or dozens of silver-dollar pancakes - enough to feed a small crowd.