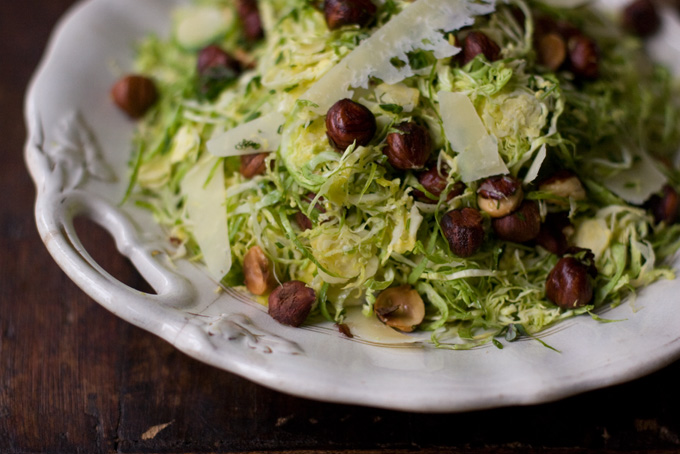 Brussels Sprout Salad Recipe
Shredding the sprouts on a mandoline gives them a wispiness that is harder to achieve with a knife.
1 1/2 pound brussels sprouts, freshest you can find
3 tablespoons extra-virgin olive oil
2 - 3 tablespoons fresh lemon juice
1 teaspoon fresh thyme leaves
1/3 cup fresh chives, minced
2-3 big pinches of salt
1 1/3 cups hazelnuts, smashed just a bit and toasted
2 ounces hard, salty, aged cheese, shaved (pecorino, dry aged jack, Parmesan, etc)
Shred the brussels sprouts whisper thin using a mandoline, or alternately, a knife. Five minutes before serving, place the shredded sprouts in a large mixing bowl and toss gently with the olive oil, lemon juice, thyme, chives, salt, and hazelnuts. Taste and adjust the seasoning, adding more lemon juice if needed, keeping in mind the cheese will bring a salty element to the salad. Add the cheese and toss once or twice to distribute it evenly throughout the salad.
Serves 4 - 6.
101 Cookbooks