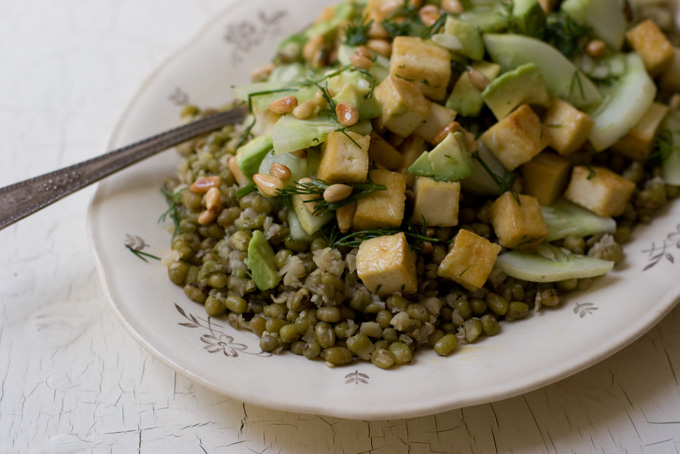 Lemon Cucumber Tofu Salad Recipe
I served this over a platter of cooked mung beans (which I love), but I imagine it would be delicious over salad greens, brown rice or soba noodles as well. And if you can't find lemon cucumbers, you can substitute regular cucumbers, no problem.
2 lemon cucumbers, quartered then sliced into 1/4 inch thick slices
1 handful of fresh dill (about 2/3 cup loosely packed)
1/4 cup extra virgin olive oil
1/4 cup fresh lemon juice
2 big pinches of salt
8 ounces nigari extra firm tofu
1/4 cup pine nuts
1/2 of a large, ripe avocado
Toss the cucumbers, dill, olive oil, lemon juice and salt together in a medium bowl. Let sit for at least 20 minutes tossing gently once or twice along the way.
In the meantime, cook the tofu. Cook the tofu and a pinch of salt in well-seasoned skillet (I've been trying to stay away from non-stick) over medium-high heat for a few minutes, until the pieces are browned on one side. Toss gently once or twice, then continue cooking for another minute or so, until the tofu is firm, golden, and bouncy. Set aside.
Just before serving cut the avocado into cubes.
Spoon the cucumbers out of the lemon-olive oil mixture into a large salad bowl. Add half of the remaining dressing, the tofu, and half of the pine nuts. Gently toss. Taste. Add more dressing or salt if you like. Sprinkle the avocado across the top of the salad and gently toss once or twice to distribute it throughout the salad. Serve topped with the remaining pine nuts.
Serves 2 - 3.
101 Cookbooks