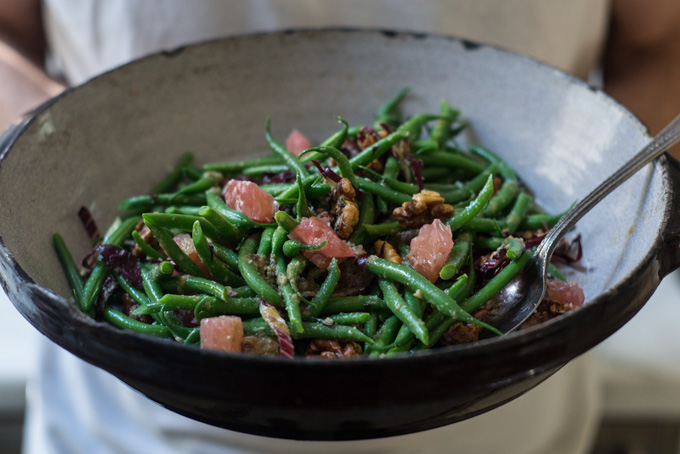 Pomelo Green Beans
6 medium cloves of garlic, peeled
1/2 cup toasted walnut halves
scant 1/4 teaspoon fine grain sea salt
1 tablespoon fresh herbs (oregano, chives, etc)
3-4 tablespoons extra virgin olive oil
1 pound green beans (or hericot vert), trimmed
1 cup of pomelo or orange segments
1 small head of radicchio, finely shredded
Bring a large pot of water to a boil, salt well, and cook the garlic cloves for ten minutes. Remove with a strainer or slotted spoon and transfer to a mortar and pestle. Mash along with 5 of the walnut halves, the salt, and herbs into a paste. Gradually add the olive oil until the consistency is to your liking. Taste and adjust with more salt, if needed.
Cook the green beans in the boiling water until they are bright, just a minute or so. You want them a bit tender, but still with a good amount of structure. Drain, and transfer to a serving bowl. Toss well with the garlic-walnut dressing, then add the pomelo, radicchio, and remaining walnuts. Give a quick toss, and serve.
For a one-dish meal, add some sautéed tofu or a poached egg.
Serves 4.
101 Cookbooks