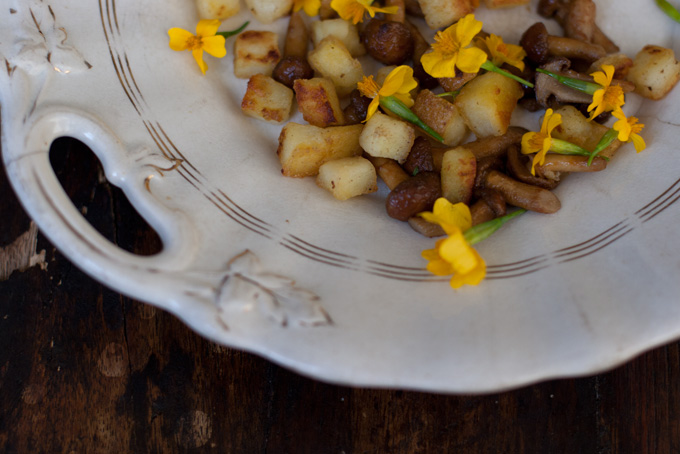 Potato Crouton Recipe
The key is cutting potatoes into tiny cubes so they cook quickly. Less starchy potatoes work better than starchy potatoes - I've experienced good results with the purple Peruvians potatoes and some of the smaller new potatoes. Russets and the like will work, they just turn out a but gluey before they eventually crisp up. If you do a big batch of these, I suspect they will freeze well. I froze the leftovers from this batch and will give a go at reheating them. I know 1/3-inch dice is a strange size to call for in a recipe, but 1/4-inch seems too small for me, and 1/2-inch too big. You can also substitute sweet potatoes or summer patty pan squash for the potatoes.
scant 1 tablespoon extra virgin olive oil
1 1/2 cups potatoes, 1/3-inch dice
pinch of salt
1 garlic clove, minced (optional)
Heat the olive oil over medium heat in a skillet. Add the potatoes and toss so they are coated with the oil. Sprinkle with the salt. Now cover the skillet and let the potatoes cook through, this will take about three minutes. The water in the potatoes will help steam and soften them. When the potatoes are just cooked through ( not mushy or falling apart) remove the lid and give them a good toss. Turn up the heat to medium-high and stir every minute or so until the potatoes look golden and crispy. Add the garlic about halfway through the browning process if you like. Season with more salt to taste. Let cool a bit before using on salads to avoid wilting the leaves.
Makes 1 1/2 cups of potato croutons.

101 Cookbooks