Richard Olney's Garlic Soup Recipe
In the realm of garlic soup recipes, this is a favorite of mine. From Richard Olney's The French Menu Cookbook, it is made by simmering a dozen or so cloves of garlic in water with a few herbs, then thickening it with a mixture of egg and shredded cheese. It's hard to beat a ladleful poured over some crusty day-old chunks of walnut baguette.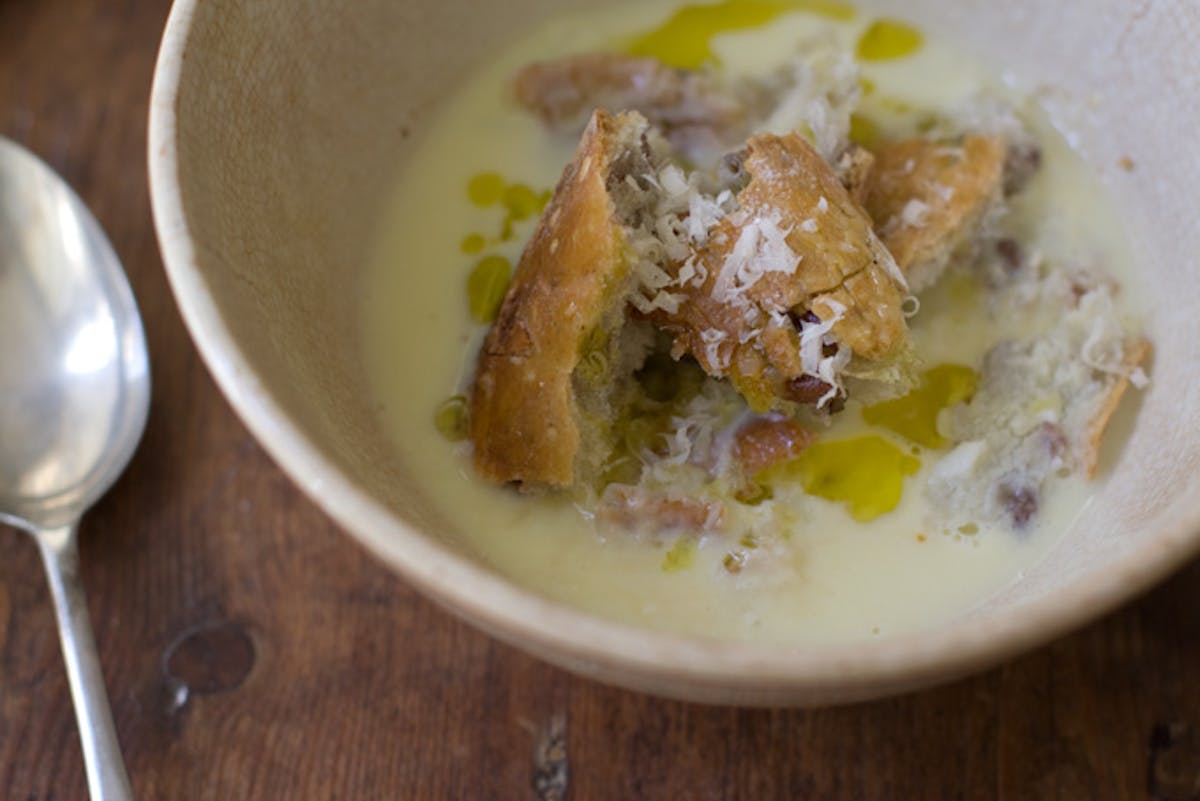 I've worked my way through a stack of garlic soup recipes over the years. Some clipped from magazines or torn from newspapers, others scribbled in shorthand on scraps of paper. It is a delicious realm of soups, and there have been plenty of notable bowls amongst them. To that extent, I thought I'd share the one I love most. It's from Richard Olney's classic, The French Menu Cookbook. Creamy and full-bodied without the use of cream, it is made by simmering a dozen or so cloves of garlic in water with a few herbs, then thickening it with a mixture of egg and shredded cheese. It's hard to beat a big ladleful poured over crusty, day-old walnut baguette with a finishing slick of olive oil.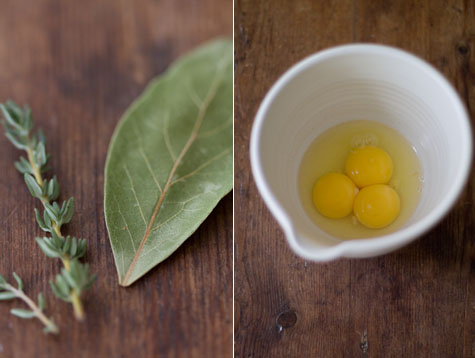 The garlic mellows as it simmers and works itself into something round and mild - not at all harsh or aggressive in flavor or fragrance. It's a restorative soup, one that I make when I want something simple and direct, but with more body than a clear, brothy soup or consommé.
And, it's worth noting, if you've ever made ice cream from scratch, you should have no trouble here. The technique is quite similar.
Richard Olney's Garlic Soup Recipe
The following recipe reflects how I make this soup, with my notes/words. The original recipe often calls for a range of a particular ingredient, for example, 10 - 15 cloves of garlic, or healthy pinch of thyme....I decided to included the amounts I use when I make it.
1 quart (4 cups) water
1 bay leaf
2 sage leaves
3/4 teaspoon fresh thyme
a dozen medium cloves of garlic, smashed peeled, and chopped
1 teaspoon fine grain sea salt

Binding pommade:
1 whole egg
2 egg yolks
1 1/2 ounces freshly grated Parmesan cheese
freshly ground black pepper
1/4 cup extra virgin olive oil

day-old crusty bread & more olive oil to drizzle
Bring the water to a boil in a medium saucepan and add the bay leaf, sage, thyme, garlic, and salt. Heat to a gentle boil and simmer for 40 minutes. Strain into a bowl, remove the bay and sage leaves from the strainer, and return the broth and garlic back to the saucepan, off the heat. Taste and add more salt if needed.
With a fork, whisk the egg, egg yolks, cheese, and pepper together in a bowl until creamy. Slowly drizzle in the olive oil, beating all the time, then add (slowly! slowly!), continuing to whisk, a large ladleful of the broth. Stir the contents of the bowl into the garlic broth and whisk it continuously over low-medium heat until it thickens slightly. Olney states, "just long enough to be no longer watery." I usually let it go a wee-bit beyond that - until it is the consistency of half-and-half or cream. Place a handful of torn bread chunks into the bottom of each bowl and pour the soup over the bread. Finish with a drizzle of olive oil, and serve immediately.
Makes about 4 cups of soup.
This recipe was adapted from The French Menu Cookbook by Richard Olney. Originally published in 1970, this edition was republished by Ten Speed Press in 2002.
Prep time: 10 minutes - Cook time: 45 minutes