Roasted Corn Pudding in Acorn Squash Recipe
Inspired by a recipe in The Vegetarian Compass written by Karen Hubert Allison, published in 1998. A roasted acorn squash is filled with corn, milk, anise seed, and chopped scallions. You then bake it until the filling sets, and finish with white cheddar cheese left under the broiler until golden and bubbly.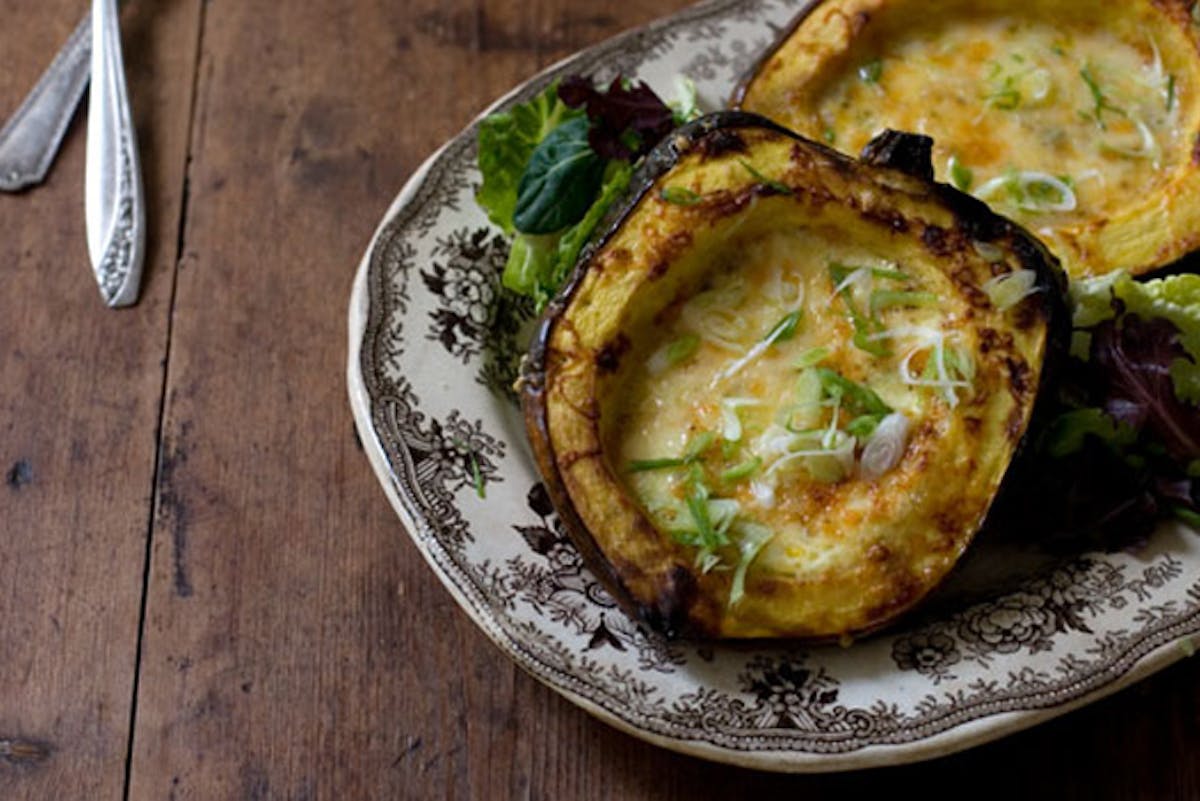 I have some great vintage and out-of-print cookbooks on my shelves and I thought I would highlight recipes from a few of them in the coming weeks. There are also some exciting new releases out there as well, and I'll try to highlight some of those too. But I thought I'd start off by building on an idea from The Vegetarian Compass written by Karen Hubert Allison, published in 1998. This was the only cookbook written by Karen, and it is full of unexpected and unique combinations of ingredients and flavors. Her roasted squash is filled with corn, milk, anise seed, and chopped scallions. You then bake until the filling has set, and finish with white cheddar cheese.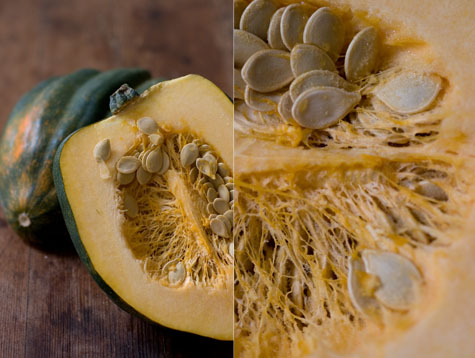 Let me back up and tell you a bit about the book overall. It's not flashy. It is photo-free, and printed with gray and purple ink. And yet, this is a book I'm inspired by each time I pull it from my shelf. It is full of sophisticated ideas, techniques, and flavors. Many of the recipes have a little story attached, and each recipe in the book seems to have real intent behind it. Said another way, you get the sense that she felt strongly about every recipe she included.
I was too young to know anything about it at the time, but Karen (along with her husband Len Allison) was the former owner of the three-star New York City restaurant Huberts. She taught at the Culinary Institute of America. The Vegetarian Compass was published posthumously after her death from breast cancer in 1997. Josh Wesson was a young sommelier at Hubert's in the 80's and is quoted in Karen's obituary saying,
''Before there was a Greenmarket, there was Karen Hubert and Len Allison seeking out little growers and artisanal makers of cheese and bringing them down to this restaurant.''
Clearly she was ahead of her time. I could go on quite a bit more, but mostly I just wanted you to know that I find inspiration in this book - and I thought it would be nice if Karen's recipes and ideas lived on in more kitchens. If you see a copy in a second-hand store, be sure to spend some time with it.
I've adapted today's recipe from the Acorn Squash filled with Corn Pudding in The Vegetarian Compass. It involved roasting, making a filling, filling the squash, and roasting some more. If you don't have an hour and a half to dedicate to roasting, here's an alternative approach that came to mind as I was making it. Roast the squash until it is cooked through and beginning to brown a bit on top. Then sprinkle each half with grated white cheddar cheese and use the broiler to brown the cheese on top. Serve topped with hot, buttered corn and some scallions and/or herbs.
Roasted Corn Pudding in Acorn Squash
I used an acorn squash here, but you can experiment with other types of squash if you like. And if aniseed and scallions aren't your thing, you might try do a version swapping in coconut milk and a bit of curry paste - and perhaps a cilantro drizzle?
Also, (important!) depending on the size of your squash you might have quite a bit of filling leftover - I ended up with double the amount I needed. That being said, I kept Karen's original milk/egg ratio intact here. I poured my leftovers into a buttered ramekin and baked that alongside the squash for a nice, light corn-flecked pudding. Or alternately, you might use a second squash.
1 small (2 lb.) acorn squash, cut in half lengthwise and seeded
1 tablespoon clarified butter or olive oil
1 cup milk
1 egg plus 2 egg whites
1/2 cup fresh corn kernels (or more if you like)
1/4 teaspoon anise seed, chopped
1/2 cup chopped scallions
a tiny pinch of freshly grated nutmeg
1/4 teaspoon fine grain sea salt
1/3 cup grated white cheddar cheese
Preheat the oven to 375F degrees with a rack in the middle.
Rub the orange flesh of the squash with the butter/oil. Place cut side up on a baking sheet. You will want it to sit flat (and not tip), if you are having trouble just level out the bottom using a knife. If the squash is tilting on the pan, the filling will run out - bad news. Cover the squash with foil and bake for 40 minutes or until the squash starts to get tender.
In a bowl combine the milk, eggs, corn, anise seed, half of the scallions, nutmeg, and salt. Fill each of the squash bowls 3/4 full (see head notes about using leftovers). Carefully transfer the squash back to the oven without spilling (tricky!). Continue baking uncovered for another 30 - 50 minutes, or until the squash is fully cooked through, and the pudding has set. The amount of time it takes can vary wildly depending on the squash and oven. At the last minute sprinkle with cheese and finish with a flash under the broiler to brown the cheese. Keep and eye on things, you can go from melted cheese to burnt and inedible in a flash. Serve hot sprinkled with the remaining scallions.
Serves 4 - 6.
Prep time: 10 minutes - Cook time: 45 minutes