Saffron Raspberries Recipe
Beautiful raspberries tossed with saffron brown sugar, vanilla paste, olive oil, and toasted almonds.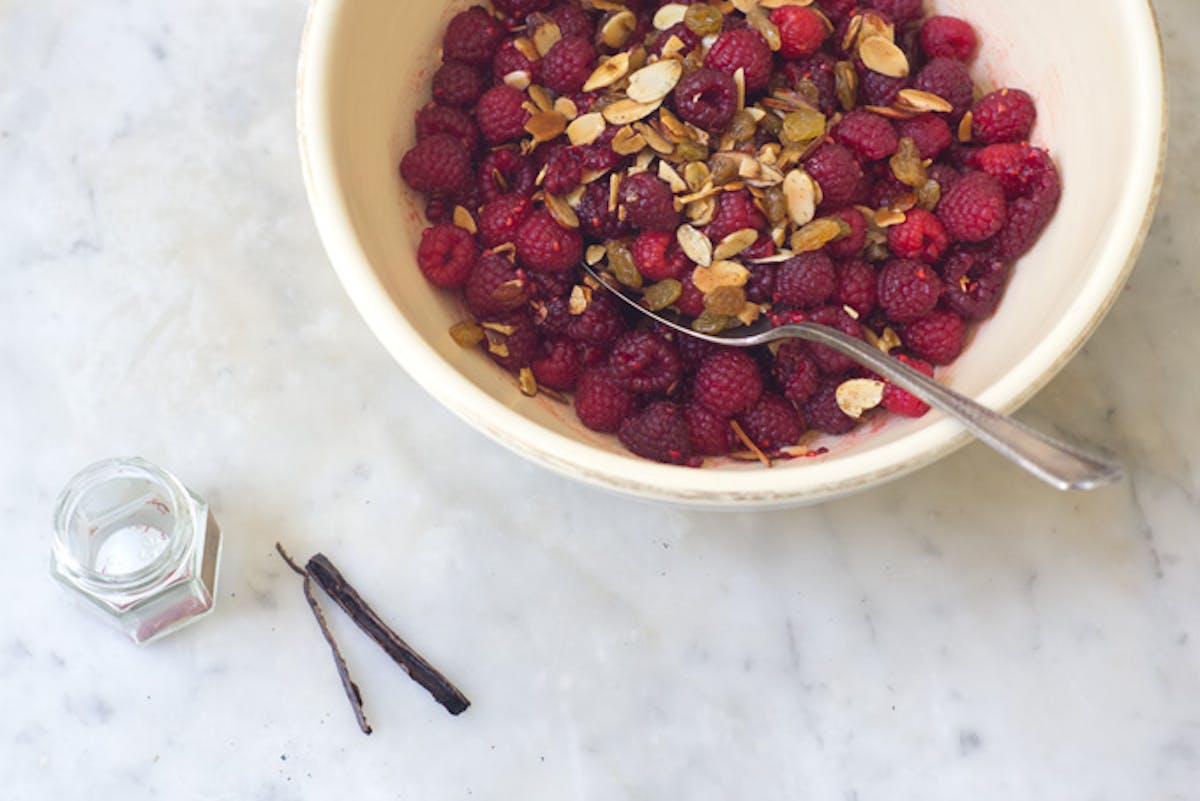 Raspberries are incredibly fragile, which is why, for most of the year, I pass them up. When they're flown in from a far-flung farm, or sit on shelves for any amount of time, I can tell. They get sad, their color darkens, and eventually mold sets in stealthily from the bottom of the basket. The mold. You'll likely discover it after you get the berries home. So, I wait until local berries start showing up at the farmers' market. And it's worth it. I can only hope the raspberries where you live are as impressive as what I'm seeing here right now - basket after basket filled with ruby gems. They have luminescent color, good structure, drupelets filled with sweet raspberry juice, ready to pop. This quick, saffron-sugared raspberry bowl is the best thing I've made with them this year - and you likely have the ingredients on hand. There's a bit of lemon zest, some vanilla bean paste, olive oil, and toasted almonds for contrast to the softness of the raspberries.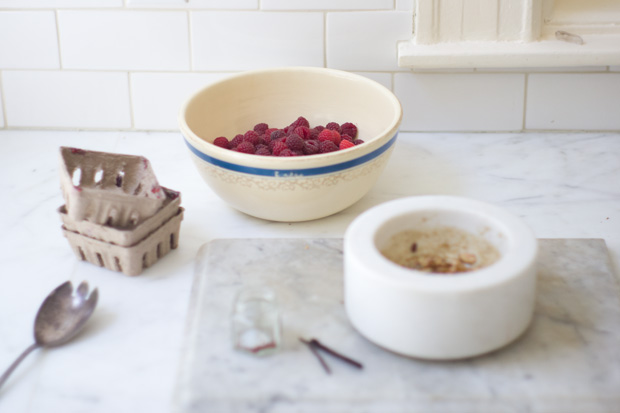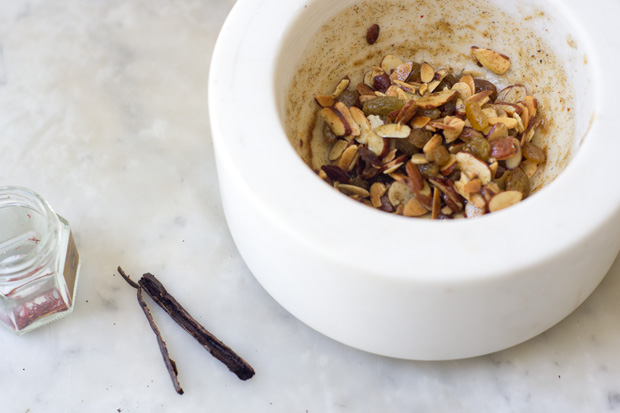 My sense is this would also be a nice flavor profile for a pie or tart. If the raspberries where you're from rarely look good? Substitute a berry that does - strawberries would taste great here, and I'm imagining a blackberry version could be nice as well. Start with great fruit, and go from there. A dollop of yogurt or sweetened creme fraiche is one way to make it all the more decadent. And one favorite weekend breakfast shaped up to be equal parts saffron berries, Greek yogurt, and Marge's original granola - xo Megan!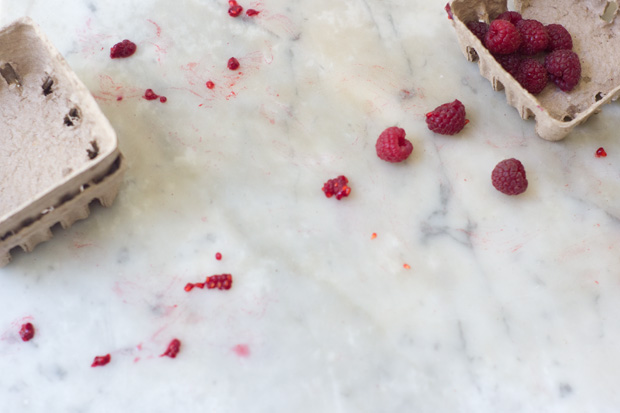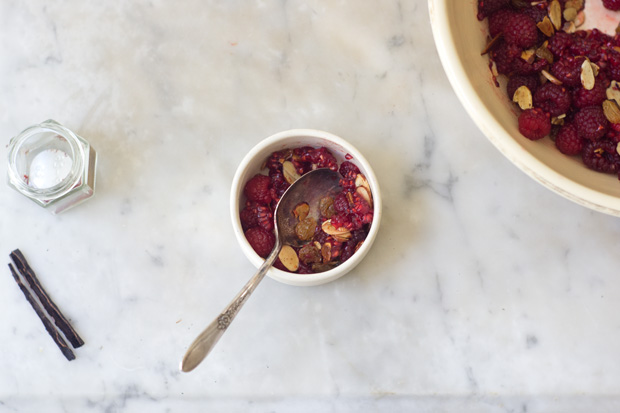 I do have one regret. Golden raspberries made their annual debut here just about five minutes after I shot these pics. And they'd be perfect. So, if you can get your hands on those, use them :) xo -h
Saffron Raspberries
HS: This preparation was intended for raspberries. That said, if the raspberries you come across aren't great, consider swapping another berry - blackberries might be particularly nice.
1 pound of berries (3 baskets)
1 1/2 tablespoons natural cane sugar (or brown sugar)
1/16 teaspoon saffron threads (~20 threads)
1 2-inch segment vanilla bean
3 tablespoons extra virgin olive oil
a handful of golden raisins (or chopped dates)
1/2 cup / 40 g sliced almonds, toasted
zest of one lemon
Pick over the berries well, discarding any that are off. And brush away any dirt or debris with a damp cloth. Place in a large serving bowl.
Use a mortar and pestle to grind the brown sugar with the saffron threads. Run a knife along the inside of the vanilla bean, to remove the paste, and add that to the saffron sugar as well. Add the olive oil, and stir to combine. Use a spoon to stir in the raisins, almonds, and lemon zest.
Around the time you want to serve this, pour most of the almond mixture over the berries. As gently as you can manage, fold together - folding and jostling the bowl to coat the berries. You want a few of the berries to break up, but not much more than that. Let sit for five minutes or so. Do one last fold, top with the remaining nut mixture, and serve.
Serves 4-6.